When it comes to needing to cool your transmission under extreme conditions,  a heavy duty transmission cooler with a fan is capable of handing your truck's cooling needs.
As we all know, heat is the number 1 killer of transmissions, so to combat this, the BD Diesel 1300611 transmission cooler will help keep temps in check in many tough situations.
This cooler utilizes an efficient plate and fin design with the addition of an 800 CFM fan to reduce transmission temps quickly when you need it most.
Between its compact design and cooling capacity, the BD Diesel 1300611  would be a great candidate for your for extreme towing.
BD Diesel 1300611 Transmission Cooler Specs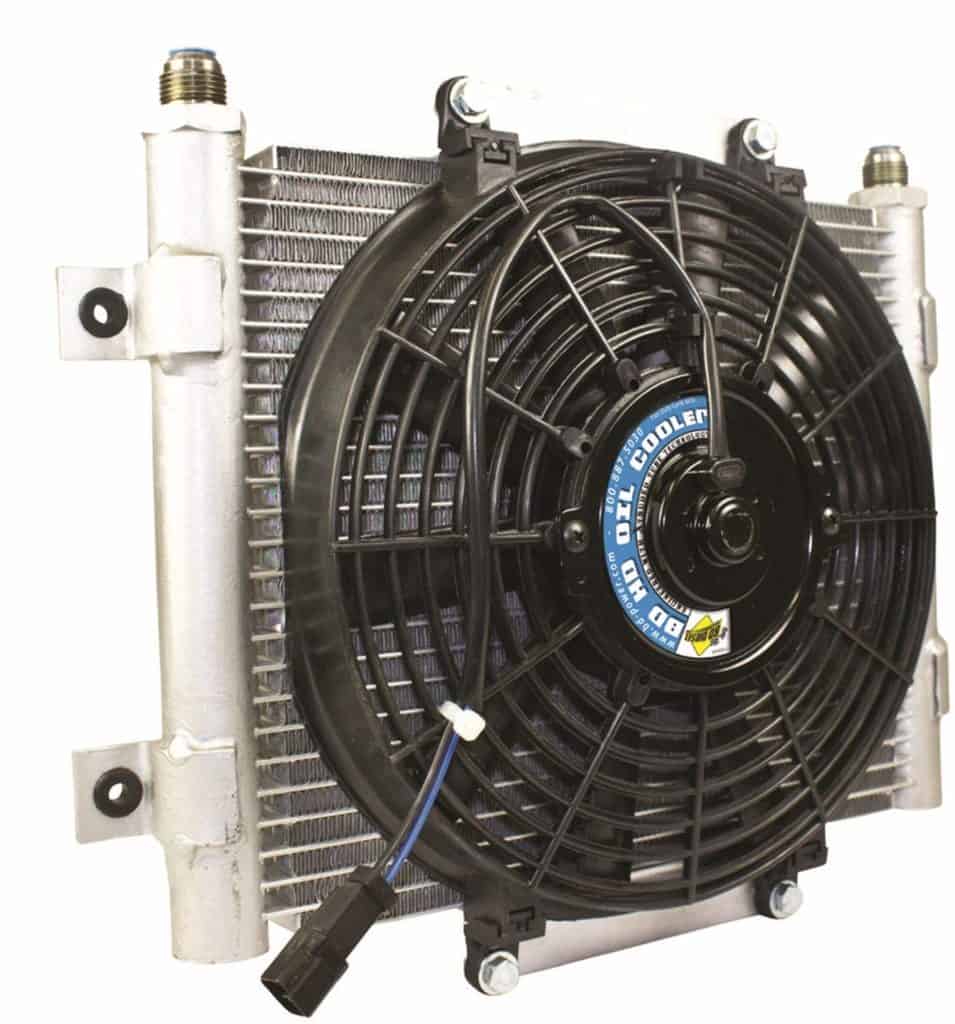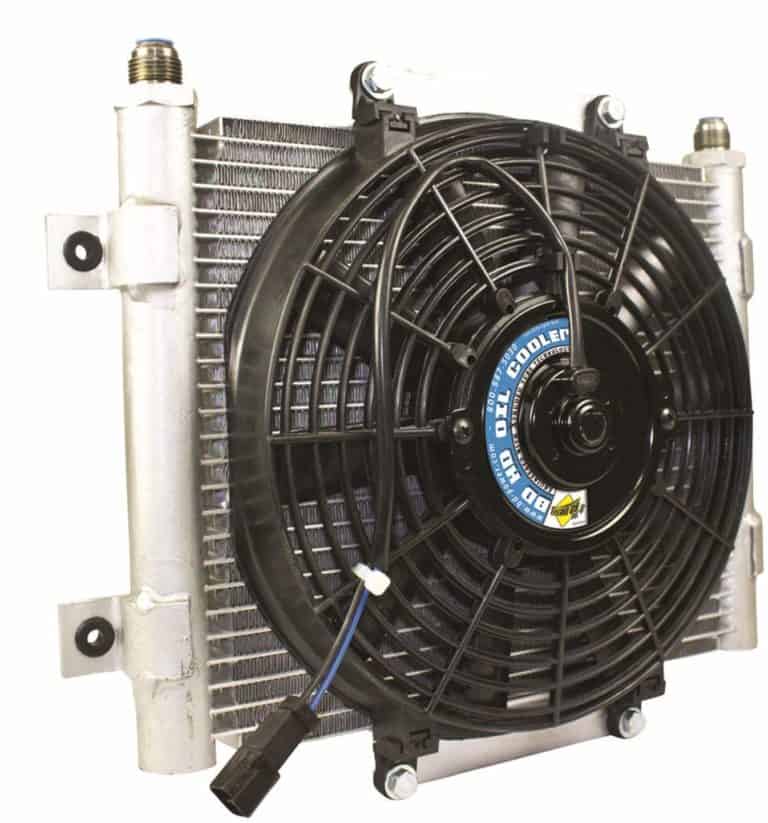 Since this cooler utilizes a plate and fin style design, you are going to get up to 22 percent more cooling efficiency than tube and fin style coolers.
The BD Diesel 1300611 has 25 rows of cooling capacity, making it and uses -10 an male fittings which allow for the use of larger and custom transmission lines.
The BD Diesel 1300611 Transmission cooler has a 30,000 gvw rating (33,930 BTU) and the fan provides  800 CFM of airflow
Cooler Dimensions (Including Fan): 17.5″ x 15.5″ x 7.4″ (including fan)
Fitting Size: -10an
Type of Cooler: Plate & Fin
Cooling Rows: 25
Fan Size: 12″
Fan Specs: 800 CFM
GVWR: 30,000 (33,930 BTU)
BD Diesel 1300611 Pros & Cons
Pros
Plate & Fin Cooler
800 CFM fan
30,000 GVW
Cons
If you're looking for an additional cooling fan for your transmission fluid, you aren't alone. You know performance can be heightened with one, and the BD Diesel 1300611 Transmission Cooler is an excellent choice because it offers 22 percent more cooling than other designs. Get yours today!
Shop BD Diesel 1300611 Transmission Coolers
Get the lowest price on BD Diesel 1300611 transmission cooler with electric fan and start lowering trans temps!
Shop Now
Summary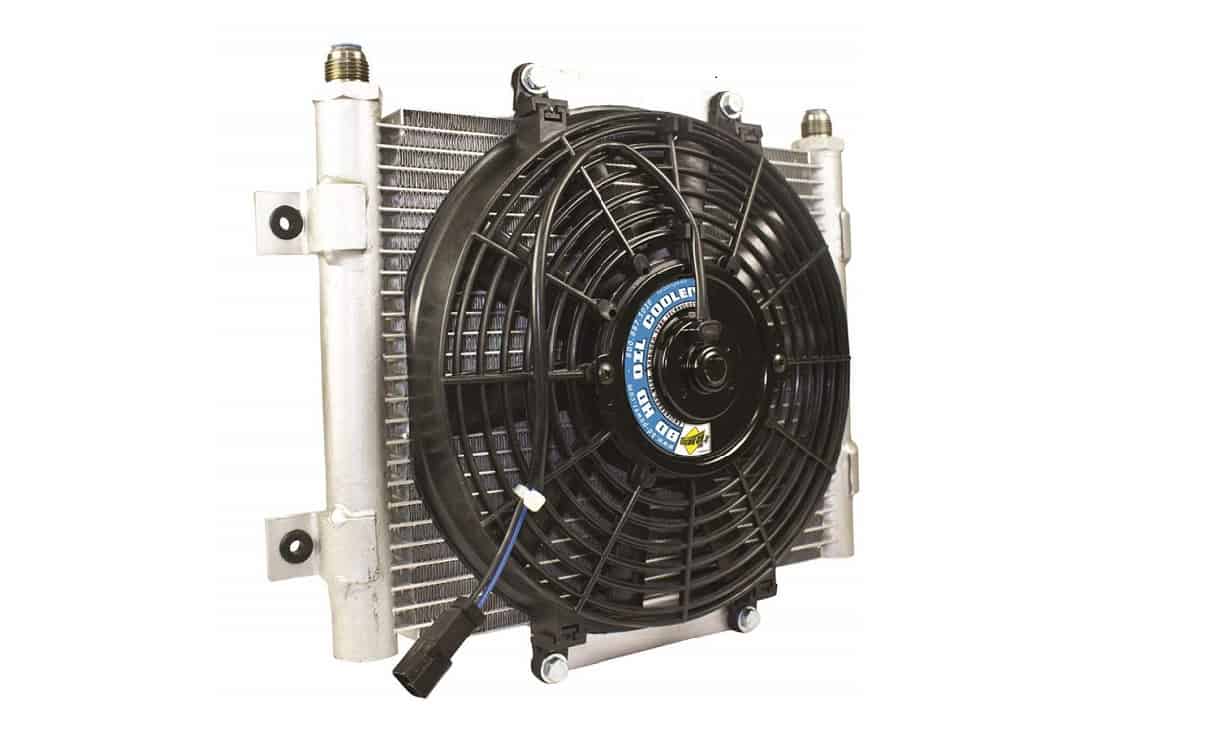 Article Name
BD Diesel 130061 Transmission Cooler
Description
BD Diesel 130061 transmission cooler comes equipped with a 12" 800 CFM electric fan and provides 30,000 GVW of cooling for your truck or SUV!
Author
Transmission Cooler Guide
Publisher Name
Transmission Cooler Guide
Publisher Logo