Cooling your 48re transmission might be a challenge for some if you live in a warm climate or use your truck for a lot of heavy hauling or towing. If your truck deals with higher than average transmission temps, it's recommended to add a transmission cooler to your truck.
We did an in depth write up about the Best Cummins Transmission Coolers, and for your 3rd gen Cummins, the Mishimoto MMTC RAM-03SL is hands down the best 48re transmission cooler upgrade due to its direct fit and serious cooling capabilities.
If you are looking for a lower cost alternative, look no further than the Tru Cool 40k. The Tru Cool 40k is our recommended transmission cooler for most heavy duty applications, so fits the bill when it comes to keeping your 48re cool.
Mishimoto MMTC-RAM-03SL Specs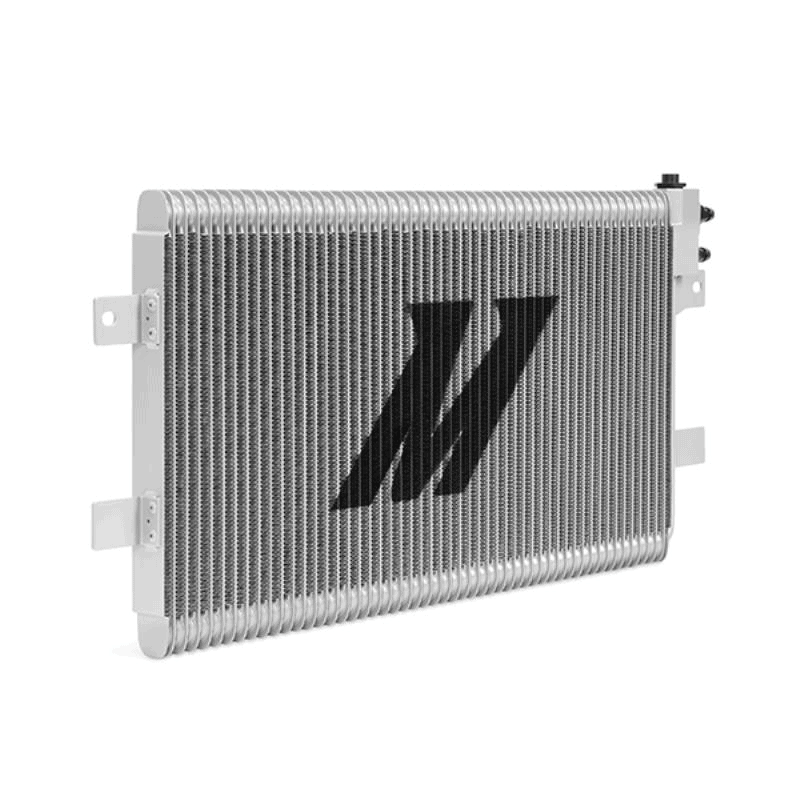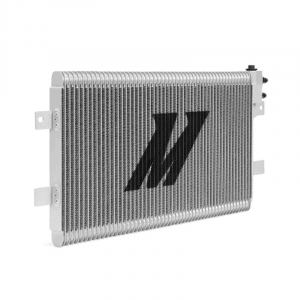 Like many Mishimoto transmission coolers, the MMTC-RAM-03SL is specifically designed for the 03-09 5.9L and 6.7L Cummins. this cooler is a direct fit application that requires little effort installing.  The cooler features a 244% increase in fluid capacity over the factory setup and a 212% increase in total core volume.
Cooler Dimensions: 26″ x 10.94″ x 0.87″
Cooling Rows:  48
Fluid Capacity Increase:  0.88 quarts
Fitting Type:  3/4″-16 SAE Barb
Installation Kit:  transmission hose, fittings, worm clamps, thermostat bypass
Fits all 2003-2009 Dodge Ram 5.9L & 6.7L Cummins
59% Increase in fin surface area
Includes fully serviceable thermostat for fast warm-up in cold climates and thermostat bypass for constant cooling in hot climates
Stacked-plate design for tough and reliable cooling
Tru Cool 40k Specs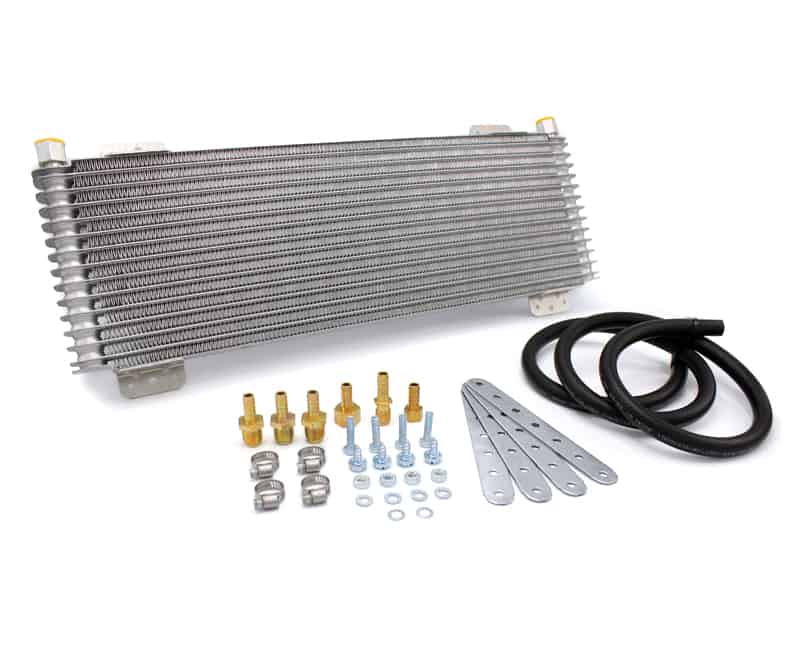 As we've discussed a number of times, the Tru Cool 40k is head and shoulders above other universal transmission coolers in the heavy duty use department.
Sure there are other transmission coolers that might be larger or include a fan, but for the cost, consistent performance, and simplicity, it's hard to go against the Tru Cool 40k for the money for any 48re application.
Cooler Dimensions: 8 1/2″ x 22″ x 1 1/4″
GVW: 40,000 pounds
BTU Rating: 45,000
Fitting Size: 3/8″ inverted flare hex with 5/8″ thread size –  This is great for those looking to install custom transmission lines
Installation Kit:  Yes – Includes universal installation kit with rubber transmission line, various fittings, clamps, and mounting hardware
PROTECTION - When an auxiliary transmission oil cooler is required for your vehicle, Tru-Cool Max delivers optimal protection with double the cooling performance of our other products.
RELIABLE - Durable brazed aluminum construction with a lifetime guarantee
HIGH COOLING POWER - Maintain lower temperatures in your transmission and lubricant with Tru-Cool and extend the life of the vehicle you depend on.
PERFORMANCE RATED - Drive hard. Rest easy. Get the OE advantage that comes from a Tru-Cool LPD transmission oil cooler plus the proven cooling that can help you protect your investment and your warranties.