Like with most things associated with buying parts for your car, truck, or SUV, it can be daunting to understand what works best for your application.  Transmission oil coolers are no different.
Our best transmission coolers guide is designed to better inform you about what an external transmission cooler does, the different types, and what would be optimal for your vehicle.
Between the different styles of automatic transmission coolers, sizes, cooling capacity, and brands, you have plenty of options.
So whether you have a daily driven sedan that sees traffic, a truck that tows a heavy load, or an off-roading vehicle that demands the most efficient atf cooling, transmission coolers are beneficial for the longevity of your vehicle.
Here are our picks for transmission cooler options for your car, truck or SUV!
Transmission Cooler Information
Other Transmission Cooler Guides:
Transmission Fluid Temperature
Hayden 678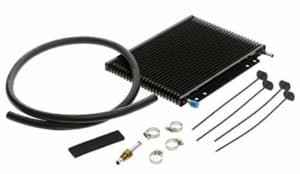 The 678 by Hayden is a well-designed plate and fin transmission cooler. It is suitable for use in many types vehicles including, class C motor homes, pickup trucks, and vans. Basically, any vehicle with transmission lines connected to the radiator.
With its patented internal turbulation, this transmission cooler is highly efficiency. The design allows it to increase heat transfer while keeping pressure decrease minimal. This cooler undergoes pressure testing to ensure you have a system with no leaks.
Apart from the exceptional turbulation, the Hayden 678 comes with pre-drilled mounting brackets, which makes for easy installation. 
The Hayden rapid cool 678 comes complete with a transmission cooler installation kit comes with foam mounting pads, zip ties, rubber transmission hose, clamps and other miscellaneous parts needed to install the cooler.
This cooler is ideal for a variety of vehicle to suit your cooling requirements. If you're looking for an easy to install, well-developed plate and fin transmission cooler, the Hayden 678 is a great option.
What We Like About The Hayden 678:
Patented internal turbulation for high performing heat transfer

Easy mounting and installation

The cooler aligns easily for simple installation

Developed using quality parts, e.g. micro louvered cooling fins

Complete kit including extra transmission hose, clamps, and necessary mounting hardware.
Hayden 679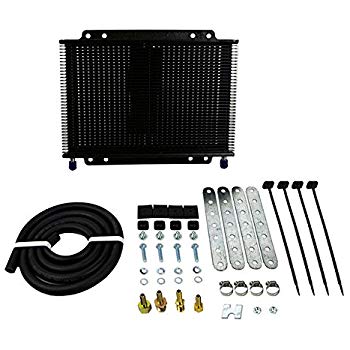 Another great transmission cooler from Hayden is their 679. This Hayden high performance trans oil cooler offers good cooling capacity to keep your transmission temperature in nice and cool. Apart from class A motor homes, this cooler is great for large travel trailers and fourth wheel trailers. 
It comes with that patented internal turbulation developed by Hayden for increased heat transfer and therefore stable heat removal. With a compact plate and fin cooling system, the Hayden 679 is able to handle most demanding cooling tasks.
Just like the 678, the Hayden 679 comes with pre-drilled mounting holes to make the installation quick and easy. If you're looking for a highly efficient easy to install, the Hayden 679 plate and fin cooler might be the cooler for you.
Note: The Hayden 679 is one of the top rated transmission coolers on the market. So much so that it is also recommended in our drag racing and towing guide.  For the cost, it is hard to beat this atf cooler no matter your intended uses.
What We Like About The Hayden 679:
Easy to install

Patented

flow path design

internal turbulation to increase heat transfer with minimal pressure

High GVWR capacity and reasonable towing capacity

Comes as a complete transmission cooler kit
Hayden 677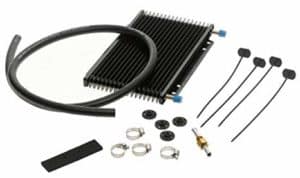 Yet another well developed trans cooler by Hayden, the 677 is about 33% more efficient than a standard tube and fin transmission cooler design despite its smaller size. 
It comes in a compact, unique plate and fin design for high performing heat transfer. The Hayden 677 is a premium cooler that is compatible with OEM cooler systems.
For easy installation, the cooler comes with pre-drilled mounting plates just like the other two Hayden transmission coolers we evaluated. The purchase includes all the required hardware to do a proper installation. Equipped with internal tribulation, you can rely on this cooler to transfer heat with a minimal pressure drop.
Looking for a cooler for medium duty cooling capacity, try the Hayden 677. You will find this aluminum built cooler to be effective for your cooling requirements. This cooler will be perfect for any daily driven vehicle where there is less demand for increased transmission oil cooling, but can do the job at a low cost.
What we like About The Hayden 677:
Patented internal turbulation for efficient heat transfer

Designed for easy installation

High-efficiency cooling system for colder working transmission and better shifting

Cheap transmission cooler that provides excellent cooling
B&M is one of the most popular names in transmission fluid coolers, and rightfully so.  Their designed with high quality aluminum and feature an efficient stacked plate design.  While they might be a little more costly than other brands, with B&M you get what you pay for in terms of quality.
B&M 70268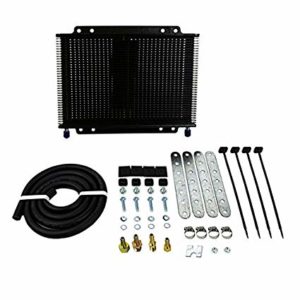 Looking for a sturdy stacked plate transmission cooler for your vehicle? Check out the B&M 70268. It is designed with an elegant flux less oven brazed aluminum alloy. The black finish is nice to look at, but apart from visual appeal, it makes the cooler resistant to external damage, and is also vibration resistant. With multiple oil flow paths, you can depend on this cooler for high-performance cooling.
Apart from assisting its cooling efficiency, the size and weight of the 70268 helps mitigate risk of lube system failure. If that's not enough, you get an installation kit upon purchase to aid in mounting the cooler.
This cooling system is able to monitor the transmission fluid being re-fed into the transmission. Using viscosity, the cooler selectively separates transmission fluid. Thinner fluid is held at the core to cool while thicker fluid is transferred through the bypass opening.  
Looking for a tranny cooler that is durable and sturdy, try the B&M 70268. It is a lightweight stack plate designed cooler to help with your cooling requirements without failure.
What We Like About The B&M 70268:
Well built with aluminum alloy for high performance and durability

Offers a vibration-free experience

Comes with an installation kit to help with the mounting

Built to resist leaks
B&M 70264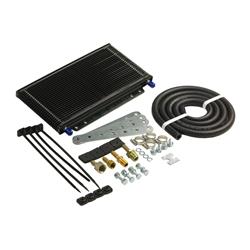 One of the most common B&M coolers is the 70264 super cooler. It is an efficient high-performance cooler constructed with a black finish aluminum alloy, you get maximum resistance against corrosion and abrasion. This resistance will ensure that the cooler will serve you for a long time.
The 70264 is pressure tested to up to 250 PSI for a leak free high-quality cooler. With its stacked plate design and multiple oil flow paths, it can efficiently reduce the temperature of transmission fluid to suitable ranges.
You can rely on the B&M  SuperCooler 70264 to perform at a much higher capacity than the traditional fin and tube cooler. You may appreciate the vibration resistance that comes with this device from the oven brazed fluxless construction.
Like the B&M 70268, this cooler can selectively manage the transmission fluid in your vehicle for optimum functioning. The thick fluid is separated from the thin fluid and cooled at different capacities. While the thick fluid returns to the transmission, the thin fluid remains at the core to cool.
If you're looking for a well-built transmission cooler to effectively cool, the B&M 70264 is the ticket. The biggest benefit of utilizing the 70264 is that despite its compact design, it is extremely effective.
What We Like About The B&M 70264
Universal application

Straight forward easy installation

Resilient model with high-performance cooling

includes full transmission cooler kit
Compact design
After having personally used this transmission cooler on a number of occasions, I can attest to the effectiveness this cooler provides. This cooler was used on a personal daily driven street / strip car with a high stall converter, and a full size Silverado pickup truck. Both vehicles had a 4l60e and this transmission cooler was easy to install and worked great..
With both vehicles, transmission temperatures were no higher than 175 degrees  in most driving situations while being used in addition to the factory cooler in the radiator. For the normal driver, this is one of the best transmission coolers for a 4l60e transmission.
B&M 70266
Like all B&M SuperCoolers, the 70266 is built very well and has some cooling capabilities.  The B&M 70266 has an 11″ x 8″ x 1.5″ body with 36 rows of cooling to handle even the most extreme conditions, and this is why it was featured in our drag racing transmission coolers guide .
The B&M 70266 comes with 1/2″ NPT fittings which will require extra fittings, but allows for -6an or -8an transmission lines. Like all B&M atf coolers, the 70266 also has a low pressure drop system to prevent over cooling.
What We Like:
NPT Fittings for secure fitment
36 cooling rows for superior fluid capacity
Low pressure drop system to prevent over cooling
Overall, the B&M 70266 is a very durable transmission cooler that is easily capable of keeping transmission oil temperatures in a safe range. With its NPT fittings, it is easy to run -6AN or -8AN transmission cooler lines with better fittings.
Transmission Cooler Frequently Asked Questions (FAQs)
Final Thoughts
Choosing a transmission cooler is a delicate balance of a number of factors. Before you can settle on one choice, make sure to evaluate all of your options, and see which cooler would be best based on your vehicle specs and cooling requirements.
If you want, you can make a comparative checklist and see which transmission oil cooler suits you best. If you think your vehicle's transmission temperatures are too high, or you are looking to add a cooler for extra insurance, be sure to choose a cooler that's best for your application.
It is important to understand what your transmission needs and select the best transmission cooler to help solve these needs for a well performing long lasting transmission.