With the use of a transmission cooler, installing an aftermarket transmission temperature gauge is a great way to prolong the life of your transmission. The purpose of a transmission temperature gauge is so that you can quickly and easily check transmission fluid temperature. Most aftermarket transmission temperature gauges come with complete kits that require installation and are easy enough that you can install it in an afternoon.
Here are our choices for the best transmission temperature gauges.
Transmission Fluid Temperature
With the installation of a trans temp gauge you will be able to see what temperature your car or truck's trans temps are. This is useful for those with more performance oriented or heavy duty vehicles, but that does not mean you can't install one in your typical daily driver.
As discussed in previous posts, heat is the main cause of transmission failure, and the hotter the fluid gets, the quicker your transmission may fail, as shown in the transmission temperature chart below.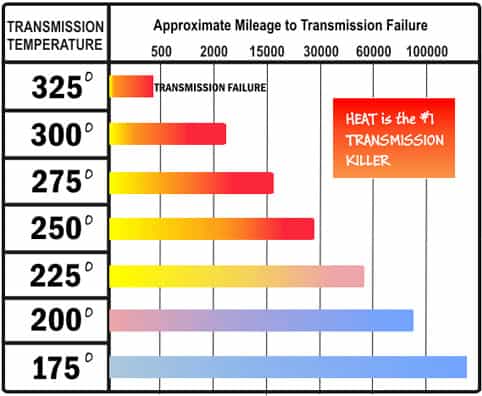 With the installation of a transmission temperature gauge, you would be able to see how warm your temps are and can pull over before they get too hot. This will not only save your transmission, but provides added insurance by understanding where your transmission temps are.
How To Install A Transmission Temperature Gauge
Most aftermarket transmission temp gauge kits include the gauge itself, the transmission temperature sensor, and typically wiring depending on the type of gauge. When installing the gauge inside the vehicle, it is required to mount it some how, whether on a gauge pod specific to your vehicle, or universal mount.
Once the mounting location is figured out, you will then need to run the wires to power the gauge (if digital) and its lighting. There are a number of ways to do this with the most common being splicing into an existing 12 volt power source and ground.
Where To install Transmission Temp Sensor
While the installation of the gauge itself may be rather simple, the installation of the temp sensor could get rather complicated depending on your application. Since most transmission temp sensors are installed by being screwed into a bung of some sort, there are a number of options for you to install it.
Each transmission temp gauge install method varies in complexity depending on your skill level. The most areas where a transmission temp sensor kit can be installed include in the pan itself, in the transmission's pressure port, or in the actual transmission line with a T fitting.
Transmission Pan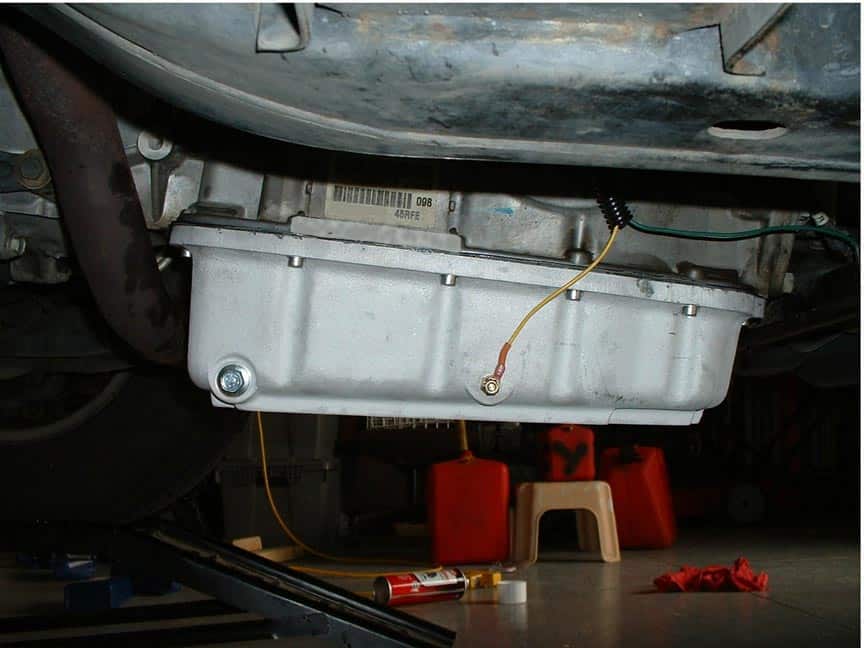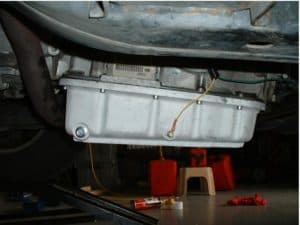 Installing the temp sensor into the transmission pan is one of the most common methods. This provides you with an accurate temperature reading of the fluid that returns to the transmission after flowing through the cooler. Overall, this mounting location will give you the most accurate average reading of the trans fluid.
While this is the preferred location to install a transmission temp sensor, it may be the most complicated. The installation would require the transmission pan to be dropped, which means the fluid would need to be drained. This can be quite messy if you're not careful.
Once the transmission oil is drained from the pan, a hole needs to be drilled in the pan to accommodate the temperature sensor. This can be hard for someone doing this their first time, as it is highly recommended to tap, or weld a bung into the pan for the sensor to thread into.
Overall, if you are comfortable with dropping your transmission pan and drilling and tapping it, then this is the way to go for the most accurate reading of transmission fluid temperature.
Transmission Pressure Port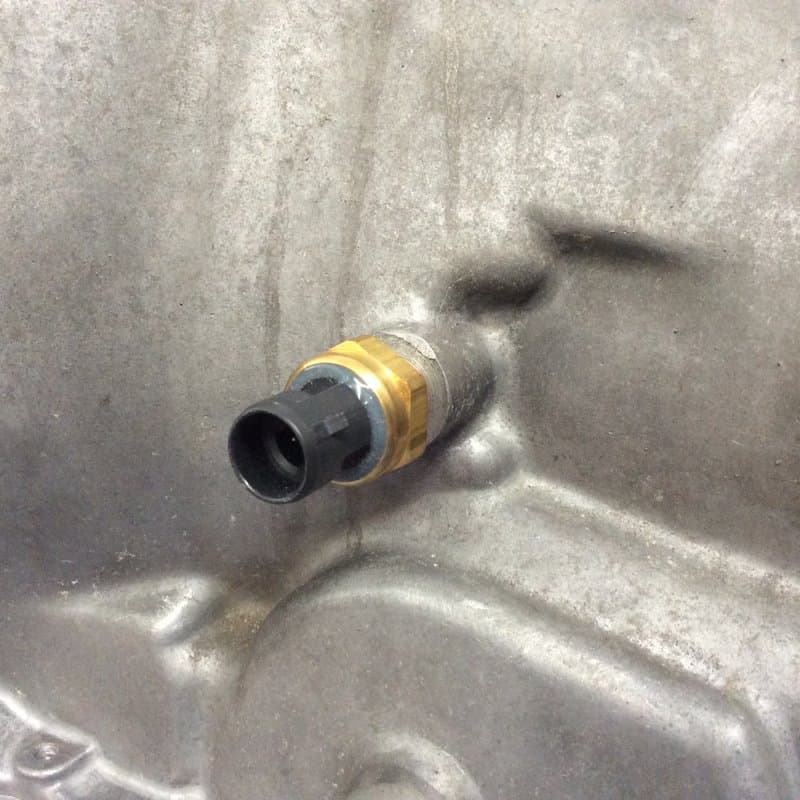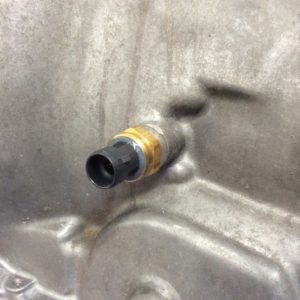 An easier way of installing the transmission temperature sensor is with the pressure port on the site of your transmission. This would require you to find the pressure port location and removing the plug it its place.
While this is an easy way of installing the trans temp sensor, it may not give the most accurate reading. The pressure port on most transmission is higher up and on the case of the transmission, so typically temps may read a little higher compared to being in the pan. The consensus is that pan mounted temp sensors read about 10 degrees cooler than those in the case or pressure port.
In Transmission Lines With T Fitting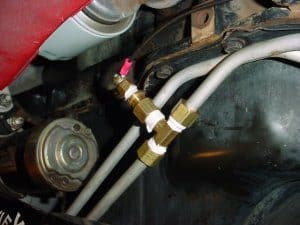 Another alternative to installing a transmission temp sensor is by placing it in the line itself. This can be done with the use of a T fitting that goes into the existing line and allows the sensor to read fluid temperatures while aft flows by it unrestricted.
If you are doing a custom -8an or -6an transmission line, this would make the installation of a temp gauge very easy. All you would have to do is plumb in an additional fitting to allow for the fitting to run perpendicular in the line.
Best Transmission Temp Gauges
If you are in the market for an aftermarket transmission temperature gauge, there are a number of options to fit your needs. Most trans temp gauges are either an analog or digital style, while some combine both.
The most common size for transmission temperature gauges is 2 1/16″ which easily fits into most universal or vehicle gauge pods, which can be found here.
Autometer Cobalt 6157 – Analog Transmission Temperature Gauge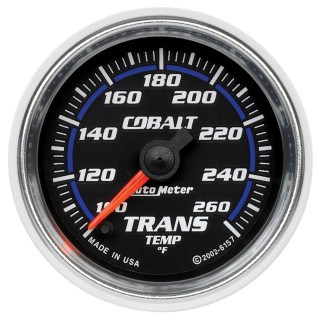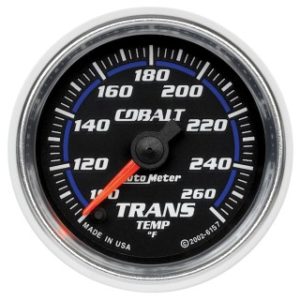 The Autometer Cobalt trans temp gauge is one of the most popular and rightfully so. This gauge comes with both digital and analog styles, which is great for those looking for an option and like the design of the gauge.
The Auto Meter 6157 transmission temp gauge utilizes a full sweep analog design with bold numbers in 20 degree increments ranging from 100 to 260. Its unique black and blue face provides a sleek look and allows drivers to quickly read their trans temps. At night, the gauge is illuminated with a blue LED light thought the dial which offers serious visibility.
The Auto Meter 6157 Cobalt trans gauge comes as a kit that includes a 1/8″ NPT temperature sensor along with 1/2″ NPT adapters, a wiring harness, mounting hardware, and detailed installation instructions.
Another added benefit to the Cobalt 6157 is it utilizes Auto Meter's race proven digital stepper motor that offers unmatched accuracy.
What We Like About The Auto Meter Cobalt 6157:
Full sweep for easy transmission temp reading
Sleek black and blue design with blue LED back lighting
Complete installation kit
Find The Lowest Price On Auto Meter Cobalt 6157 Transmission Temp Gauges
Autometer Sport Comp 3357 – 100-250 F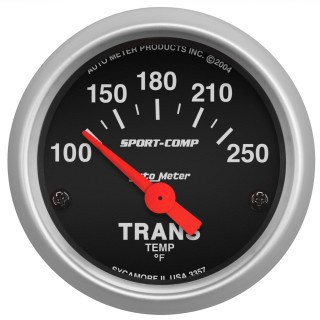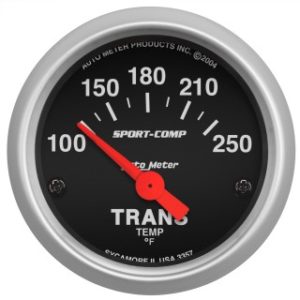 The Autometer Sport Comp 3357 features a short sweep, 100 – 250F reading that provides easy to see transmission temperatures. The Sport Comp's simple design is a classic within the Auto Meter line up, and has been a favorite of automotive enthusiasts for a long time.
The Auto Meter Sport Comp 3357 transmission temperature gauge kit includes a 1/8″ NPT temperature sender along with a 3/8″ and 1/2″ NPT adapters. The kit also comes with different color light bulb covers (red and green) in addition to mounting hardware and installation instructions.
What We Like About The Auto Meter Sport Comp 3357
Easy to read digital gauge
Extremely accurate transmission temperature readings
Works with 12 and 16 volt electrical systems
The Auto Meter Sport Comp 3357 Is one of the more classic Auto Meter gauges available, and you know what you are getting. Like all Auto Meter trans temp gauges, the Sport Comp is extremely accurate. Given the price and quality of this trans temp gauge, you cannot go wrong.
Find The Lowest Price On Auto Meter Sport Comp 3357 Transmission Temp Gauges
Glow Shift 10 Color Digital – 300 Degree Transmission Temperature Gauge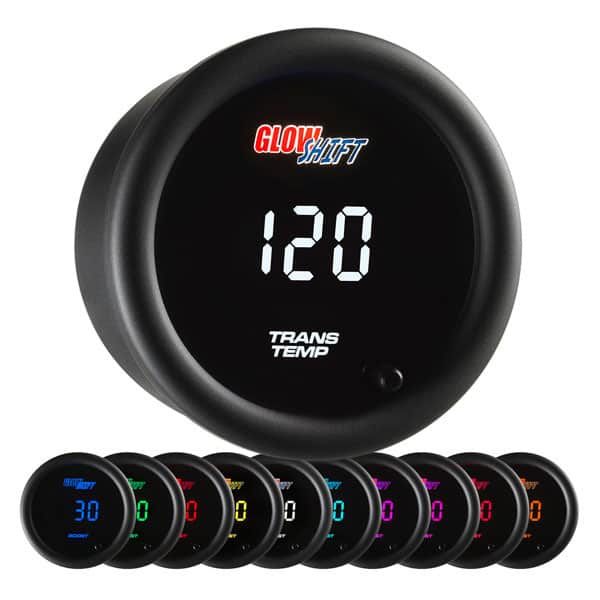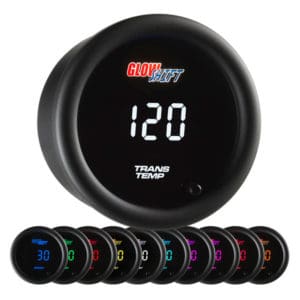 With its easy to read multi-color digital LED display, the Glow Shift 10 color transmission temp gauge is a contender for best transmission temperature gauge. This gauge offers 10 different color options with allows for easy matching to your vehicle's other aftermarket or stock gauges.
The Glow Shift automatic trans temp gauge allows for a reading of up to 300 F, which is more than enough. The gauge utilizes a 1/8-27 NPT electric sensor to get a highly accurate transmission temperature reading, and a simple plug and play harness for easy installation.
This gauge offers other great features such as the face can be tinted, or turned off, night time dimming which reduces light output, and has a flat face which provides a clean look when installed in a gauge pod.

What We Like About The Glow Shift 10 Color Transmission Temperature Gauge
Wide range of transmission temperature readings: 68 – 300 F
10 Color options: Blue, Green, Red, Yellow, White, Teal, Purple, Pink, Amber, and Orange.
Lifetime technical support from Glow Shift and one year warranty.
The GlowShift 10 color digital transmission temperature gauge offers a variety of neat features and is certainly a contender for best transmission temperature gauge. Between the east to read digital display, 10 color options, sleek look, and lower price, this is certainly a gauge for the budget minded driver looking for a transmission gauge that looks great without breaking the bank.
Find The Lowest Price On Glow Shift 10 Color Digital Transmission Temperature Gauges
MaxTow Double Vision 260 F Transmission Temperature Gauge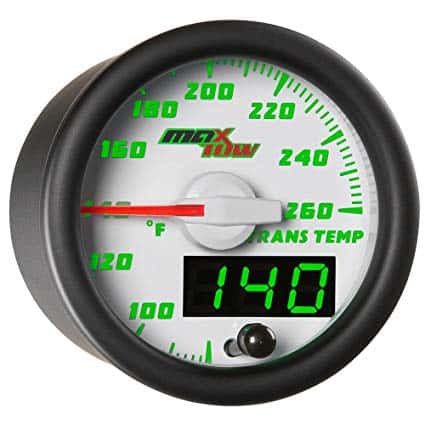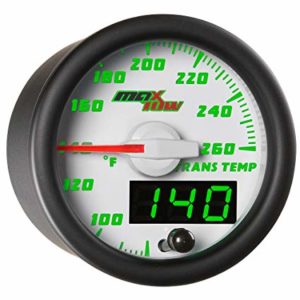 The MaxTow Double Vision 260F trans temp gauge is a truly unique gauge that offers a double vision display that has a digital and full sweep analog temperature reading. This gauge utilizes the common 2 1/16″ diameter and has a white face with bright green temperature readings.
The MaxTow double vision transmission temp gauge comes standard with an electric transmission temp sensor that has 1/8 NPT threads, a 9′ sensor wire, and a 3′ power wire for easy installation.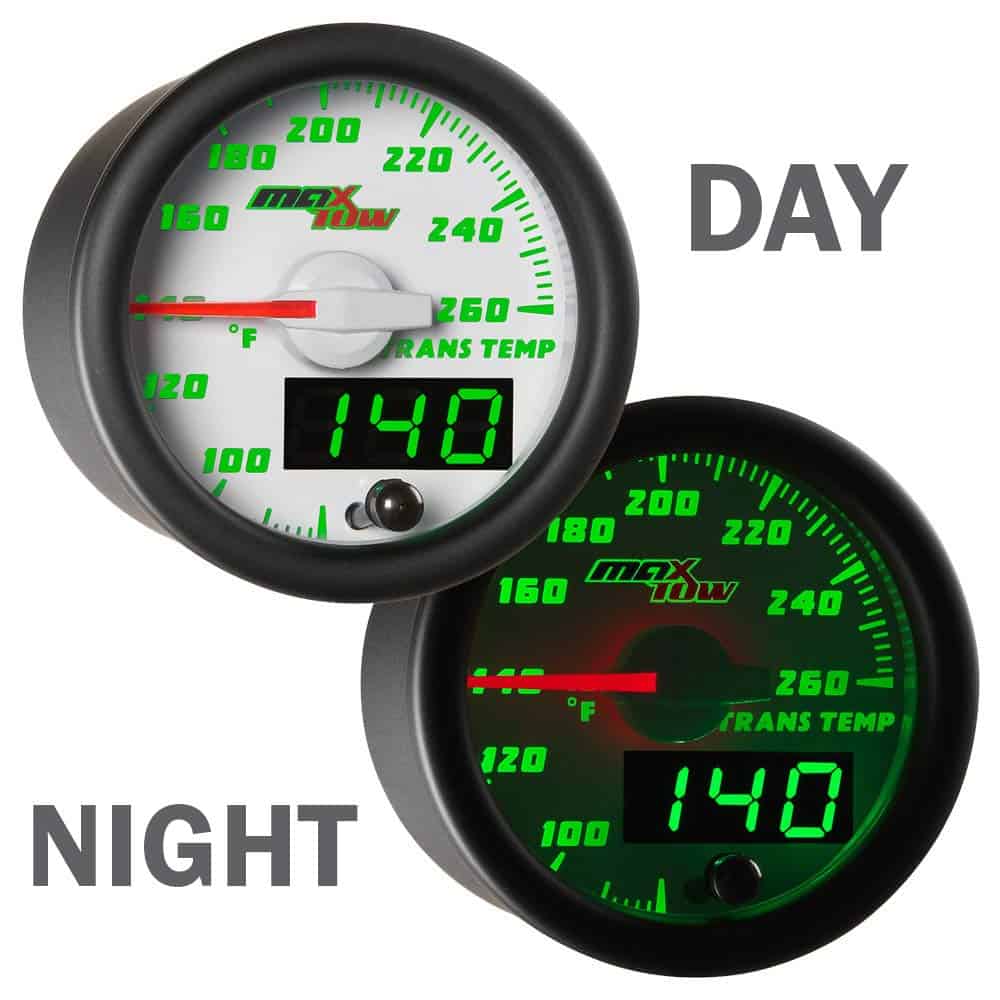 The MaxTow transmission temp gauge provides drivers with different lighting options depending the time of day. For day time driving, the easy to read green numbers are on the non-lit white background. For night time driving, the background illuminates to improve viability and reduce brightness.
What We Like About The Max Tow Double Vision 260F Transmission Temperature Gauge
Dual analog and digital temperature reading
Up to 260F
Easy installation with all necessary wiring
Multiple day and night lighting modes
Overall, the MaxTow is a sleek gauge that has the best of both worlds in terms of temperature reading. The gauge has easy to read digital and analog temperature readings that give drivers the option to look that the reading of their choice.
Find The Lowest Price On Max Tow Doble Vision Transmission Temperature Gauges
Intellitronix MS9107G LED Digital Trans Temp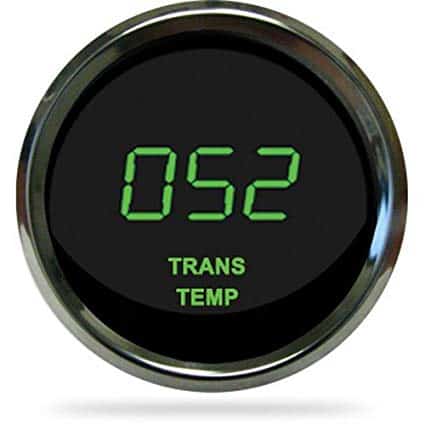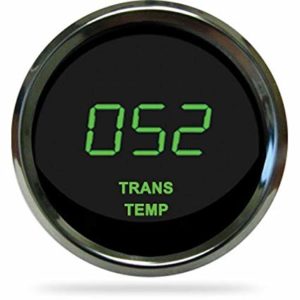 The Intellitronix MS9107G LED digital trans temp gauge provides a 50 to 350 F temperature reading with an easy to read LED lit face. The numbers on the Intellitronix MS9107G are 33% larger than other digital trans temp gauges, which makes it easier to read. Another great feature of this gauge is that is provides automatic night dimming. This reduces the brightness of the LEDs during night time driving.
This gauge has a standard 2 1/16″ diameter and is only 1 1/2″ deep, which allows for installation in shallow areas.
What We Like About The Intellitronix MS9107G
Oversized LED digital temperature reading – 33% larger numbers
50 – 350 F Reading
Automatic light dimming for reduced light output for night time driving
Only 1 1/2″ deep
When comparing digital transmission temperature gauges, the Intellitronix MS9107G is certainly in the discussion for being one of the best. With its LED display and 33% oversized digits, this trans temp gauge makes it easy for anyone to get a quick reading of trans temp. Combine the fact that it's only 1 1/2″ deep and automatically dims light output at night, this is a great temp gauge for most applications.
Find The Lowest Price On Intellitronix MS9107G Digital Transmission Temp Gauges
Whether you have a truck that tows, go off-roading, or just want to monitor transmission temperatures in your street car, these 5 automatic transmission temperature gauges are some of the highest quality and best rated on the market.