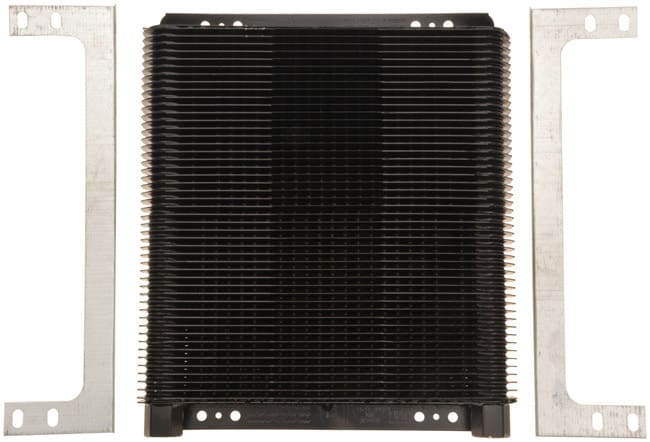 The Tru Cool Max H7B is one of the biggest transmission cooler offerings within the Tru Cool LPD (low pressure drop) line of trans coolers. With its massive body, the H7B is one of the more heavy duty coolers on the market, and can withstand some serious heat.
The H7B is built with a stacked plate design that measures 11″ x 11″ x 1 1/2″, making it one of the biggest stacked plate transmission coolers you get buy.
Like with most large stacked plate trans coolers, drivers can expect to see a significant drop in transmission fluid temperatures. The combination of it having a highly efficient stacked plate construction and its overall size help keep transmission fluid cool in even the most extreme conditions.
Tru Cool H7B Specs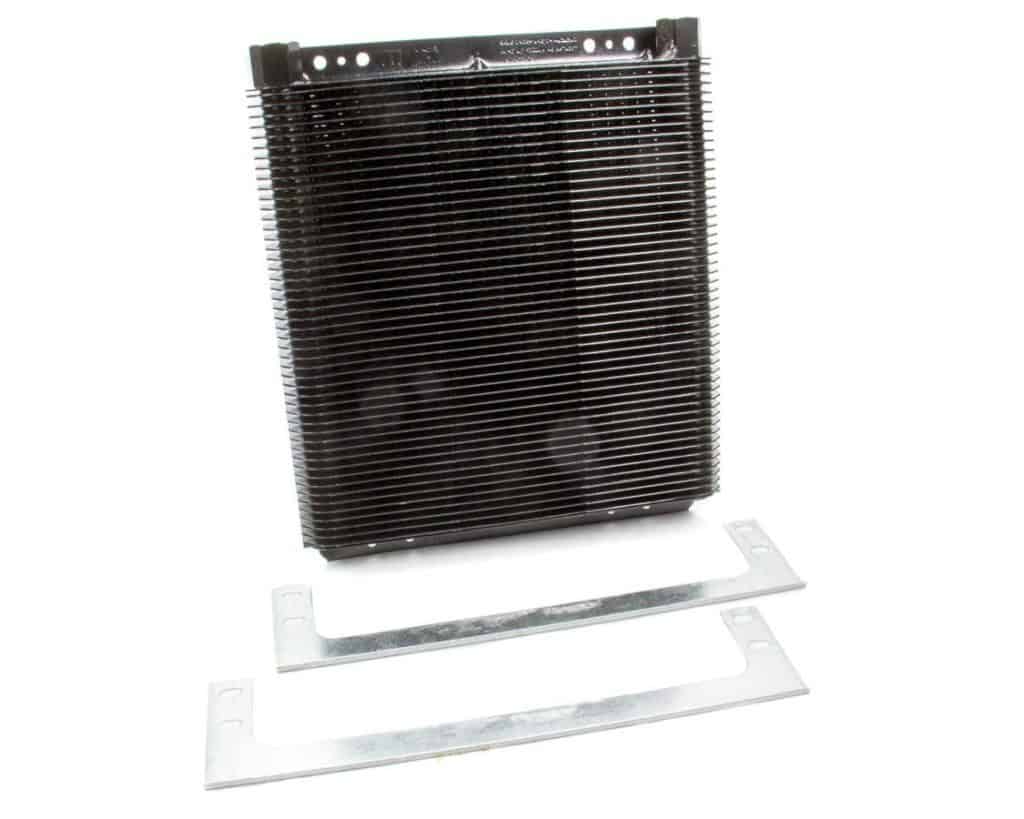 The Tru Cool H7B features a highly durable black aluminum construction with efficient fluid flow through the body for maximum cooling. With its 48 rows of cooling, the H7B does a phenomenal job at keeping transmission temperatures in check.
It uses 1/2″ NPT threads, which allows for the use of 6 or 8 an lines and fittings for a more secure fit and greater fluid capacity.
Cooler Dimensions: 11″ x 11″ x 1 1/2″
Cooler Type: Stacked Plate
Cooling Rows: 48
GVW: n/a
BTU Rating: 29,200
Fitting Size: 1/2″ NPT
Highlighted Features
TRU-COOL 11 x 11 x 1-1/2 in LPD Fluid Cooler P/N H7B
Tru Cool Low Pressure Drop System
The H7B utilizes Tru Cool's unique low pressure drop design that allows for more efficient cooling. The colder automatic transmission fluid is, the thicker it is in viscosity.
This causes the fluid to not flow through the cooler as efficiently as possible, so a passive bypass is built into the cooler to allow the thicker fluid to flow as normal. This thermal bypass is located in the first rows of the cooler.
As the fluid gets warmer, it will start to efficiently flow through the rest of the cooler to keep temperatures as low as possible. This allows for optimal heat transfer and improved protection against lube system failure. More information about Tru Cool's low pressure drop system can be found here.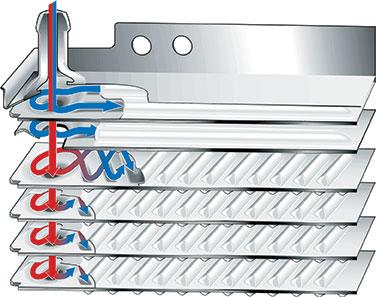 Recommended Uses
Towing & Hauling
Daily Driven Trucks & Suv's
Performance Oriented Cars, Trucks & SUV's
Based on the size of the Tru Cool H7B, this cooler would be an excellent choice for drivers who demand high cooling efficiency. Many truck owners who tow or haul heavy loads can utilize this cooler to help better control trans fluid temps.
The H7B was on our list of transmission coolers to consider in our transmission cooler buyer's guide based on its size and how much cooling capacity is offers.
With how great this cooler is when it comes to keeping temperatures in a safe range, it's easy to understand why this is the go to transmission cooler for a number of truck or SUV needs. The Tru Cool H7B is by far one of the best transmission coolers for drivers who demand excellent cooling performance.
Tru Cool H7B Install
When installing the Tru Cool H7B, it is important to figure out how much space you have to mount it. Based on its size, the most common area to install the H7B would be in front of the radiator. This will provide the most air flow while driving, which will keep temps low.
Most trucks and SUVs have supports that hold the hood latch or stock trans cooler in place. This would be the perfect place to mount the cooler. Since it is much larger than any stock external cooler, you will have to get creative with how you mount the Tru Cool H7B. More often than not, you can get the cooler to fit in most tight spaces with some creativity and the right mounting hardware.
When it comes to installing this cooler on a more performance oriented car application, the size can cause some issues. On one of our personal street / strip cars, we use this cooler mounted right in front of the radiator, like shown below.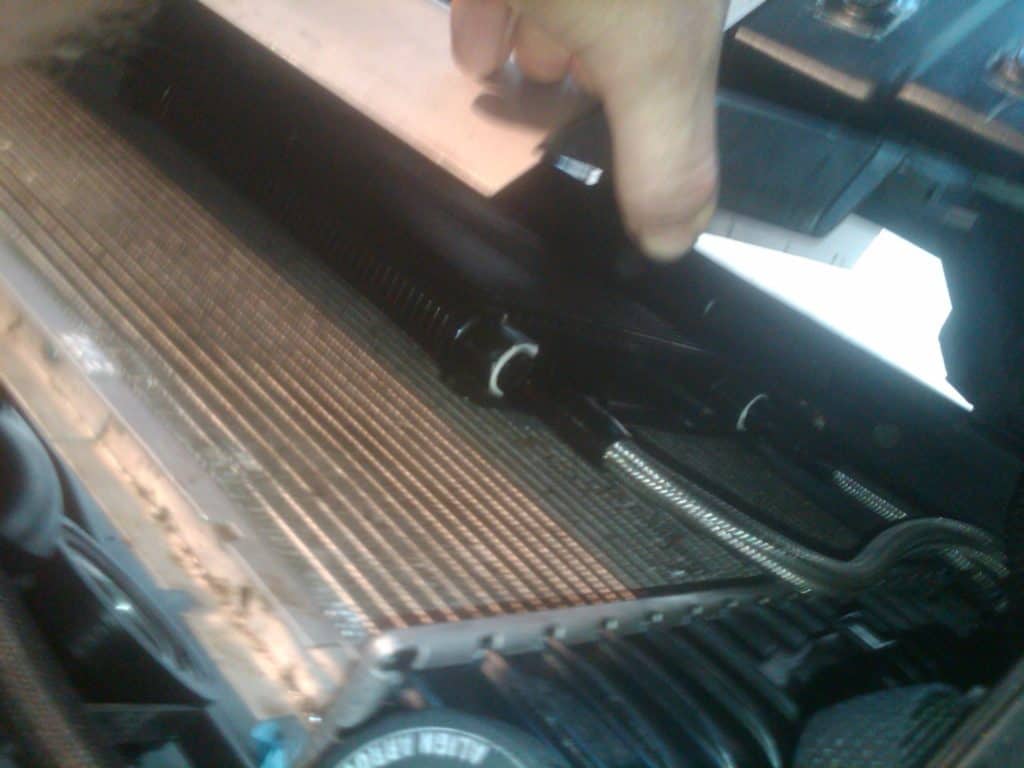 Since there is no air conditioning condenser to complicate space, installing the H7B was a breeze in an f-body camaro. Based on this location, I have yet to have any trans temperature over 180 F, even in the middle of the summer after some "spirited" driving.
When considering this cooler as a stand alone (bypassing the stock cooler), it is adequate enough to handle the needs of most applications. While is it typically recommended to utilize this cooler with the stock radiator cooler, it can certainly be used by itself as a stand alone cooler that bypasses the radiator.
Tru Cool H7B Pros & Cons
Pros
Stacked Plate Design
Tru Cool's Low Pressure Drop (LPD)
Large Size & Capacity
1/2″ NPT Fittings
Can Be Used As Stand Alone Cooler
Cons
May Be Hard To Fit In Some Vehicles
Conclusion
Overall, the Tru Cool H7B is a great option for trucks, SUV's, and performance oriented cars that need superior transmission fluid cooling. Between its size and 29,200 BTU rating, this cooler is certainly capable of handling everything you can throw at it.
Despite the fact that this cooler does not include hardware or fittings to compete the installation, the cost of the cooler will allow you to purchase everything you need. We highly recommend utilizing either -6an or -8an lines with this cooler to get as much cooling capacity as possible while creating a very secure, leak free connection.
With its 4.6 star average Amazon rating, the H7B is a very high quality transmission cooler that will do what you ask of it and then some. For the cost, it is fair to say this is the best heavy duty transmission cooler on the market. Between the excellent build quality and having a limited lifetime warranty, the Tru Cool H7B is a great choice.