Looking for a heavy duty transmission cooler that offers serious cooling without breaking the bank for your vehicle? Look no further than the Jegs 60389 transmission cooler kit. This Jegs performance products high performance transmission cooler utilizes a 30,000 GVW plate and fin cooler AND includes a fan, all for a great price. 
Due to its design and fan, this cooler can endure a serious beating no matter how you plan on using it. Whether you you plan to use this for your tow rig for added insurance, or in your race car as a stand alone cooler, the Jegs 60389 is a great choice for many strenuous situations. 
| | | | |
| --- | --- | --- | --- |
| Transmission Cooler | GVWR | Type Of Cooler | Price |
| Jegs 60389 Transmission Cooler with Fan | 30,000 | Plate & Fin w/ Fan  | Shop Now |
Jegs 60389 Transmission Cooler With Fan Specs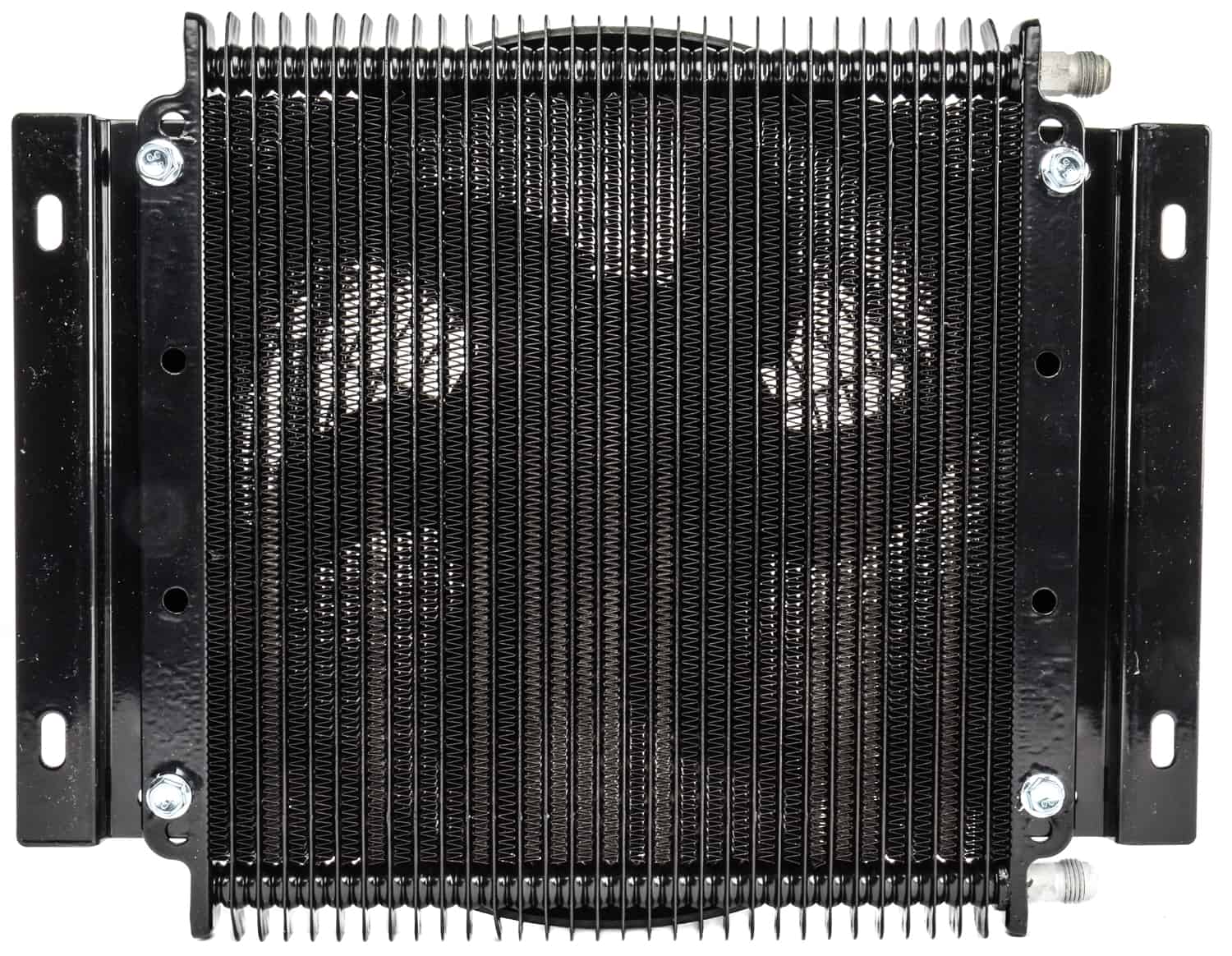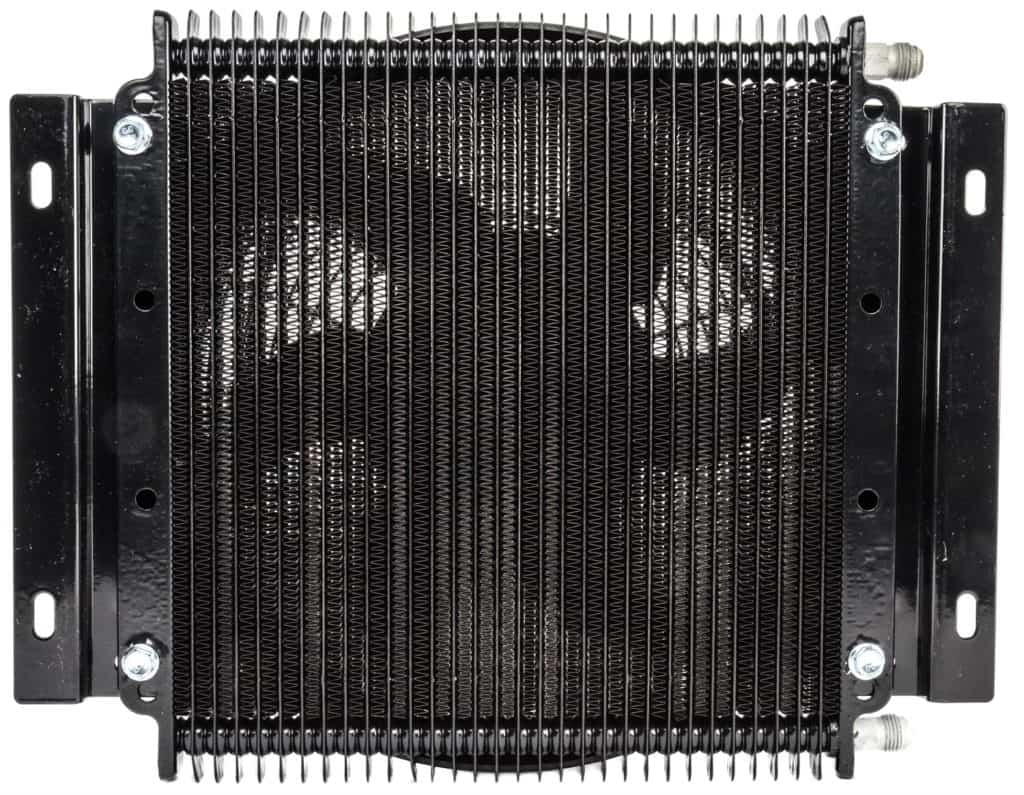 The Jegs 60389 features a highly durable black aluminum construction with efficient fluid flow through the body for maximum cooling. With its 30 rows of cooling and fan, this cooler is able to effectively keep transmission fluid in a safe range under harsh conditions. 
This cooler uses -6 an fittings which allows for the use of custom lines and fittings for a more secure fit and greater fluid capacity. This is a great option for those looking to mount this cooler remotely, or just want to use better transmission lines.
Cooler Dimensions: 11″ x 14″ x 3 3/4″ including fan
Cooler Type: Plate & Fin
Cooling Rows: 30
GVW: 30,000
Fitting Size: -6 an
Fan specs: 11″ 500 cfm with 5.6 amp draw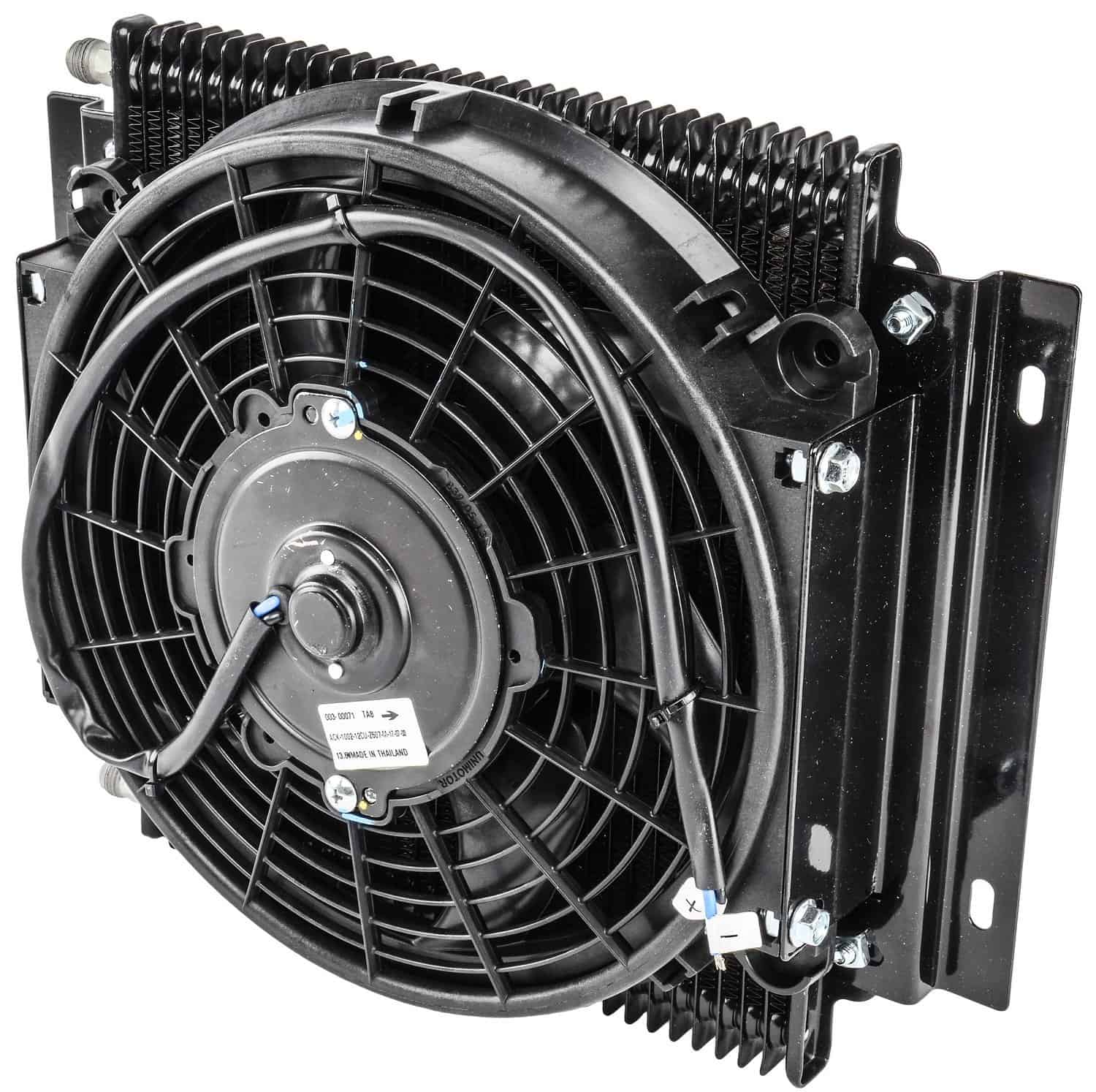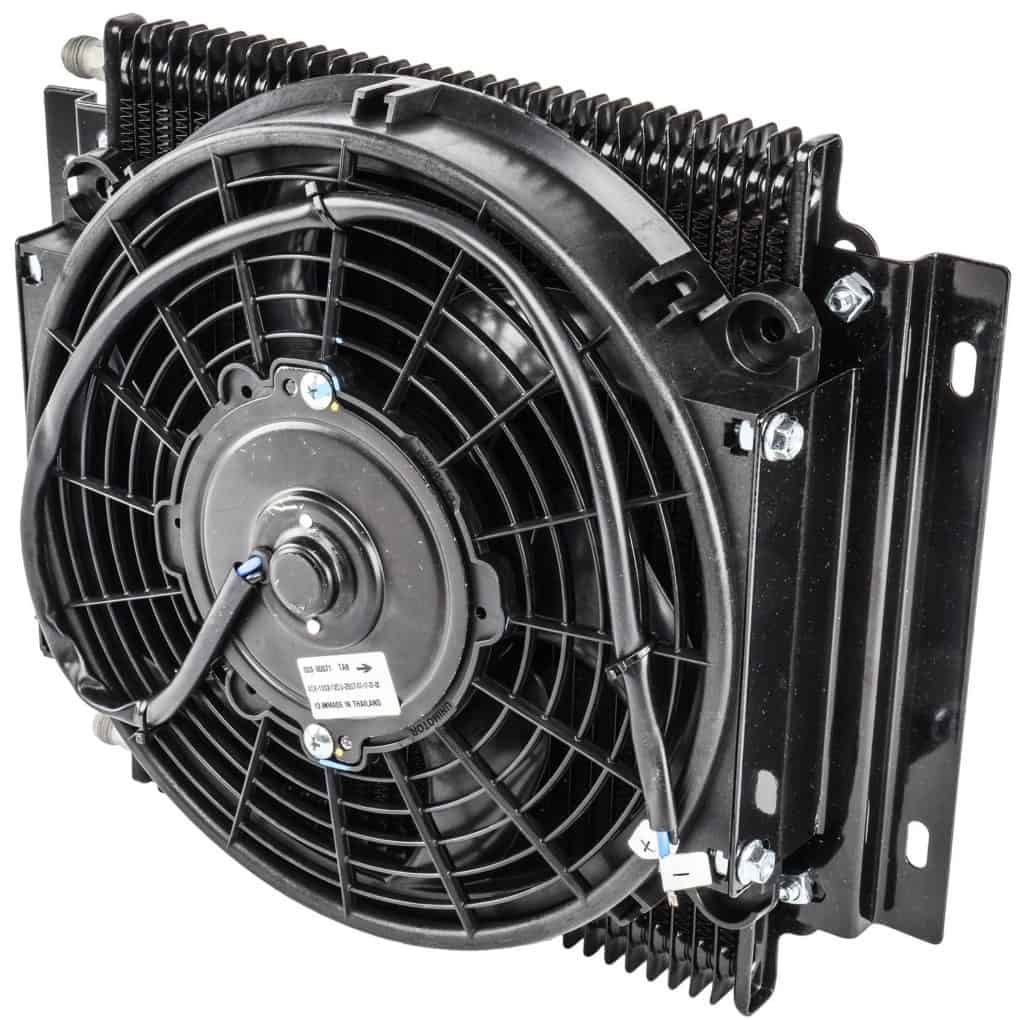 The Jegs 60389 includes an 11″ fan that covers the entire surface of the cooler's body.   Not only that, but the fan has mounting brackets included, so there is nothing to worry about in terms of mounting the fan. The fan flows at 500 cfm and draws 5.6 amps. This allows for additional cooling capacity to help those situations where your vehicle may not be getting the most air flow. 
Recommended Uses
Performance Oriented Cars, Trucks & SUV's
Off-Roading 
Based on this cooler's size and fan, the Jegs 60389 would be an great option for drivers who often tow, race, or use their vehicle off-roading.  The high efficiency of this cooler will easily control trans fluid temps and keep them as low as possible.
Jegs 60389 High Performance Transmission Cooler With Fan Install
When installing the Jegs 60389, you have a number of mounting options.  Since this cooler comes with a fan, the easy installation choice would be to install it in a remote area that may not get as much air flow as you would in front of the air conditioning condenser. 
Depending on space, this cooler can be installed underneath or at the very front of your vehicle, where the fan will allow for adequate cooling, and make up for the lack of air flow from the cooling fans on the radiator.
Extra Installation Parts
If you are planning on using this cooler, and would like the fan to automatically turn on, you need to also purchase a transmission cooler fan switch. This is an inline transmission cooler thermostat that is wired to the fan on the cooler, and turns the fan on when fluid temps reach 180F, and typically turn the fan off when temps get back down to around 165F.
For the Jegs 60389, we recommend the Derale 13021 in-line thermostat. This thermostat has -6an threads, so would be a perfect compliment to the -6an fittings on the cooler. This will allow for a seamless installation to get your fan to kick on automatically, taking the worry out of transmission temps and needing to manually turn the switch on or off.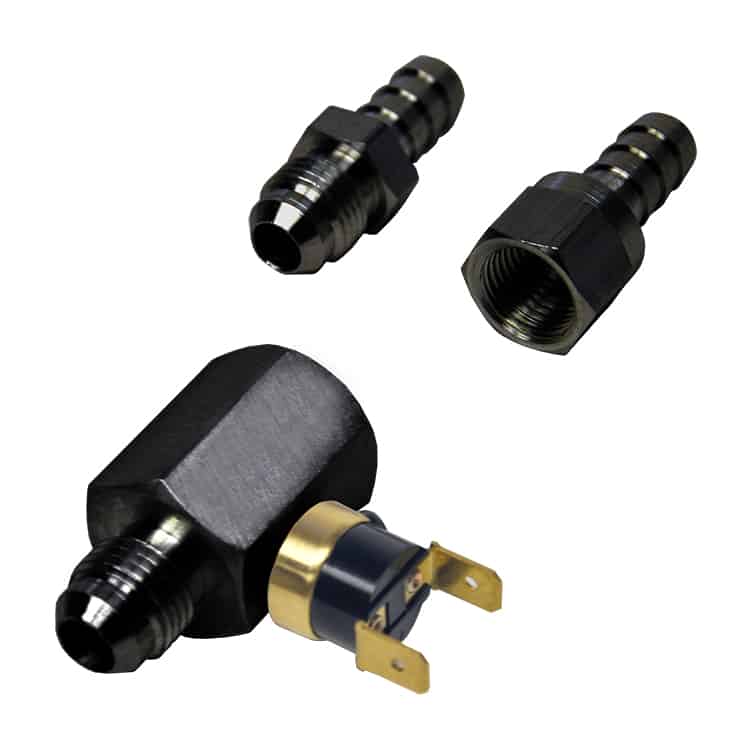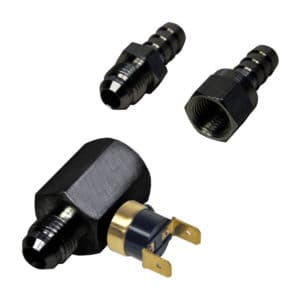 In addition to the thermostat you will need a relay to properly wire it all together, like the Derale 16763.  
When considering this cooler as a stand alone (bypassing the stock cooler), it is adequate enough to handle the needs of most applications.  While is it typically recommended to utilize this cooler with the stock radiator cooler, it can certainly be used by itself. 
Jegs 60389 Pros & Cons
Pros
Plate & Fin Cooler
30,000 GVW Rating
500 CFM Fan
-6 an fittings
Can Be Used As Stand Alone Cooler
Cons
Additional Hardware Needed
Conclusion
Overall, the Jegs 60389 is a great transmission cooler option for trucks, SUV's, and performance oriented cars that need higher than average transmission fluid cooling.  Between its size and 30,000 GVW rating, and its fan, the Jegs 60389 can tackle everything you can throw at it. 
Since this cooler includes -6an fittings, it is easy to install your own custom transmission cooler lines, which given the fact that this cooler is designed for heavy duty use, is highly recommended.