Regarded as one of the greatest cars of all time, those in the know understand that the XJ is a special vehicle.  Between having the bulletproof 4.0 motor and being easy to modify to your liking, the XJ is flat out awesome to own and drive.
Since they are older now, the XJ is used as more of fun vehicle that can often be seen driving around with a lift and some aggressive all terrain tires.  While that may be more for the street, the XJ has been known to be one of the preferred platforms for making a great off-road rig.
No matter how you use your XJ, you need to make sure its transmission lasts. For the majority of its production, the Cherokee XJ came equipped with an AW-4 transmission (1987 – 2001)  that was more than capable in most situations.   Despite this, many drivers fail to  help prolong their life by installing a transmission cooler.
If you are considering a transmission cooler upgrade, here are our suggestions for the best transmission coolers for your XJ.
| | | | |
| --- | --- | --- | --- |
| Transmission Cooler  | GVWR | Type Of Cooler | Price |
| Hayden 516 | – | Tube and Fin | Shop Now |
| B&M 70264 SuperCooler  | 19,000 (14,400 BTU) | Stacked Plate | Shop Now |
| Jegs 60389 w/ Fan | 30,000 | Plate and Fin | Shop Now |
Jeep Cherokee XJ Transmission Cooler Installation

Installing a transmission cooler on your XJ is rather straight forward and simple.  The first step in installing your trans cooler is to locate the transmission cooler return line, which is on the top drivers side of the radiator right below the coolant fill cap.
This line will be reused at the rubber line that is lower in the line down by the bottom of the motor.  Cut the line down where it turns into rubber by the motor.  Make sure to leave enough rubber line on both ends when you cut as this will be reused for the new line.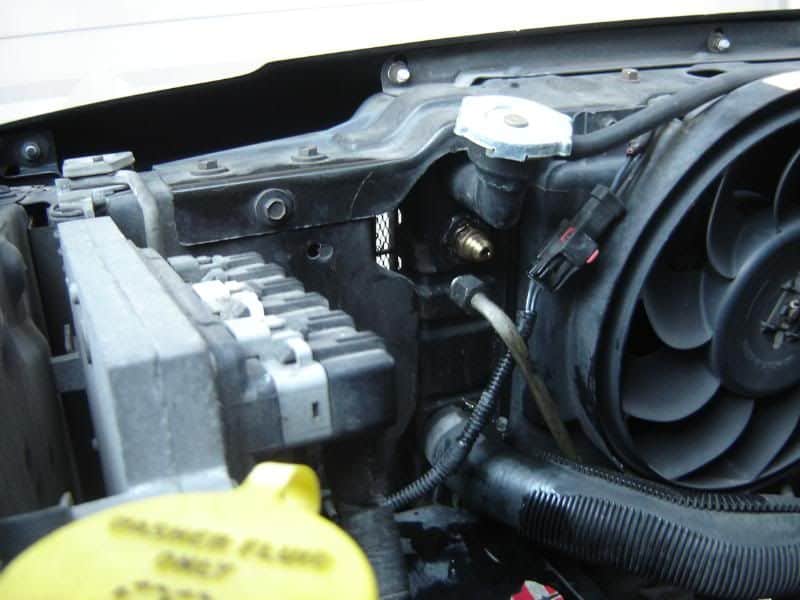 After making the cut to the line, add barb fittings to both ends to connect new rubber lines to each.  The new lines will go to and from the new transmission cooler. The flow of transmission fluid will now be: Transmission > Radiator > External Trans Cooler > Transmission like in the image below.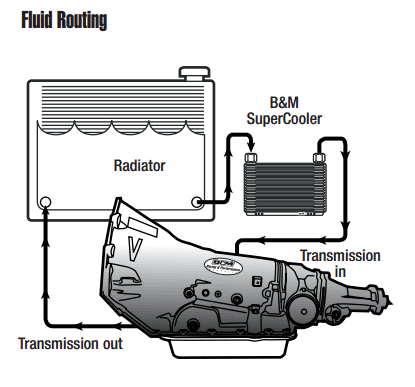 XJ Transmission Cooler Mounting Location
The best place to install a transmission cooler on an XJ is directly in front of the air conditioning condenser.  This is the perfect spot for a stock XJ or one that's strictly used for off road duty.
If you use your XJ off road, you will not want to mount your trans cooler in a remote location under the vehicle to prevent any damage going over rough terrain.  It is best to use a transmission cooler with a fan if you are into serious off-roading.  This is due to the combination of the lack of airflow from having to go slow, and the nature of off-roading being harsh on transmissions.
Hayden 516 - Low Cost Transmission Cooler
The Hayden Automotive 516 transmission cooler is a great option for many XJ owners.  The cooler has an 8 pass tube and fin style construction and is thin to allow for ease of installation in your XJ.
This cooler is designed for trucks and SUV's who tow or haul heavy loads, but our believe is that you should get as big of a trans cooler as you can fit. Given the low cost of the Hayden 516, it makes perfect sense to use this cooler on your Cherokee.  The below image shows how a Hayden 516 fits on an XJ, and it looks perfect.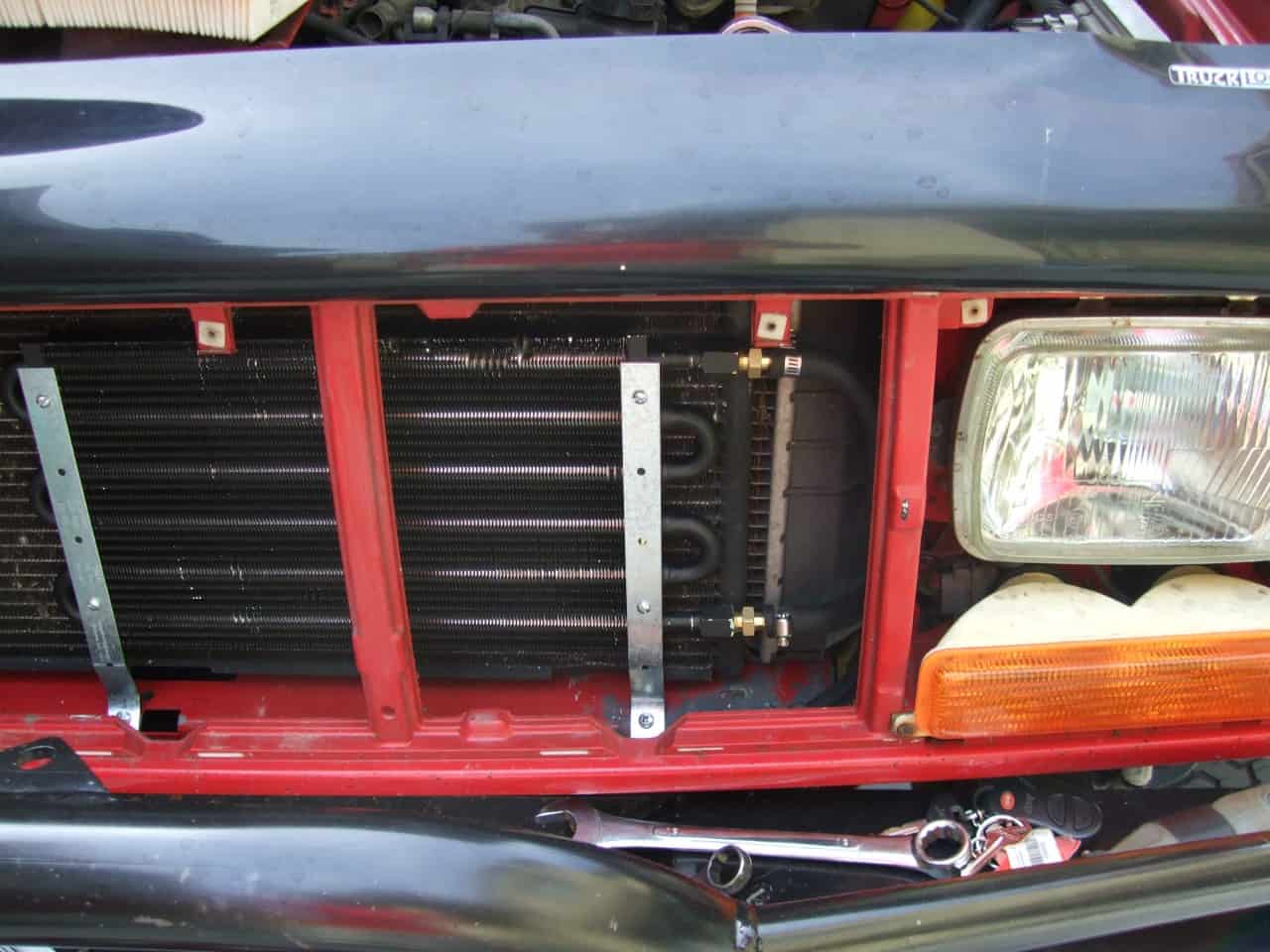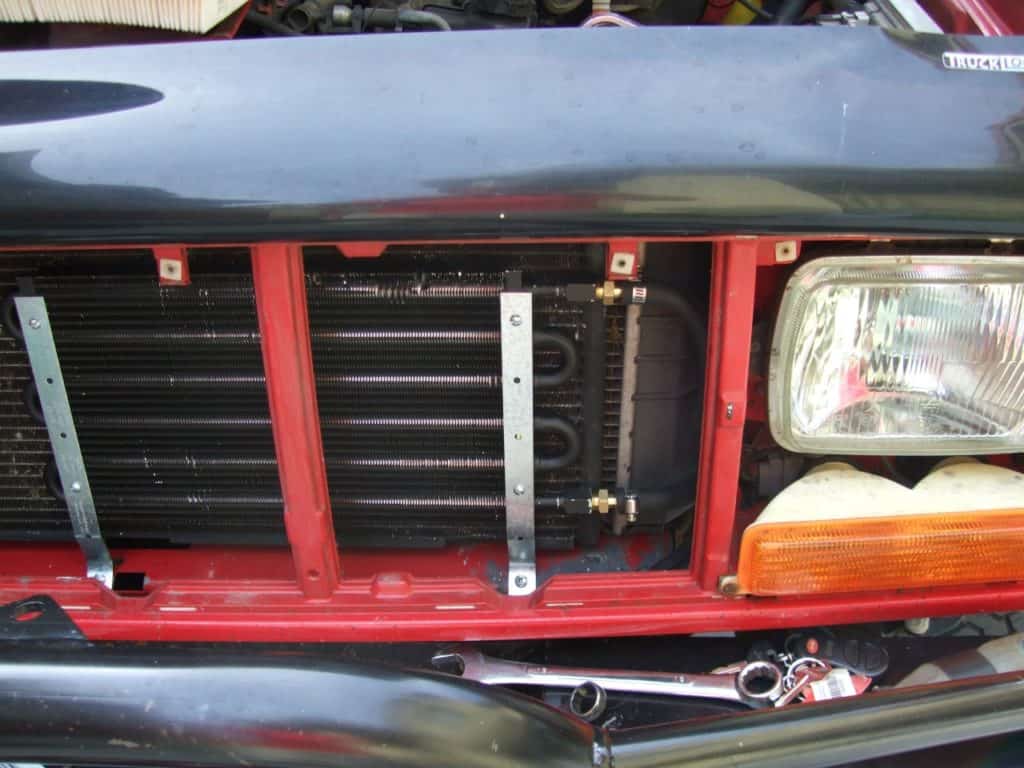 The Hayden 516 measures at 10″ x 15″ x 0.75″ and has 9/16-18″ female threads on both ends.  The cooler includes threaded barb fittings and new rubber transmission line as well to make for an easy installation.
The only thing with this cooler is you need to source your own brackets. In the installation image you can see the cooler is held in place with simple sheet metal that was bent to perfect the fit.
Hayden 516 Pros & Cons
Pros
Perfect Fit In XJ
Includes Hose & Fittings
Low Cost
Cons
B&M SuperCooler 70264 - High Efficiency Transmission Cooler
 The B&M SuperCooler is one of the most versatile transmission coolers on the market and it a great addition to almost every vehicle.  We recommended this cooler in our buyer's guide as one of the best transmission coolers, and even had its own product write up, which can be found here. 
As mentioned in the past, this cooler has a highly efficient stacked plate construction and is more effective at cooling transmission fluid temps compared to a plate and fin or tube and fin style cooler.
This cooler measures 11.25″ x 7.25″ x 1.5″ which makes it very compact.  In the image below, this cooler fits perfectly in the front of an XJ.  Between the excellent fit and high efficiency, this cooler is a great upgrade for your XJ.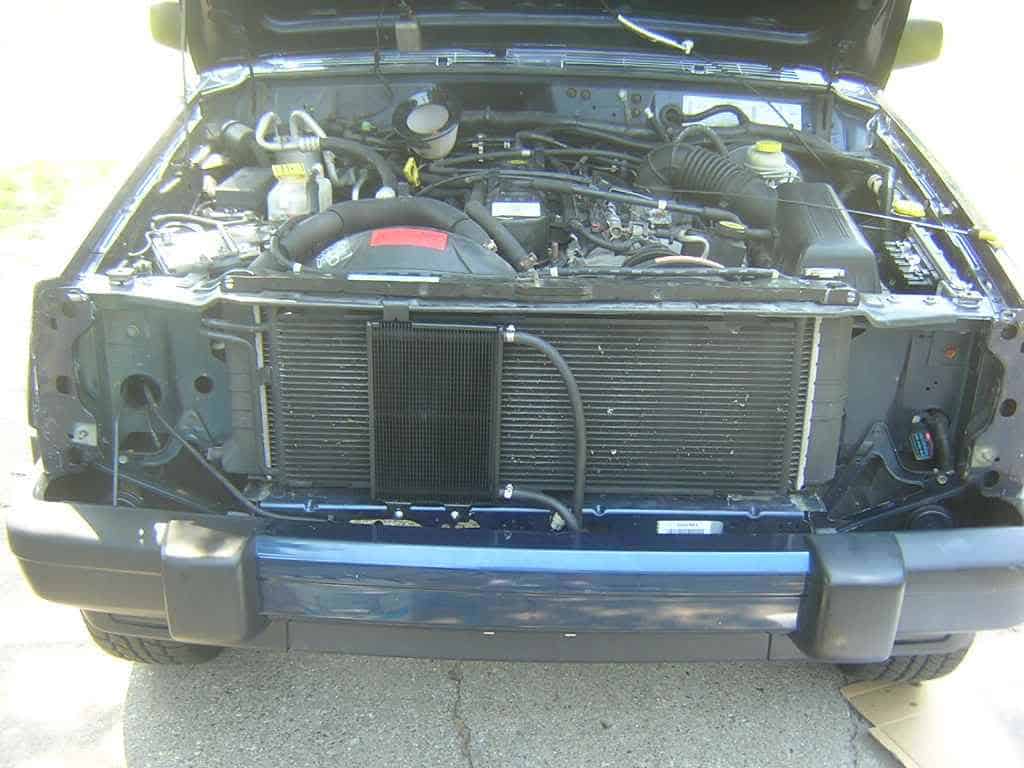 B&M 70264 Pros & Cons
Pros
Stacked Plate Cooler
Great Fitment In XJ
Includes Complete Installation Kit
Extremely Efficient
Cons
More Costly Than Other Coolers
Jegs 60389 Transmission Cooler With Fan
For the more hardcore XJ owner who takes their rig on the trails often, you need a transmission cooler that's a little more heavy duty.  For you, the Jegs 60389 is a great option. This cooler comes standard with a fan and utilizes -6an fittings.  This is a great option for planning to bypass the stock trans cooler in the radiator and run your own lines. ( You don't want rubber lines getting ripped going over a rock).
This cooler will fit perfectly right behind your grille and will give superior cooling when you need it most. With its 30,000 GVW, the Jegs 60389 can cool under most conditions, but given the fact it includes a fan, it will handle anything you can throw at it.
This cooler measures 11″ x 14″ x 3 3/4″ (includes brackets and fan) and utilizes an efficient plate and fin style design.  The fan flows 500 CFM and draws 5.6 amps.
Jegs 60389 Pros & Cons
Pros
30,000 GVW Rating
Great Fitment
Includes Mounting Brackets
Includes 500 CFM Fan
-6 an Fittings
Cons
More Involved Installation
If you need extra cooling for your off road oriented XJ, the Jegs 60389 is a great option. Learn more about the Jegs 60389 and other parts to include when wiring up your transmission fan here.
Shop Jegs 60389 Transmission Coolers On Amazon
Transmission Temperature Gauge For Jeep XJ
As we know, a transmission cooler is a great investment for improving the life of your vehicle, but what about a transmission cooler temp gauge? It is always a good idea to monitor transmission temperatures if you have the ability.
For your XJ, a transmission temp gauge will help you understand how warm your temps get, especially on the trail on a hot day.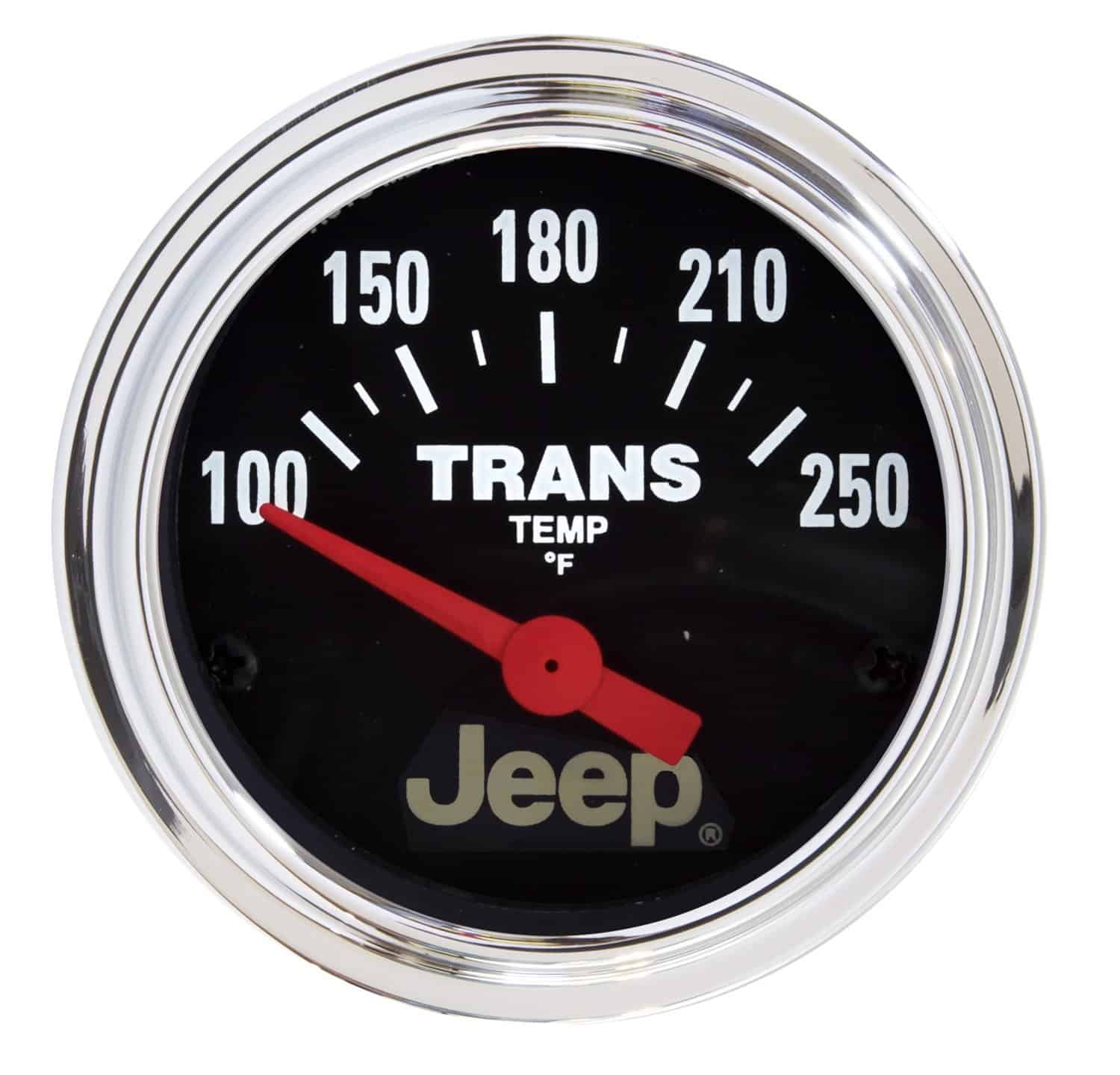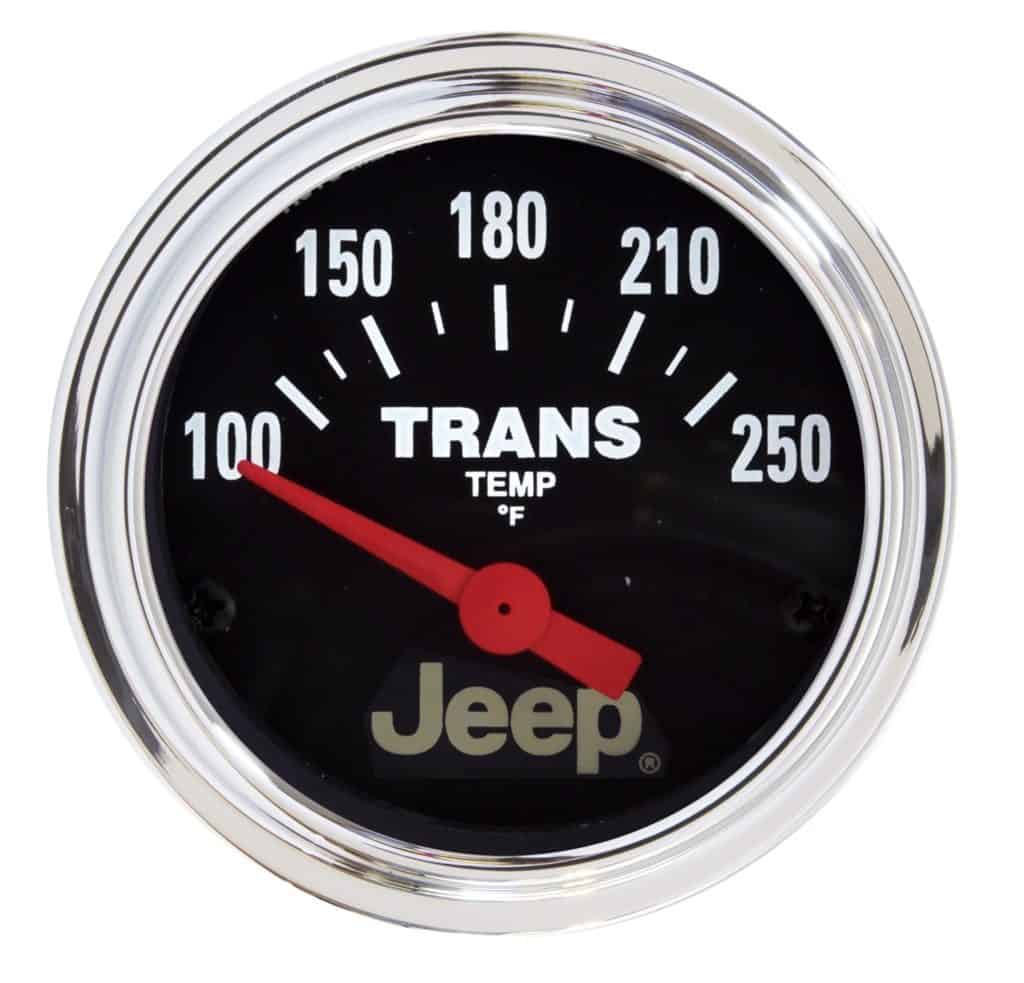 A great trans temp gauge for your XJ would be this one from Autometer.  This trans temp gauge uses a classic half sweep 100 – 250 trans temp reading and the Jeep logo is certainly a nice touch. To learn more about transmission temperature gauges and how to install one, check out our transmission temperature gauges guide.
Conclusion
When it comes to cooling your XJ's transmission, there are a number of options when upgrading your transmission cooler. Whether you're XJ is your daily beater or an all terrain beast, keeping trans temps down will help it stay on the road (or trail) longer.
As always, whenever you install a transmission cooler, it is always recommended to check you transmission fluid levels.  In most cases, between the loss of fluid from removing and modifying the lines, as well as the increased capacity of the new cooler, you should look to add half a quart or so.