Utilizing a transmission cooler with a fan is ideal for applications where the cooler cannon receive enough air flow to keep the automatic transmission fluid temps cool enough.  The most common uses for high performance transmission oil coolers with a fan are typically on off-road type vehicles, drag racing applications, or even heavy duty towing.
In these situations, the cooler is either mounted under the vehicle or just simply isn't getting the necessary air flow based on vehicle speeds.
Here are our recommendations for the best transmission coolers with electric fans:
Using a transmission cooler with a fan can often be confusing, so we want to help make things more simple.  Below are answers to common questions related to transmission coolers with fans. 
Do Transmission Coolers Need Fans?
No, transmission coolers do not need fans, but should use a fan where ever air flow is limited.  For example, if you mount your transmission cooler in an uncommon spot or in an area with little air flow, then a fan is highly recommended. 
This is common for heavy duty use cases or in situations where space is needed for other essential things such as a turbo kit on drag race vehicles. 
Do I Need To Buy A Transmission Cooler and Fan Separately? 
If you already have an aftermarket transmission cooler installed on your vehicle and need additional cooling, then yes, you will need to purchase a fan on its own and mount it to the cooler. 
However, if you know right off the bat that you need a fan, you can get a transmission cooler with fan kit as one simple to use unit.  This alleviates any headaches and matching of parts that may or may not work. 
Since transmission cooler with fan kits are sold as 1 piece, all the guesswork is eliminated, freeing up your valuable time and energy. All you'd need to do is mount the cooler and wire the fan to either a switch or with an in-line thermostat.
B&M 70298 – Most Compact Transmission Cooler With Fan
The B&M 70298 transmission cooler comes with an automated Spal fan to assist in extra cooling capacity. Additionally equipped with 10 rows, this is ideal for difficult cooling jobs. This small transmission cooler with fan kit is great for use in compact areas and does a phenomenal job of cooling in all situations.  
It is a fin and plate cooler designed with a 175-degree thermostat to control the on and off feature of the fan automatically. Notably, this fan pulls about 6 amps to keep your engine oil and transmission fluid cool and within the right operating temperature. It is pressure tested to 200 PSI to ensure you get a well-developed, leak free transmission cooling system.
This cooler is great for drag race applications, heavy RVs,  towing, and even street performance vehicles. An elegant black finish ensures this cooler matches the inside of any vehicle it is installed.
The B&M 70298 is a great choice for anyone looking for a reliable high cooling capacity trans cooler with a fan. It works with both engine and transmissions to ensure your vehicle's fluid temperatures where you want them.
What We Like About The B&M 70298:
It is universal and can be adapted into several vehicles, just as long as you have the room for it.
Intense cooling capacity with dual cooling action of the fan and fin-plate cooling systems
Comes with built-in mounting brackets for easy installation
Suitable for all fluid cooling need
Derale 15960 - Most Heavy Duty Transmission Cooler With Fan
The Derale 15960
 transmission cooler is a stacked plate style cooler that features  25 cooling rows and an 8″ fan that flows over 500 CFM of air.  This cooler and fan were designed to provide  maximum transmission cooling efficiency for heavy duty situations. Without the fan, the cooler itself has a 30,000 GVWR, making it a very heavy duty transmission cooler.
The 15960 comes complete with an installation kit that includes 10 ft of transmission hose, fittings, and clamps.  The cooler comes equipped with -8an cooler fittings, making it easy to run custom lines if you choose. 
One of the nice features of the Derale 15960 is that the fan has a thermostat designed to automatically turn the fan on when transmission temperatures flowing into the cooler reach 180 degrees.  
This is great to have for the user who is looking for a 100% worry free transmission cooler, and for this reason, we recommended it as one of the best transmission coolers for towing. 
What We Like About The Derale 15960:
Size – The size of the cooler makes it easy to mount in most locations.
Stacked plate style cooler for maximum efficiency.
180 degree inline thermostat that automatically turns fan on.
Comes as a complete kit with extra hose, clamps, and mounting hardware. This cooler can be used with barb fittings or custom lines can be used with AN fittings.
Lower cost than the B&M 70298
See more bout Derale remote transmission coolers in the video below 
Mounts anywhere space permits. Mounting-7-1/2 x 9 inches
Electric fan supplies optimum airflow
Dramatically extends engine and transmission life
High efficiency stacked plate cooler
Hayden 526 – Most Budget Friendly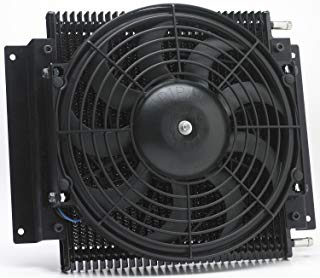 The Hayden 526 is one of the most cost effective transmission oil coolers with a fan. The cooler utilizes a plate and fin style cooler with standard 3/8″ barb fittings. If we include the fan and mounting brackets, the cooler's dimensions are 11″ x 13.8″ x 3.5″.
One of the added benefits of the fan on the Hayden 526 is that it can be used as either a push or pull fan. This is very helpful depending on where you mount it. 
The cooler alone is rated at 30,000 GVW, which makes it a great option.  Not only that, but the 10″ fan flows at an estimated 650 CFM. 
Between the cooler size, fan air flow, and price, the Hayden 526 is one of the best transmission fluid coolers with a fan currently on the market. Because of this, the Hayden 526 was included in our drag racing transmission coolers guide.
What We Like About The Hayden 526:
Very cost effective
Efficient plate and fin style cooler
30,000 GVWR
650+ CFM fan flow
Plate and fin design
Self contained cooler/fan combination for remote mounting
Ultra compact design
Advanced stator fan design to evenly distribute cooling
Can be operated with thermostatic or manual controls
Transmission Cooler Thermostats & Fan Switches
Transmission coolers that utilize a fan can be turned on and off manually with a switch the driver controls or automatically with the use of an inline transmission cooler thermostat.  
Most transmission cooler thermostats activate the fan to turn on at 180F and turn off at 165F.  This helps keep the transmission fluid in a safe operating range, and will prevent overheating.
One of the most common transmission fluid thermostats is the Derale 13021 fan controller.  This Derale transmission cooler thermostat comes standard with -6an male and female threads and includes 3/8″ barb fittings as well for those running rubber transmission lines.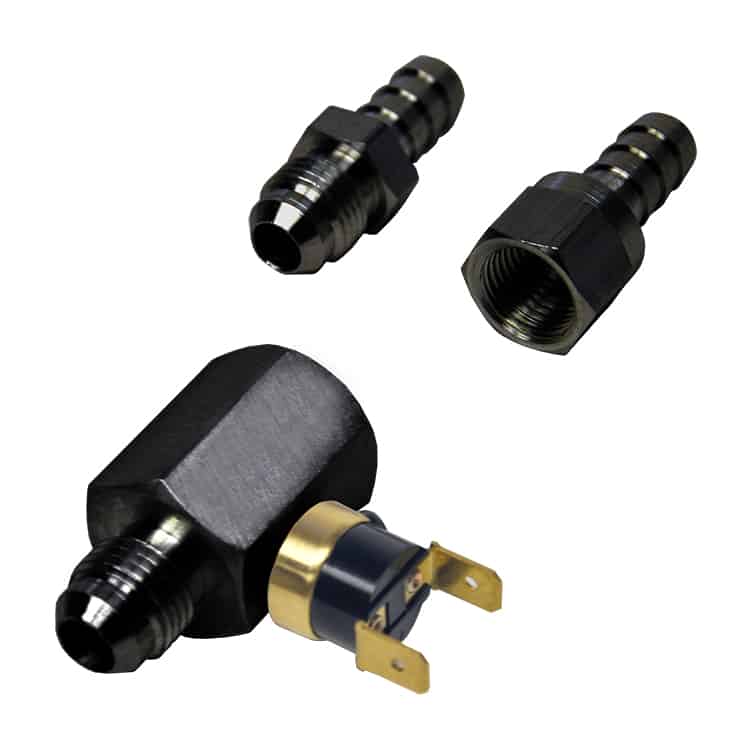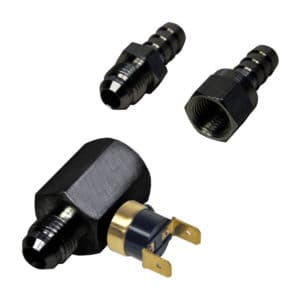 See more about Derale in-line fan control switches in the video below.
When it comes to extreme transmission cooling needs, utilizing a transmission cooler with a fan is by far the way to go.
Having a transmission cooler with a fan allows you to not worry about trans temps, and can be wired to be fully automatic, so you can focus on what's ahead of you.
Whether you're racing, off-roading, towing, or just cruising in your high horsepower streetcar, having a transmission cooler with a fan is a great way to keep temps cool and mount the cooler in any location, allowing you to use the space up front for other needs.