Need a transmission cooler for your more than average trans cooling? The B&M 70297 SuperCooler should be a consideration.
This B&M transmission cooler with a fan offers drivers unmatched trans cooling and comes with a number of great features.
This cooler's fan puts out 590 CFM of air flow and includes a built in 175F thermostat that takes all the guess work out of monitoring your transmission temps.
Between its compact design and cooling capacity, the B&M 70297 would be a great candidate for your for extreme towing, drag racing, or off road use.
B&M 70297 Transmission Cooler Specs
Including its fan, the B&M 70297 measures 12″ x 13.5″ x 3.25″ which is quite compact for a transmission cooler with a fan. This allows you to mount it remotely in tight spaces wherever you have room. 
Because of its size, the 70297 B&M can be mounted in front of the vehicle as well. This would be great for use on off-roading rigs to prevent damage if it is mounted under the vehicle.
This cooler comes standard with 1/2″ NPT female threads at the inlet and outlet of the which allows for various size fittings to be used. 
One of the great features of this cooler is that it includes a thermostat and switch already installed in the cooler.  This is used to activate the fan once trans temps reach 175 F, making for automatic cooling. 
Cooler Dimensions (Including Fan): 12″ x 13.5″ x 3.25″
Fitting Size: 1/2 NPT
Type of Cooler: Plate & Fin
Cooling Rows: 15
Fan Size: 9.5″
Fan Specs: 590 CFM
Thermostat: 175F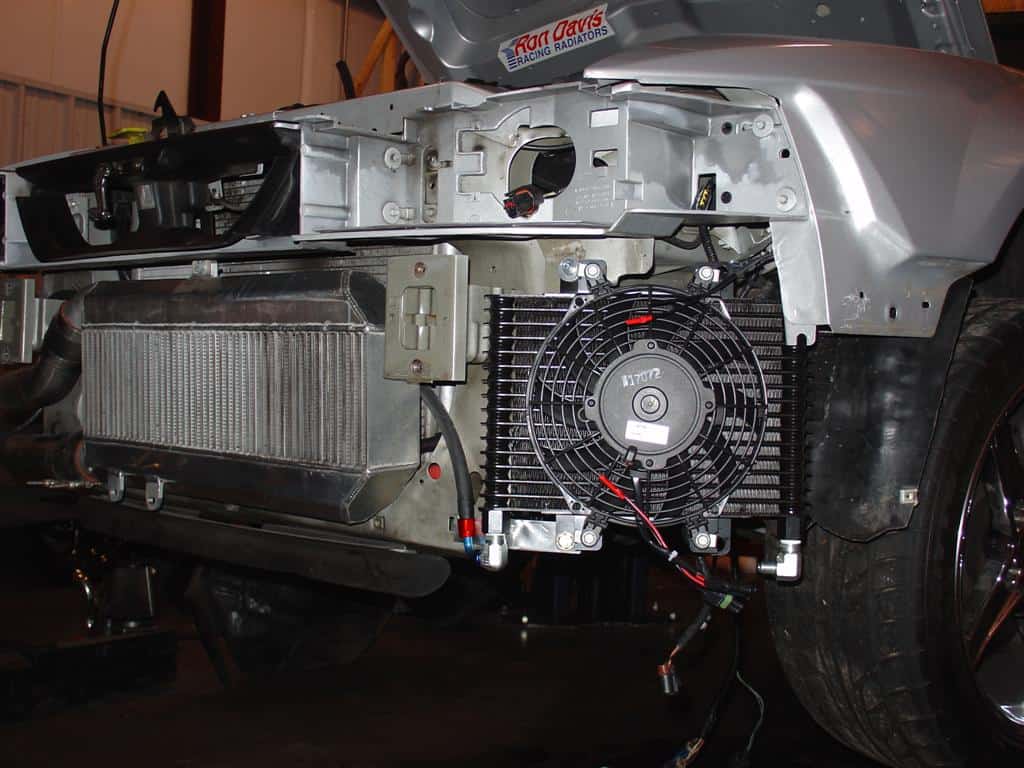 When it comes to installation of the B&M 70297, you have plenty of options. Because this cooler comes standard with a fan you are able to mount it in a location in front of your vehicle or remotely. 
Since the 70297 includes a thermostat, all you would need to do it wire it up and you are good to go.  
Depending on your setup and vehicle use, it is always recommended to mount and install the cooler where it gets the most airflow.  However, it is common to see a cooler like this mounted remotely like the picture below on a drag race oriented Corvette setup.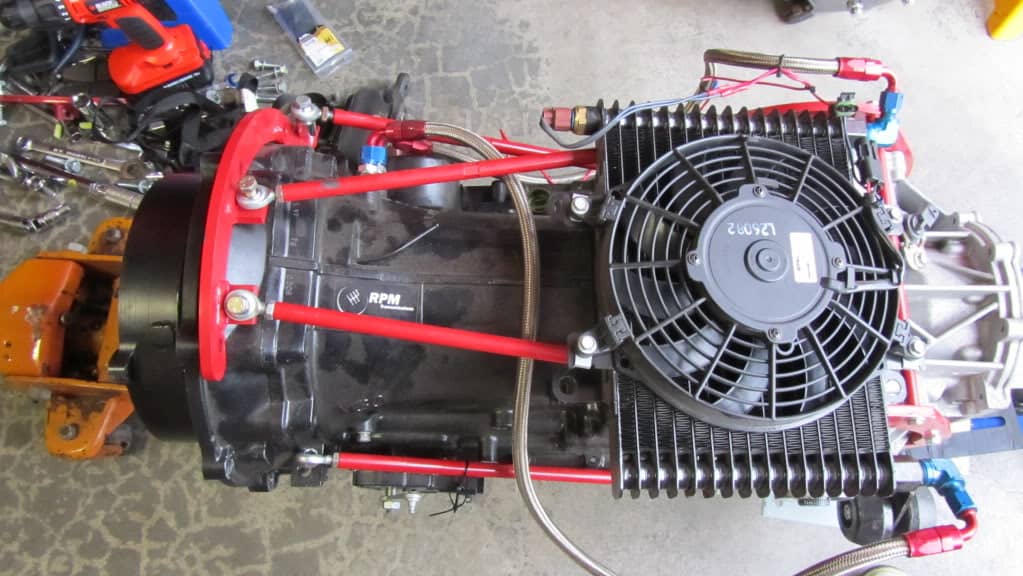 See what users of the B&M 70297 SuperCooler with fan are saying about their experiences with this transmission cooler. 
Maintains a consistent 180F trans temp even under severe use and towing.
Very effective cooler. Usually the fans never have to come on to maintain temps.
B&M 70927 Pros & Cons
Pros
Plate & Fin Cooler
Heavy Duty fan
1/2″ NPT Fittings
Compact Design
Included Thermostat
Cons
Overall, the B&M 70297 transmission cooler with electric fan is a great option for your ride. Whether you're looking to lower trans temps when towing, racing down the track, or hitting the trails in your off-road rig, this cooler can handle the load. 
With its 590 CFM fan and built in 175F thermostat, this cooler allows you to focus on your driving rather than monitoring trans temps!
Shop B&M 70297
Get the lowest price on the B&M 70297 SuperCooler transmission cooler with electric fan and start lowering trans temps on your ride!
Shop Now
B&M 70297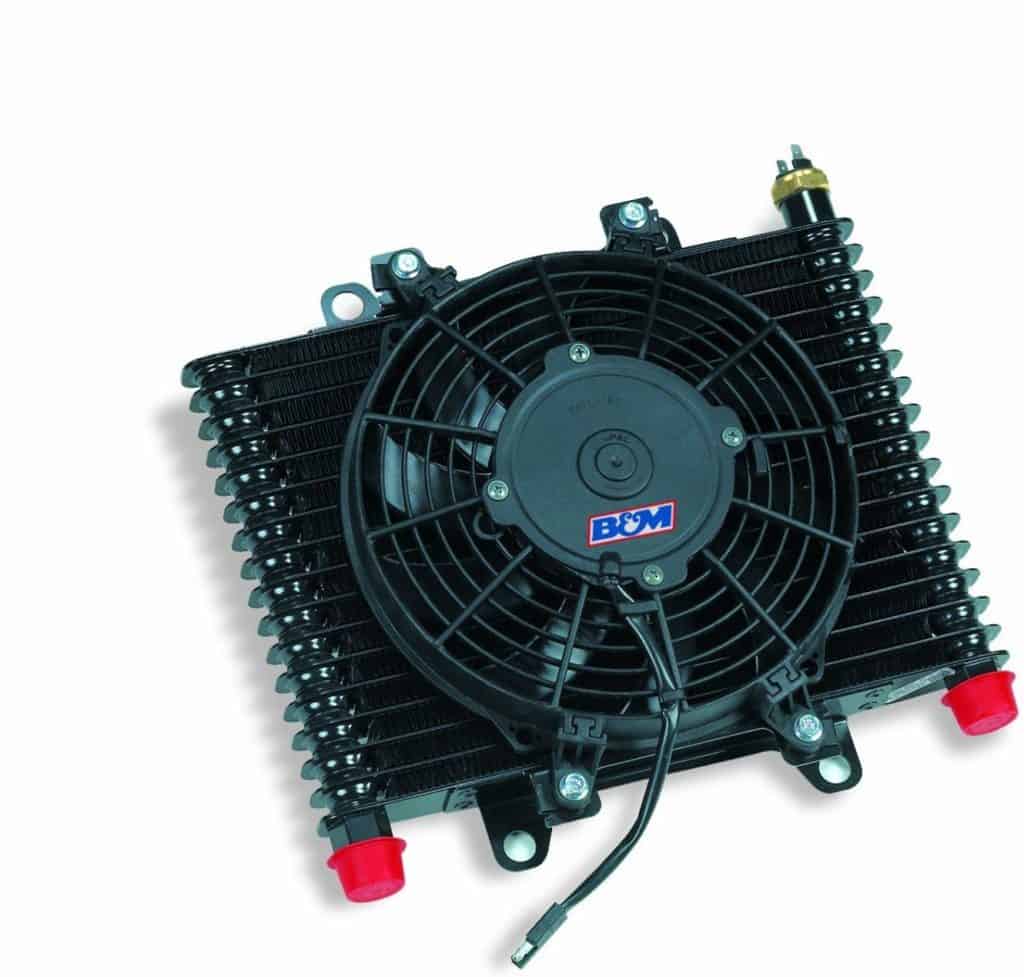 Looking for a transmission cooler to handle more extreme conditions? The B&M 70297 SuperCooler with electric fan can do just that. Read on to see why!
Product Brand: B&M
Pros
Plate & Fin Cooler
Heavy Duty fan
1/2″ NPT Fittings
Compact Design
Included Thermostat