Looking to lower the transmission temperatures of your 4l60e transmission? Install a transmission cooler to your car, truck, or SUV. The beauty of the 4l60e is that installing a transmission cooler makes a big difference in transmission temps, which will allow for more life out of the transmission.
If you drive a 4l60e equipped GM truck or SUV our preferred transmission cooler is the Tru Cool Max 40k. This cooler is hands down the best 4l60e transmission cooler upgrade due because if its large design, great price point, and cooling capabilities for full size trucks.
If you are looking for a lower cost alternative, the Hayden 679 is another great option. This transmission cooler offers a 30,000 pound GVW rating and is priced right around $70.  For the money, this transmission cooler is hard to beat in terms of value and capabilities.
Another viable option is the B&M 70274. This cooler is designed for heavy duty use such as high powered street cars, off roading or towing.  This cooler is more costly than the other two but will handle all you can throw at it and more.
Read on to learn more about the best transmission cooler options for your 4l60e transmission.
| | Product | Transmission Cooler Type | Price | Buy |
| --- | --- | --- | --- | --- |
| | Tru-Cool 40k | Plate & Fin | $162.74 | |
| | B&M 70274 | Stacked Plate | | |
| | Hayden 679 | Plate & Fin | $43.78 | |
Tru Cool 40k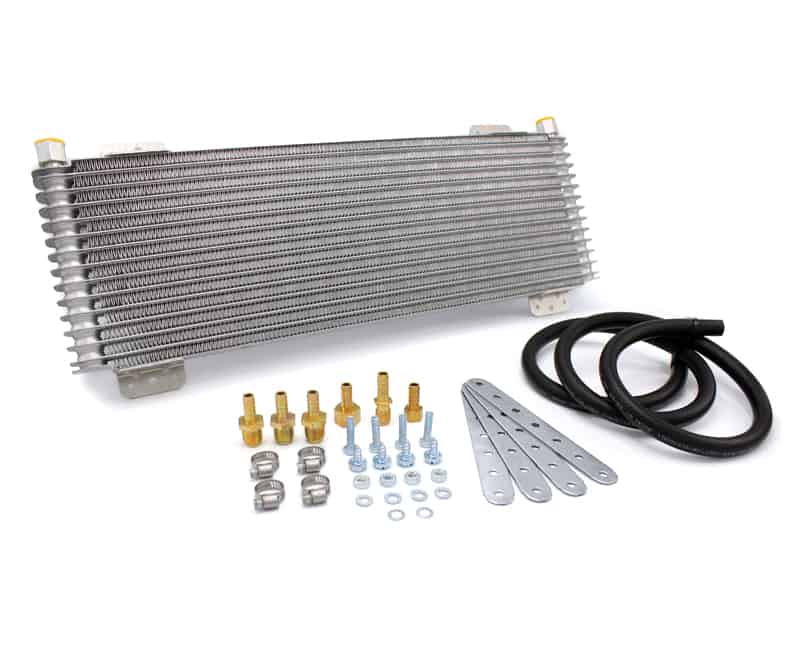 The Tru Cool 40k is a favorite of ours when it comes to universal transmission coolers used on trucks or SUV's. There are certainly other transmission coolers that might be larger or include a fan, but for the cost consistent performance, and simplicity, it's hard to go against the Tru Cool 40k for the money.
Like all Tru Cool transmission coolers, the 40k, is a great value and provides serious cooling for when you need it.
Cooler Dimensions: 8 1/2″ x 22″ x 1 1/4″
GVW: 40,000 pounds
BTU Rating: 45,000
Fitting Size: 3/8″ inverted flare hex with 5/8″ thread size –  This is great for those looking to install custom transmission lines
Installation Kit:  Yes – Includes universal installation kit with rubber transmission line, various fittings, clamps, and mounting hardware
PROTECTION - When an auxiliary transmission oil cooler is required for your vehicle, Tru-Cool Max delivers optimal protection with double the cooling performance of our other products.
RELIABLE - Durable brazed aluminum construction with a lifetime guarantee
HIGH COOLING POWER - Maintain lower temperatures in your transmission and lubricant with Tru-Cool and extend the life of the vehicle you depend on.
PERFORMANCE RATED - Drive hard. Rest easy. Get the OE advantage that comes from a Tru-Cool LPD transmission oil cooler plus the proven cooling that can help you protect your investment and your warranties.
B&M 70274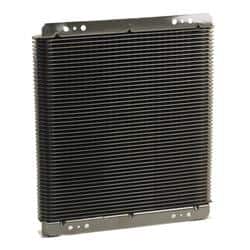 Like many B&M SuperCooler transmission coolers, the 70274 is designed to handle high abuse situations and disperses of heat extremely efficiently. In our more in depth product review of the B&M 70274, we cover how the  cooler is a direct fit application that requires little effort installing.
Overall, if you have a 4l60e equipped truck, SUV, or swapped into a fun streetcar, this cooler can't be beat for the performance it provides.  Because of this, we recommend it in our Best Sierra & Silverado Transmission Coolers write up.
Cooler Dimensions: 11″ x 11″ x 1 1/2″
Cooler Type: Stacked Plate
Cooling Rows: 48
GVW:  29,200 (BTU)
Fitting Size: 1/2″ NPT
Rigid stacked-plate design is resistant to damage, and much better at cooling than ordinary 'fin and tube' coolers
Constructed from black finished lightweight aluminum alloy for maximum corrosion resistance
11" x 11" x 1-1/2" racing model is rated at 29,200 BTU, and pressure tested to 200 PSI
Fluxless, oven brazed construction is vibration resistant
Multiple oil flow paths for maximum cooling efficiency
Hayden 679
For the budget minded individual, there might be no better low cost transmission cooler that has the capabilities as the Hayden 679. This cooler utilizes an 11 5/8″ x 11 3/4″ x 3/4″ aluminum design that is not only large enough to efficiently cool your 4l60e, but is only 3/4″ thin which allows for installation in tighter spaces on a car.
The Hayden 679 offers a GVW rating of up to 30,000 pounds which provides the ability to help tow up to 10,000 pounds (if your vehicle is rated to do so).  Its 30,000 GVW rating makes it a great cooler for any 4l60e equipped vehicle whether it's your daily driven car or on a truck that you tow with on the weekends.
For the cost, like most Hayden transmission coolers, the 679 pack a mighty punch in terms of capabilities.  Not only is it not too large where it can cause mounting issues, but it has the ability to help keep fluid cooler without a high price tag.
Hayden 679 Specs
Cooler Type: Plate & Fin
Cooler Dimensions: 11 5/8″ x 11 3/4″ x 3/4″
GVW: 30,000 pounds
Fitting Size: 3/8″ barb
Size is 3/4 inch x 11 inch x 11-5/8 inch. Compatible with OEM cooler systems
Class "A" motor homes, large travel trailers, 5th wheel trailers
GVWR up to 30,000 pounds, towing up to 10,000 pounds
Patented internal turbulation increases heat transfer with minimal pressure drop
Pre-drilled mounting brackets for easy installation