The Hayden Automotive 679 (1679) offers superior cooling to keep your transmission temperature in a safe range. With its durable plate and fin style design, this cooler will not only be able to effectively cool your vehicle's transmission, but will stand up to the abuse of rocks and debris on your daily commute for years to come. 
The Hayden 679 comes with pre-drilled mounting holes and barb style fittings to make installation quick and easy for the average automotive enthusiast who likes to wrench on their on vehicle. If you're looking for a highly efficient easy to install, the Hayden 679 plate and fin cooler might be the cooler for you.
The Hayden 679 is one of the best all around transmission coolers on the market. So much so that it is also recommended in our drag racing and towing guides because it can handle most situations and is great for the cost conscious buyer.  For the price, it is hard to beat this cooler!  
| | | | |
| --- | --- | --- | --- |
| Transmission Cooler | GVWR | Type Of Cooler | Price |
| | 30,000 | Plate & Fin | Shop Now |
Hayden 679 Specs
The Hayden 679 utilizes an 11 5/8″ x 11 3/4″ x 3/4″ design that is not only large enough to efficiently cool transmission fluid, but is still thin enough to mount in most common locations without much modification. 
In addition, the Hayden 679 offers a GVW rating of up to 30,000 pounds which provides the ability to help tow up to 10,000 pounds (if your vehicle is rated to do so).  Its 30,000 GVW rating makes it a great cooler for class A mobile homes, and allows you to use large travel trailers, and 5th wheel trailers. 
For the cost, the Hayden packs a mighty punch in terms of capabilities.  Not only is it not too large where it can cause mounting issues, but it has the ability to help tow more than enough for more common applications.  
Cooler Type: Plate & Fin
Cooler Dimensions: 11 5/8″ x 11 3/4″ x 3/4″
GVW: 30,000 pounds
Fitting Size: 3/8″ barb 
Hayden 679 Installation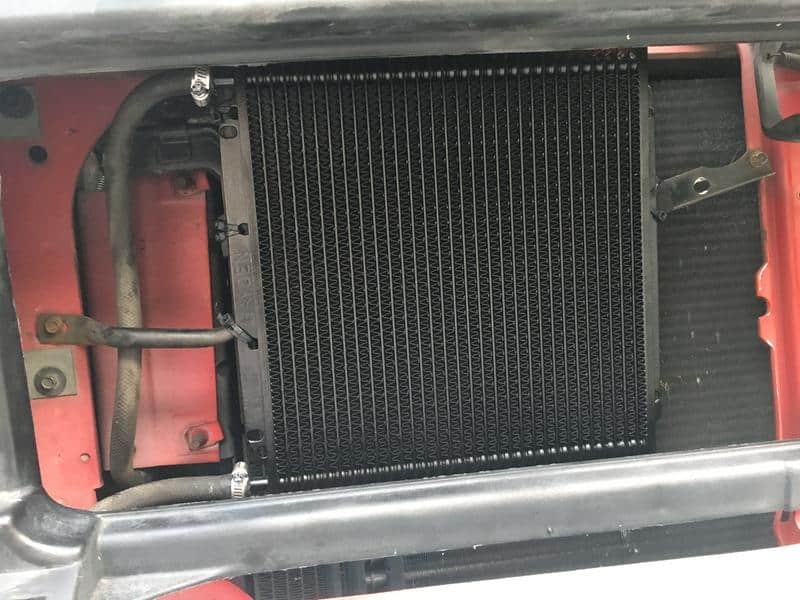 Since the Hayden 679 comes as a universal kit, installation will depend on where you need to install it and any extra parts you may need.  The kit comes with extra rubber transmission lines, mounting brackets with nuts and bolts, various barb fittings, hose clamps, spacers and mounting ties. 
Since most people will opt to mount the transmission cooler in front of the air conditioning condenser and  radiator, the mounting pieces will be enough for most installs.  The biggest question mark lies with the lines and fittings.  Since this cooler utilizes barb fittings, it is best to use simple rubber lines rather than AN lines.  It is also recommended to double check the lines over time to ensure a secure, leak free connection.
Despite its size, it is recommended to run this cooler in addition to the stock cooler in the radiator. While this may be large enough to use as a stand alone cooler, the best use would be to use this so the fluid runs through the cooler after the radiator.  
Hayden 679 Pros & Cons
Pros
Easy To Install
30,000 GVW Rating
Plate & Fin Design
Includes Complete Install Kit
Cons
Barb Fittings
Hard To Install In Tight Spaces
Conclusion
Between its high GVW rating, efficient plate and fin style design, and affordability, the Hayden Automotive 679 transmission cooler is by far one of the best transmission coolers available.  The 30,000 GVW allows for ample trans cooling in most common applications and it's price certainly is friendly on your wallet. 
Another great benefit the Hayden 679 offers is that it comes with a complete installation kit with extra transmission hose, clamps, and everything else needed for an easy installation.  While the kit comes with various fittings, it might be necessary to purchase additional fittings, depending on how you plan to route the fluid lines.
Overall, it is hard to beat this cooler, and For the budget minded driver with above average cooling needs, the Hayden 679 certainly fits the bill. 
Get The Best Price On Hayden 679 Transmission Coolers
The Hayden 679 is in our opinion one of the best transmission coolers on the market. Between it's cost, size, and ability to cool transmission fluid fast, it's hard to beat for the price. Lower transmission temps with the help of the Hayden 679 today. Shop Now!
View On Amazon
View On Ebay
Hayden 679
The Hayden 679 is a budget friendly transmission cooler that comes complete with an installation kit and 30,000 GVW rating. Get yours today!
Product Brand: Hayden
Pros
Easy To Install
30,000 GVW Rating
Plate & Fin Design
Includes Complete Install Kit
Low Cost
Cons
Barb Fittings
Hard To Install In Tight Spaces