Nearly identical to the Hayden 677, the Hayden Automotive 687 Rapid Cool transmission cooler is another great small to mid-sized cooler. 
Like all other Hayden Rapid Cool trans coolers, the 687 is built with a durable plate and fin body which helps efficiently cool your trans fluid, but can also withstand years of daily driving .
The Hayden 687 comes with pre-drilled mounting holes and barb style fittings to make installation quick and easy. 
If you're looking for a highly efficient, easy to install mid-sized GVW transmission cooler with upgraded cooler fittings, then Hayden 687 is a solid choice. This cooler is perfect for any car or small truck or SUV that does not require excessive transmission cooling. 
| | | | |
| --- | --- | --- | --- |
| Transmission Cooler | GVWR | Type Of Cooler | Price |
| | 20,000 | Plate & Fin |  Shop Now |
Hayden 687 Specs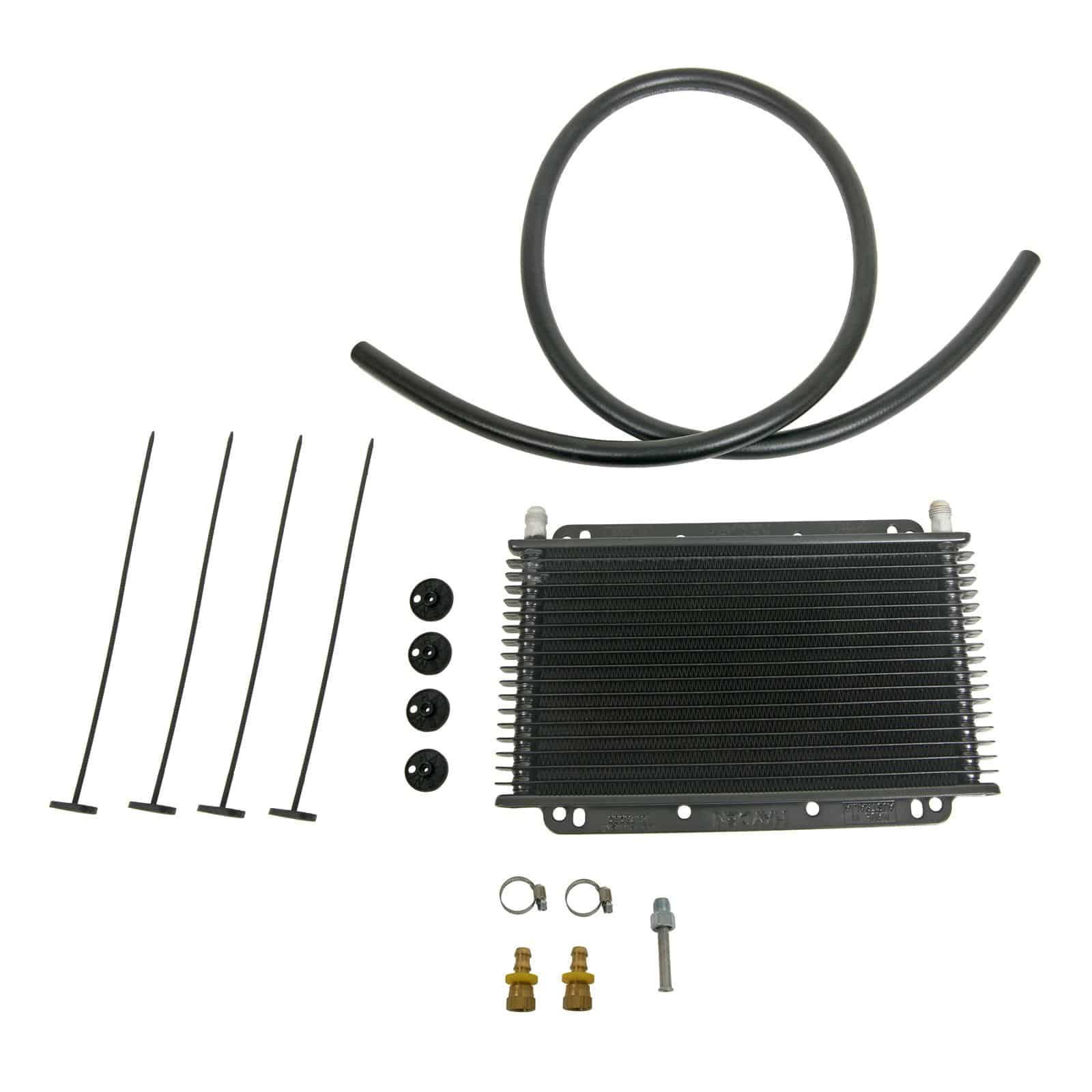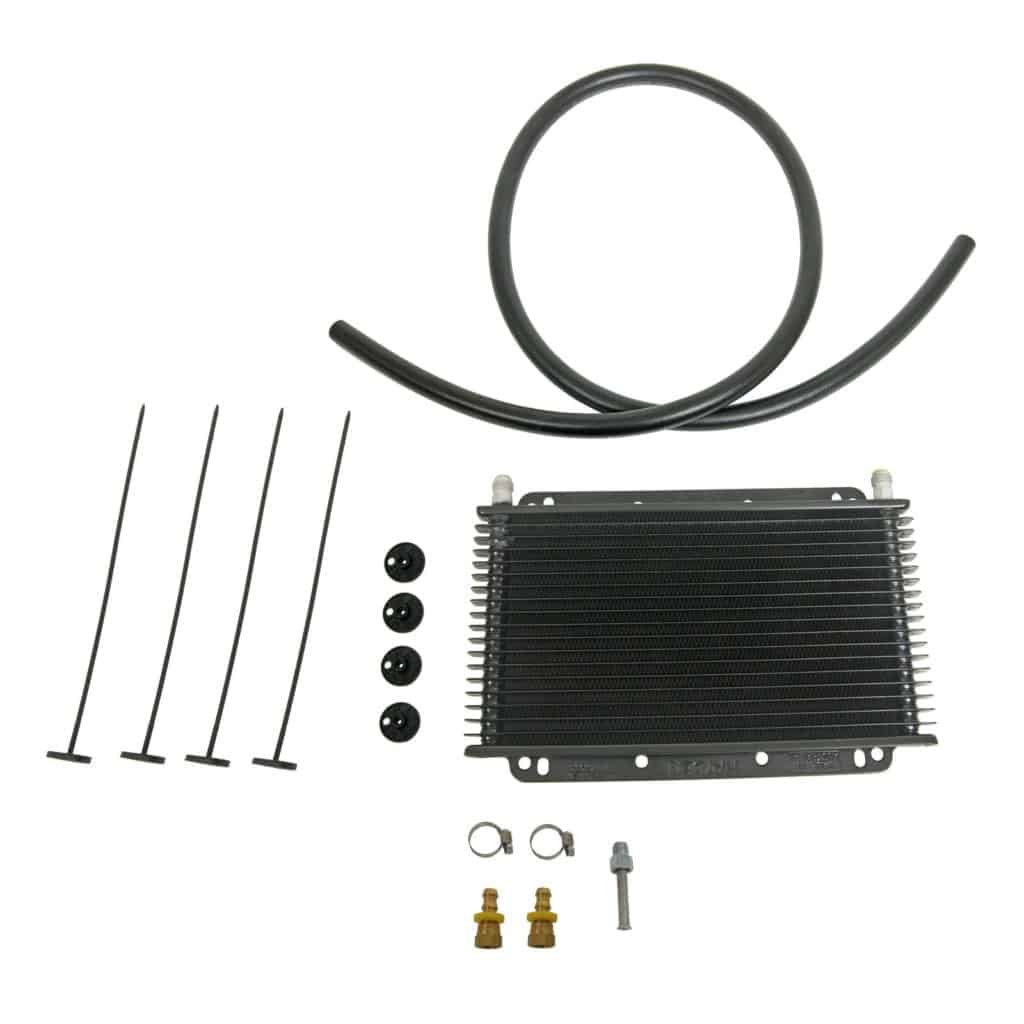 As mentioned before, the Hayden 687 is identical to the 677, but features -6an fittings over the traditional 3/8″ barb.  The cooler measures 11″ x 7 1/2″ x 3/4″ which helps efficiency cool transmission fluid and is still small enough to mount in most common locations on a smaller vehicle.
The Hayden 687 is rated at 20,000 GVW which allows for up to 2,500 pounds of tow capacity (if your vehicle is suitable to tow). This is a great option for most mid and full-sized cars as well as smaller pickup trucks and SUV's who need to occasionally tow or haul smaller loads. 
Just like the 677, the Hayden 687 is an excellent option for those looking to keep transmission temperatures down without breaking the bank and can be found under $60.  
Cooler Dimensions: 11″ x 7 1/2″ x 3/4″
GVW: 20,000 pounds
Fitting Size: -6an
Recommended Uses
Daily Driven Cars, Trucks & SUV's
Based solely on the size of the Hayden 687, it is recommended for use on most standard cars and smaller trucks or SUV's. While this cooler isn't the biggest, it will easily be able to handle most daily driving situations. 
Hayden 687 Installation
The Hayden 687 comes as a universal trans cooler kit, so installation is dependent on each vehicle.  The transmission cooler comes with extra transmission hose,  -6an to barb fittings, hose clamps, spacers and mounting ties. 
Since most people will install the transmission cooler in front of the air conditioning condenser and  radiator, the mounting pieces will be enough for most installs.  
It is recommended to run this cooler in addition to the stock cooler in the radiator because this is not large enough to use as a stand alone cooler.  
Hayden 687 Pros & Cons
Pros
Easy To Install
Plate & Fin Construction
20,000 GVW Rating
Includes Hose, Fittings, and Clamps 
Cost – Can Be Found Around $50
Cons
Mounting Hardware Not Included
Conclusion
With it being a highly efficient plate and fin style transmission cooler and affordable, the Hayden Automotive 687 transmission cooler is a great small to mid-sized transmission cooler option.  The cooler offers a 20,000 GVW capacity that allows for ample trans cooling in most common applications and has a very low price for the performance. 
Another great benefit the Hayden 687 offers is that it comes with -6an fittings. The cooler also includes brass -6an to barb fittings, so if you are planning on using the barb fittings, you can save some money and get the Hayden 677 instead as they're identical in size.  
Overall,  the Hayden 687 is another great budget cooler for light hauling, towing, and daily driving.  This cooler has a 4.7 out of 5 star rating on both Amazon and Summit Racing showing that this cooler is a great buy! See all reviews here.
Get The Best Price On Hayden 687 Transmission Coolers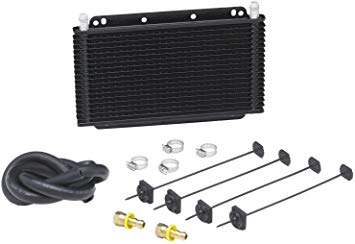 Lower transmission temps with the help of the Hayden 687.  This little cooler packs a big punch without breaking the bank. Get yours today!
View On Amazon
View On Ebay
Hayden 687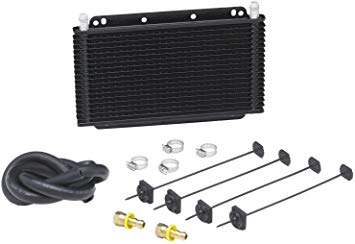 Just like the Hayden 677, the 678 is a great mid-sized trans cooler option for your daily driven vehicle. See why you should use the Hayden 687!
Product Brand: Hayden
Pros
Easy To Install
Plate & Fin Construction
20,000 GVW Rating
Includes Hose, Fittings, and Clamps
Cost – Can Be Found Around $50
Cons
Mounting Hardware Not Included