Looking for one of the most EXTREME transmissions coolers available? Look no further than the Derale 13870 Hyper Cool Extreme remote transmission cooler.  This is one serious cooler that will not only keep your transmission cool, but will do so in any situation you can throw at it.
This is Derale's most efficient remote trans cooler and is designed to outperform their competition, which it most certainly does. This cooler was built with the largest and most efficient Derale stacked plate transmission cooler that features 40 cooling rows and an 800 CFM water and dustproof electric fan.
Not only does the Derale 13870 look badass, but has the performance to match.  This is one hell of a transmission cooler and should be a consideration for extreme towing, drag racing, or off road use.
| | | |
| --- | --- | --- |
| Transmission Cooler | Type Of Cooler | Price |
| | Stacked Plate w/ Electric Fan | Shop Now |
Derale 13870 Specs
Including its fan, the Derale 13870 measures 14 7/8″ x 13″ x 5 5/8″ which considering its size, still allows you to mount it remotely in tight spaces.  This cooler is not designed to be used in front of a radiator or condenser unless there have been modifications made and there is ample room.
This cooler comes standard with female threads at the inlet and outlet of the cooler which allows for various size fittings to be used. There are options to use -6an, -8an, -10an, or even up to-12an fittings. Because of this, there is serious flow through the cooler to reduce temps fast.
Cooler Dimensions: 14 7/8″ x 13″ x 5 5/8″
Fitting Size: -6an, -8an, -10an, or -12an
Number of Cooling Rows: 40
Fan Size: 10″
Fan Specs: 800 cfm – water and dustproof
Derale 13870 Installation

When installing the Derale 13870 there are a number of things to consider. The first and most important is where will the cooler be mounted.  Depending on your vehicle, there may be plenty of room or not much at all.
Since this is designed to be a remote transmission cooler, the most common spots for mounting would be on a frame rail or in the back of the vehicle.  No matter where you plan to install the Derale 13870, it is always best to ensure you are clear of any moving parts.
Another consideration when installing this cooler is the fan. When wiring the fan you can choose to wire it to a manual switch or an inline thermostat, such as the Derale 35020 which we highly recommend. The inline thermostat has a 180 F preset turn-on and 165 F turn-off, making it perfect for flawless, hands off operation and optimal transmission temps.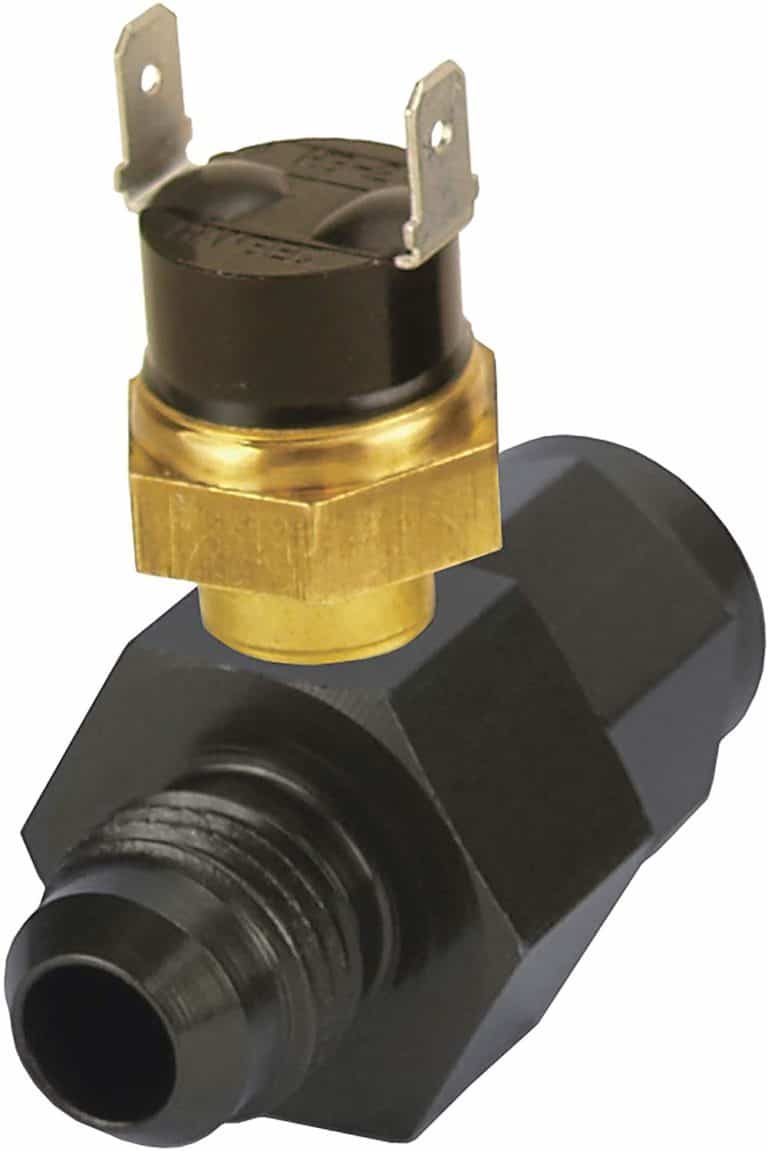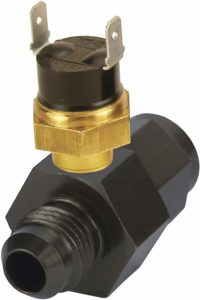 Note: If you plan on using an inline thermostat with your transmission cooler fan, it is necessary to run a relay as well.   Get the Derale 13870, Derale 35020, and a relay together here.
Derale 13870 Pros & Cons
Pros
Stacked Plate Cooler
40 cooling rows
Heavy Duty 800 cfm fan
Different Size An Fittings
Sleek Design
Unparalleled Cooling
Cons
Conclusion
Overall, it is hard to beat the Derale 13870 Hyper Cool Extreme transmission cooler for more than average cooling needs. While this cooler is over $300, it is well worth the cost considering the build quality, reliability, and serious cooling capabilities.
For those who put their transmission through the paces and need extreme cooling, they understand a cooler like this is an investment to keep their rig on the road, off the beaten path in the mud, or on the track longer and with no transmission issues.
At the end of the day, the Derale 13870 is hands down one of, if not the best remote transmission coolers you can buy, and we HIGHLY recommend it for any extreme needs!