Drag racing is extremely harsh on all areas of a vehicle, especially the transmission. When drag racing, transmission temperatures can get hot FAST, sometimes at a rate of 10 degrees per second or more with a trans brake. Because of this, it is important to use a high performance transmission cooler that can handle the task.
When making a pass down the track, your transmission will be put to the test and will get warm quick. Before your pass even starts, you will typically do a burnout to heat the tires, then stage. If your car has a transmission brake or 2-step, this will further heat the fluid. Once the lights drop and you start your pass, you will be at full throttle which will very quickly heat up your fluid.
Depending on the setup and weather you are racing in, when drag racing your transmission fluid temperature can quickly reach 180-200 degrees or more. Most drag racers have a transmission temperature gauge to monitor temps and have a good idea of how hot their trans temps to get after a full run.
So whether you have a Powerglide, Turbo 400, 4L80e, or any other type of transmission in your race car, it is critical to have a cooler that can withstand the most extreme conditions.
Torque Converters & Transmission Brakes
Automatic transmission equipped race oriented cars utilize a higher stall torque converter and / or a trans brake. Both of these components help lower your 60 ft, ET, and make the car more consistent. While all this sounds great for performance, they make a great deal more heat in your transmission than a stock converter without a trans brake.
Torque Converters
Most automatic transmission vehicles that drag race utilize an aftermarket torque converter, which is similar to a clutch in a manual car. Aftermarket torque converters allows your car accelerate much faster than what might come stock. This helps improve all performance metrics at the track.
The aftermarket high stall converter is "looser" than a stock converter, and will cause transmission temperatures to be warmer than a "tighter" or lower stall converter. The stall speed in drag racing applications is usually in the 4000+ RPM range compared to less than 2000 RPM's in stock vehicles. The higher stall speed generates more heat, therefore a larger transmission cooler is needed.
If you are a more casual drag racer who's vehicle doubles as a street rod, having a high performance transmission cooler is a must. Personally, I have a street / strip car that has a 4000 stall torque converter that is driven on the street very often. Because of this, I utilize a large stand alone transmission cooler that bypasses the radiator. This help keeps my transmission temperatures stay as cool as possible when street driving.
Transmission Brakes
Transmission brakes, or trans brakes as they are often called are designed for drag racing transmissions. A trans brake works via a solenoid in the transmission that engages first gear and reverse at the same time to keep the car in place as if the foot brake was applied. This helps allow the vehicle's torque converter load up before launch. Once the driver releases the trans brake, the car will launch in its power band.
While trans brakes are very helpful in drag racing, they build heat very quickly. In the below video, Greg from FTI Performance demonstrates how quickly transmission temperatures can increase while on a trans brake. Further into the video, he explains how warmer transmission temperatures effect your converter, and how this impacts your car at the track..
With how much heat is generated while your automatic transmission is on the trans brake, it's critical to utilize a high capacity transmission cooler to ensure you keep your trans in a suitable range. The last thing you want is to lose a race because of an overheating transmission!
Transmission Cooler Mounting Position
Since drag racing puts a strain on both the motor's cooling system and the transmission, the factory transmission cooler in the radiator is typically bypassed. The standalone cooler will be much larger in size and capacity and is more can capable of handling the added stress of hot transmission fluid on its own.
This helps keep temperatures for both the coolant and transmission in a more suitable range. In some cases, the factor transmission cooler in the radiator can almost act like a heater because it has both the hot coolant outside of it and the hot transmission oil flowing through it.
Rear Mounted Transmission Coolers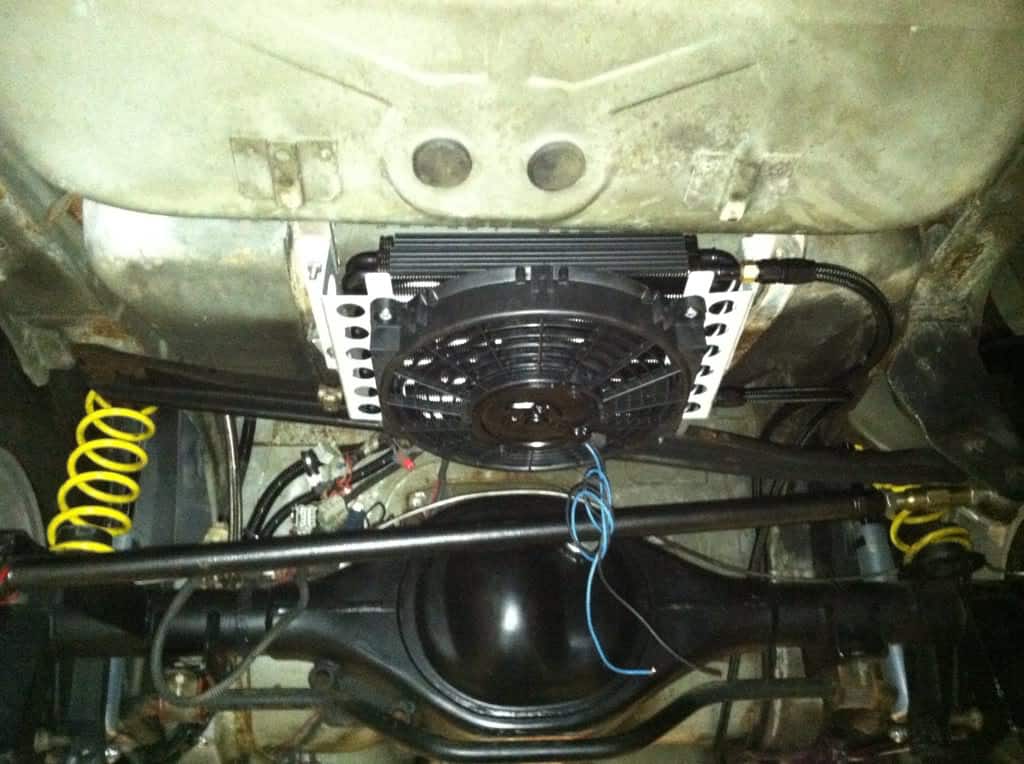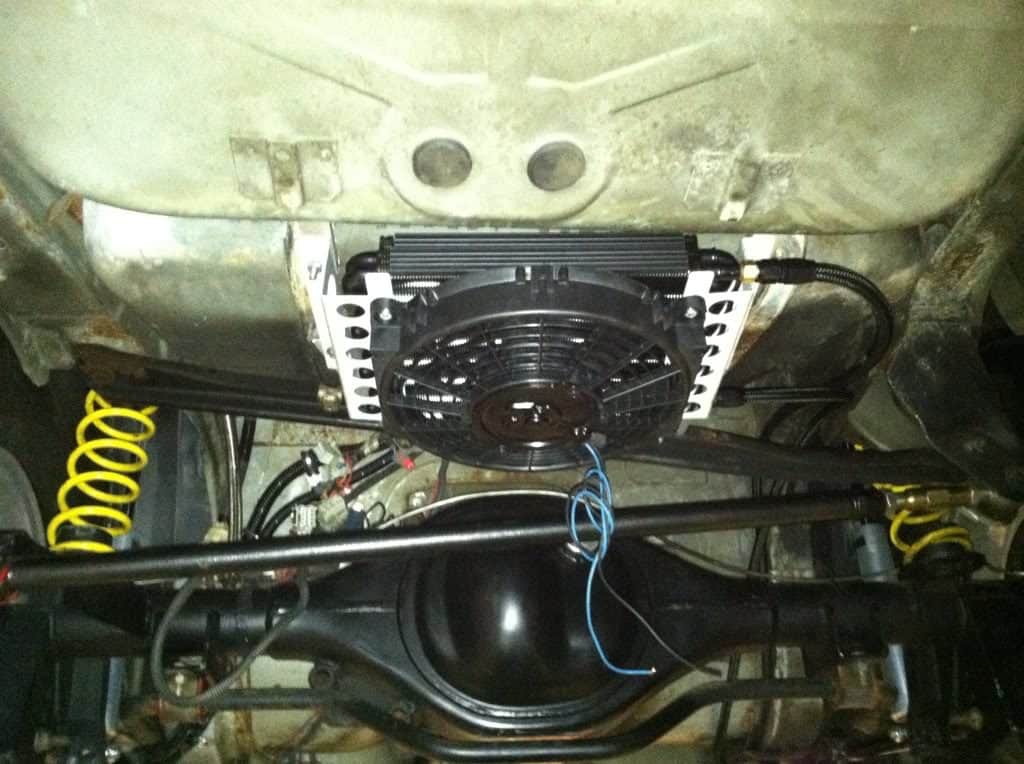 Cars that are built specifically for drag racing may have a harder time fitting a larger transmission cooler in front based on needing a larger radiator for increased cooling capacity, or have an intercooler if the car has forced induction (turbo or supercharged).
Because of this, a remote transmission cooler with a fan may be used in a spot that gets less air flow than in the front of the car. Cars that use a remote transmission cooler typically mount the transmission cooler under the car rather than the front. Based on this, a fan is mandatory.
Remote transmission coolers with fans come in all different types, but are typically tube and fin and plate and fin.
Front Mounted Transmission Coolers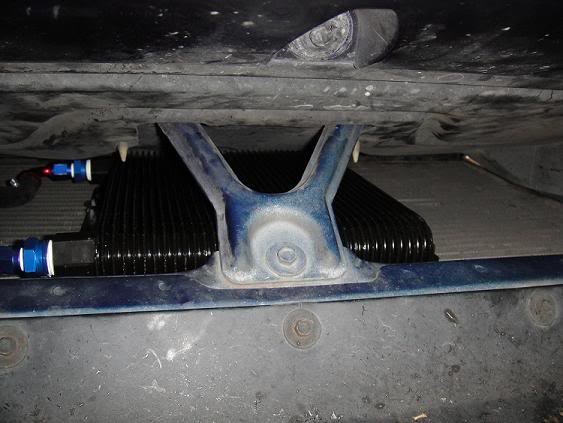 For vehicles that do not have to deal with additional parts that require air flow, they will have an easier time mounting the transmission cooler in front of the car.
Depending on how dedicated the car is to drag racing, the air conditioning condenser may be removed (along with the rest of the air conditioning system). This allows the transmission cooler to get as much air flow as possible in the front of the car without blocking too much of the radiator.
If this is the case, it is safe to mount the transmission cooler right on the radiator with a transmission cooler installation kit. These kits supply rubber spacers to keep some space between the radiator and trans cooler as well as other necessary hardware.
If you are running a front mounted transmission cooler, it is ideal to go with the transmission cooler sizing mantra "get the biggest one you can fit". Most front mounted transmission coolers in drag race vehicles use stacked plate style coolers because of their excellent cooling efficiency and heat dispersion.
Transmission Cooler Lines
With the high demands of your transmission during a drag race, it is important to makes sure you have lines that can withstand the consistent fluid pressure in the lines. On many race applications, aftermarket braided transmission cooler lines are preferred over the factory metal and rubber lines.
The aftermarket cooler lines help in having a more secure connection with the cooler, can withstand the consistent line pressures, and have the ability to flow more fluid. This results in helping keep transmission oil temperatures cooler.
Most drag racing transmission oil coolers and their lines lines are typically -6AN or -8AN, which has much more fluid capacity than factory lines. Not only that, but the use of AN fittings over standard clamps or fittings offers a much more secure connection to the cooler itself, which helps prevent leaks and reduces the risk of blowing a line off down track.
Transmission Coolers For Drag Racing
When shopping around for your race car's transmission cooler, there are items to consider such as cooling needs, cooler size, mounting location, and cooler line type. If your car is used more on the street than the strip, the need for a heavy duty cooler is less than someone who races their car every week, has a high stall converter, or is on the trans brake every pass.
Racing automatic transmission coolers need to be able to not only withstand the heat your race car produces, but be able to effectively keep the fluid cool enough to prevent heat related failures.
We compiled a list of the top transmission coolers that can be used for drag racing. Our list is split into two sections, cooler with fans, and coolers without.
B&M 70274

The
B&M 70274 is a stacked plate style cooler with a very heavy duty, light weight aluminum 11″ x 11″ x 1 .5″ design that features 48 cooling rows for maximum cooling. This is a great choice for a front mounted transmission cooler for your drag race vehicle.
The B&M 70274 is equipped with 1/2″ NPT fittings which will require you to go out and purchase extra fittings. If you are purchase a transmission cooler for added piece of mind, this should not deter you from buying this cooler. The NPT fittings, when installed correctly, provide a worry and leak free connection. This possibly eliminates the use of rubber transmission line which are prone to leaking over time.
Another added benefits of this cooler is that, colder, thicker fluid will be routed differently than warmer, thinner fluid. This low pressure drop feature helps to prevent over cooling and allows transmission fluid to increase to a more suitable temperature before being routed through the core.
What We Like:
NPT Fittings for secure fitment
48 cooling rows for added transmission fluid cooling capacity
Low pressure drop system
What We Don't Like:
The 1 1/2 inch thickness can make it hard to mount, but in a more race oriented car, this may not be much of a problem.
Overall, the B&M 70274 is a highly versatile transmission cooler for heavy duty uses. This cooler was also one of our top choices for use in towing applications in our guide to transmission coolers for towing. With its size and cooling capacity, there's no question this can be an option for the go-to transmission cooler for drag racing in more street oriented applications.
B&M 70266
The B&M 70266 is built very similarly to the B&M 70274 aside from the size difference. The 70266 has an 11″ x 8″ x 1.5″ construction that features 36 cooling rows for more than enough cooling capacity for most race cars and street driven hot rods that need it.
Just like the 70274, the 70266 comes with 1/2″ NPT fittings which requires extra fittings for a leak free connection to your transmission cooler lines. In addition, this cooler also has a low pressure drop system to prevent over cooling.
What We Like:
NPT Fittings for secure fitment
36 cooling rows for superior fluid capacity
Low pressure drop system to prevent over cooling
What We Don't Like:
Just like the 70274, this cooler has a 1.5″ thickness which can be hard to fit in tight spaces.
Overall, the B&M 70266 is a very durable transmission cooler that is easily capable of keeping your transmission cooler. With its NPT fittings, it is easy to run -6AN or -8AN transmission cooler lines with better fittings.
If you are looking for a transmission cooler that will handle all you can throw at it and not break the bank, the B&M 70266 is prefect for almost any street / strip vehicle, and many drag racers will agree!
Hayden 679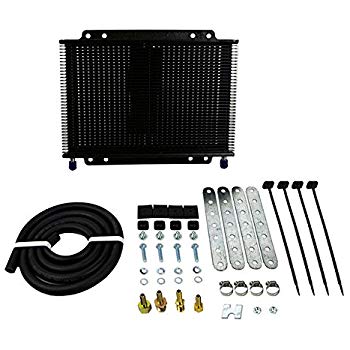 Like described in our buyer's guide, and towing guide, the Hayden 679 offers a high GVW, which makes it a great transmission cooler for almost every application. The Hayden 679 is a plate and fin style cooler designed for easy installation as it comes with a complete installation kit.
The cooler's dimensions are 11 5/8″ x 11″ x 3/4″ and is rated at 30,000 GVW. This provides enough capacity to handle most drag racing situations.
What We Like:
Size – The size of the cooler makes it easy to mount in most locations.
High GVW Rating – The Hayden 679 offers a 30,000 GVW.
Cost – This cooler provides an excellent value and is the perfect choice for the budget minded drag racer.
Comes as a complete kit with extra hose, clamps, and mounting hardware.
What We Don't Like:
Fittings – The Hayden 679 has basic barb fittings. As described preciously, for more serious drag race applications it would be recommended to steer clear of rubber hose and barb fittings, but if you have a more street oriented ride, this cooler will be fine.
Overall, the Hayden 679 transmission cooler is a great budget minded transmission cooler for your race vehicle. With its thinner design, the cooler is easy to install. We highly recommend this cooler for the budget minded racer who needs extra cooling capacity for their street car.
Derale 15960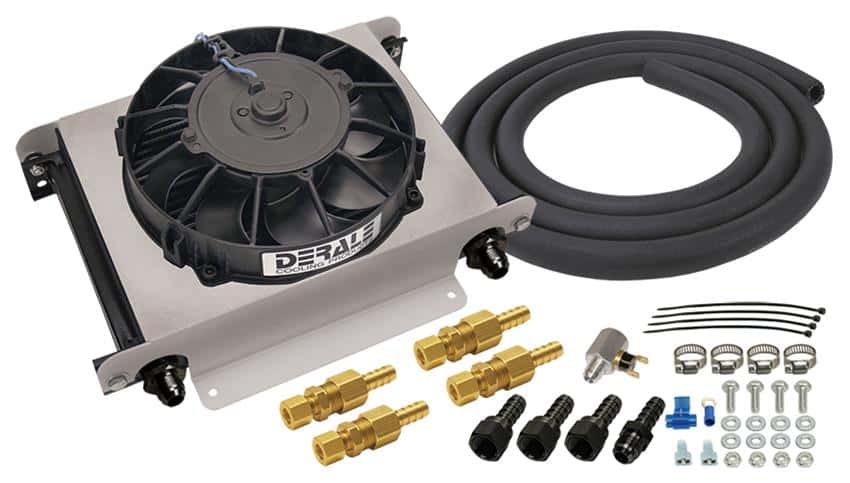 The Derale 15960
transmission cooler is a stacked plate style cooler with 25 cooling rows and an 8″ fan that flows 500+ CFM. This combo was designed for maximum transmission cooling efficiency. The cooler itself is rated for 30,000 GVW, so with the addition of the fan, this is one serious transmission cooler.
This cooler comes complete with an installation kit that includes 10 ft of transmission hose, fittings, and clamps to aid in the mounting process. While the cooler comes with the fittings and extra rubber hose, the fitting on the cooler are -8AN, so custom lines with AN fittings are certainly an option as well.
One of the nice features of the Derale 15960 is that it comes with a thermostat that will automatically turn the fan on when transmission temperatures flowing into the cooler reach 180 degrees. This is great to have for the user who is looking for a 100% worry free transmission cooler.
What We Like:
Size – The size of the cooler makes it easy to mount in most locations.
Stacked plate style cooler for maximum efficiency.
180 degree inline thermostat that automatically turns fan on.
Comes as a complete kit with extra hose, clamps, and mounting hardware. This cooler can be used with barb fittings or custom lines can be used with AN fittings.
What We Don't Like:
Price – While this cooler is on the higher end of the cost scale, the cooler certainly is worth is in terms of value.
Overall, the Derale 15960 is certainly in the discussion for being one of the top rated transmission coolers with a fan. With its stacked plate construction, heavy duty fan, and inline thermostat, transmission cooling shouldn't ever be an issue.
The fact that it comes standard with -8AN line fittings on the cooler tells you this is cooler is not messing around when it comes to cooling. This cooler will handle anything you can throw at it and then some.
Derale 13700
The Derale 13700 remote transmission cooler is constructed of a 16 row tube and fin style cooler and 10″ diameter fan that flows more than 600 CFM. While most tube and fin coolers are less efficient than other types of coolers, the 16 row design of the Derale 13700 is highly efficient. This cooler alone is rated at 25,000 GVW, so on its own can handle most situations.
In addition, the cooler comes standard with -6AN fitting as well as -6AN to 11/32″ barb fittings for running standard rubber hose. The total dimensions of the Derale 13700 are 11.5″ x 15.75″ x 5″, which makes it thicker than most transmission coolers with fans. This is based on the width needed to fit the 16 cooling rows.
What We Like:
-6AN fittings
16 rows of cooling – This is more than almost every tube and fin style cooler on the market.
25,000 GVW rating
Fan CFM – The fan on the Derale 13700 flows at an estimated 650 CFM.
What We Don't Like:
5″ thickness might make it hard to fit in tighter areas.
Overall, the Derale 13700 is a great choice for a remote mounted trans cooler for those who have extra room. Based on the tube and fin design and the 16 rows of cooling capacity, the Derale 13700 is 5″ thick, which is the thickest cooler we reviewed. Other than that, this cooler is the perfect option for those looking to spend the money on a middle of the road priced cooler. This cooler has exceptional reviews and rightfully so.
Hayden 526 Transmission Cooler – Most Cost Effective Transmission Cooler With Fan
The Hayden 526 has the lowest cost of any other cooler with a fan, and it comes with a plate and fin designed cooler with standard barb fittings. With the fan, the cooler dimensions are 11″ x 13.8″ x 3.5″. The fan on the Hayden 526 can be used as either a push or pull fan, which is useful depending on where you mount it. This cooler is the lowest cost option of any of those that include a fan, but don't let that fool you, this is one durable cooler.
The cooler alone is rated at 30,000 GVW, which makes it a great option. Not only that, but the 10″ fan flows at an estimated 650 CFM. Between the cooler size and fan air flow, the Hayden 526 can certainly keep your trans temps in check.
What We Like:
Cost: The Hayden 526 is the most cost efficient cooler on the list. This is perfect for the racer on a budget who is looking for a quality cooler.
Plate & Fin Cooler: The plate and fin cooler is more efficient compared to tube and fin style coolers with fans.
30,000 GVW rating: This cooler's high GWV rating offers racers maximum cooling capacity in a compact design.
Fan CFM: The fan on the Hayden 526 flows at an estimated 650 CFM
What We Don't Like:
Barb Fittings: On a drag race oriented car, it is better to use a more secure fitting.
Overall, the Hayden 526 transmission cooler is one of, if not the best value when it comes to a transmission cooler that comes with a fan. The cooler and fan have a lower profile than most cooler with fans, which makes it easier to mount in tighter spaces.
If you are a drag racer on budget but need a remote transmission cooler with a fan, this is a great option for you. Not only will it not hurt your wallet, but the cooling capacity won't hurt your transmission!
Conclusion
Whether you have a dedicated drag car or a simple car that you like to race for fun, it is necessary to ensure your transmission stays nice and cool. Drag racing can put a serious strain on your transmission as we all know, so make sure to keep it running as long as possible.