Because the Powerglide is used in extreme conditions such as drag racing, off-roading, or high powered street cars, it requires serious cooling in order to keep it going.
Based on this, we recommend the Tru Cool 40k, B&M 70274, and Derale 15960 as the best transmission coolers for the Powerglide. All 3 of these transmission coolers are very capable of keeping trans temps low even in all conditions including cruising your street car on the highway, or making a pass at the track. We have featured all 3 of these transmission coolers in other guides including our towing and drag racing writeups.
Installing a transmission cooler such as the Tru Cool 40k, B&M 70274, or Derale 15960, which we believe are the best transmission coolers for a Powerglide, will drastically lower transmission temperatures and help with the longevity of your transmission and fluid.
We understand that most people install a glide to beat on it, and our transmission cooler recommendations are best paired with braided transmission line. The three transmission coolers we outlined are able to endure abuse, and in out opinion, should not be used with rubber lines. The last thing you'd want is for your transmission line to come loose at the track going 150+ mph.
Tru Cool 40k Specs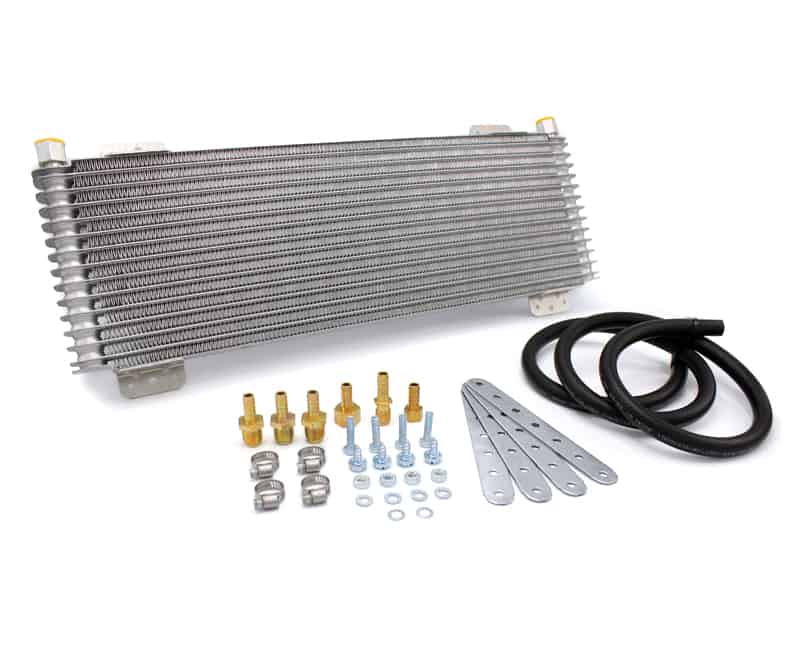 The Tru Cool 40k is a favorite of ours when it comes to universal transmission coolers used on trucks or SUV's. There are certainly other transmission coolers that might be larger or include a fan, but for the cost consistent performance, and simplicity, it's hard to go against the Tru Cool 40k for the money.
Like all Tru Cool transmission coolers, these are capable of handing abuse without breaking the bank, which is a great selling point for the budget minded Powerglide owner. We have recommended the Tru Cool 40k a number of times, and rightfully so. You cannot go wrong with this cooler on any truck that does any towing or hauling. Not only that, this cooler is very popular with the performance truck crowd as well.
Cooler Dimensions: 8 1/2″ x 22″ x 1 1/4″
GVW: 40,000 pounds
BTU Rating: 45,000
Fitting Size: 3/8″ inverted flare hex with 5/8″ thread size – This is great for those looking to install custom transmission lines
Installation Kit: Yes – Includes universal installation kit with rubber transmission line, various fittings, clamps, and mounting hardware
B&M 70274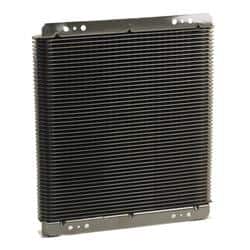 Like many B&M transmission coolers, the 70274 is designed to handle high abuse situations and disperses of heat extremely efficiently. In our more in depth product overview of the B&M 70274, we cover how the cooler is a direct fit application that requires little effort installing.
Overall, if you're running a Powerglide, this cooler is a great option for the street and occasional track use. Between the size of the cooler and the need for aftermarket fittings, this cooler can get the job done in street applications, but has the ability to have a large cooling fan mounted to it easily.
B&M 70274 Specs
Cooler Dimensions: 11″ x 11″ x 1 1/2″
Cooler Type: Stacked Plate
Cooling Rows: 48
GVW: 29,200 (BTU)
Fitting Size: 1/2″ NPT
Rigid stacked-plate design is resistant to damage, and much better at cooling than ordinary 'fin and tube' coolers
Constructed from black finished lightweight aluminum alloy for maximum corrosion resistance
11" x 11" x 1-1/2" racing model is rated at 29,200 BTU, and pressure tested to 200 PSI
Fluxless, oven brazed construction is vibration resistant
Multiple oil flow paths for maximum cooling efficiency
Derale 15960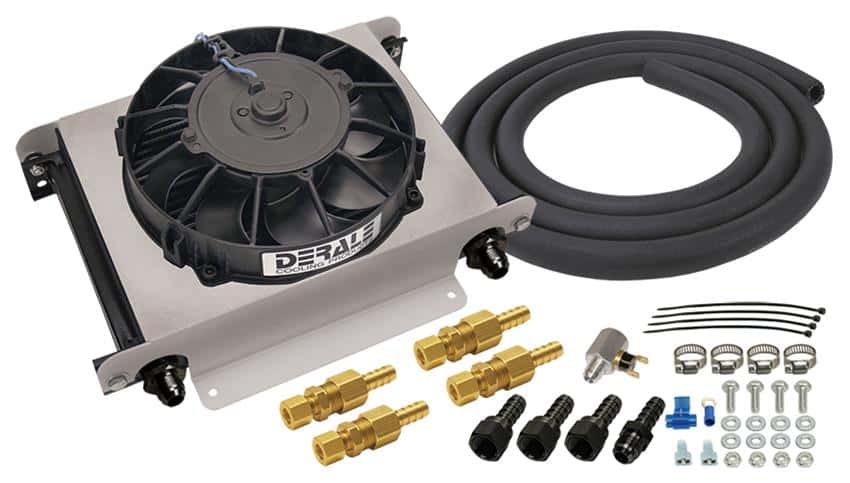 The Derale 15960
transmission cooler is a stacked plate style cooler with 25 cooling rows and an 8″ fan that flows 500+ CFM. This combo was designed for maximum transmission cooling efficiency, and will certainly keep your Powerglide nice and cool. On its own, the cooler itself is rated for 30,000 GVW, but with the addition of the fan, it's capable of a lot more.
This cooler, like many other Derale transmission coolers comes complete with an installation kit that includes 10 ft of transmission hose, fittings, and clamps to aid in the mounting process. While the cooler comes with the fittings and extra rubber hose, the fitting on the cooler are -8AN, so custom lines with AN fittings are certainly an option as well.
One of the nice features of the Derale 15960 is that it comes with a thermostat that will automatically turn the fan on when transmission temperatures flowing into the cooler reach 180 degrees. This is great to have for the user who is looking for a 100% worry free transmission cooler.
Overall, the Derale 15960 transmission cooler can be mounted almost anywhere. Making it a popular addition for performance cars, hot rods, muscle cars and trucks.
Derale 15960 Specs
Cooler Dimensions: 13″ x 10″ x 5 5/8″ (includes fan height)
Cooler Type: Stacked Plate
Cooling Rows: 25
GVW: 46,000 (BTU)
Fitting Size: -10AN / 7/8″-14 o-ring female x -8AN male
Mounts anywhere space permits. Mounting-7-1/2 x 9 inches
Electric fan supplies optimum airflow
Dramatically extends engine and transmission life
High efficiency stacked plate cooler
Since the modern high performance Powerglide is to be capable of handling harsher than average conditions, you need a transmission coolers that's able to keep up. The 3 transmission coolers we recommend have the ability to not only keep your transmission cool, but can do so in reliable fashion.
The last thing you'll want to have to worry about is overheating your transmission at the track or off-roading in the mud. As mentioned earlier, we recommend the use of braided transmission cooler lines and AN fittings to help prevent any leaks or transmission cooler line blow outs.