The B&M 70274 is one of the largest  transmission coolers in the B&M SuperCooler line up.  With its over-sized stacked plate construction, the 70274 is one of the more heavy duty.
The B&M 70274 measures 11″ x 11″ x 1 1/2″, making it one of the biggest stacked plate transmission coolers you get buy.
Like with most large stacked plate trans coolers, drivers  can expect to see a significant drop in transmission fluid temperatures.  The combination of it having a highly efficient stacked plate construction and its overall size help keep transmission fluid cool in even the most extreme conditions.
| | | | |
| --- | --- | --- | --- |
| Transmission Cooler | GVWR | Type Of Cooler | Price |
| | 29,200 (BTU) | Stacked Plate | |
B&M 70274 SuperCooler Specs
Just like all B&M SuperCoolers, the 70274 features a highly durable black aluminum construction that provides efficient fluid flow through the body for maximum cooling. It is designed with 48 cooling rows of cooling, very similar to the Tru Cool H7B.
Overall, this cooler does a phenomenal job at keeping transmission temperatures as low as possible, which is why it was featured in our towing and drag racing guides.
It uses 1/2″ NPT threads, which allows for the use of -6 or -8 an lines and fittings for a more secure fit and greater fluid capacity.
Cooler Dimensions: 11″ x 11″ x 1 1/2″
Cooler Type: Stacked Plate
Cooling Rows: 48
GVW:  29,200 (BTU)
Fitting Size: 1/2″ NPT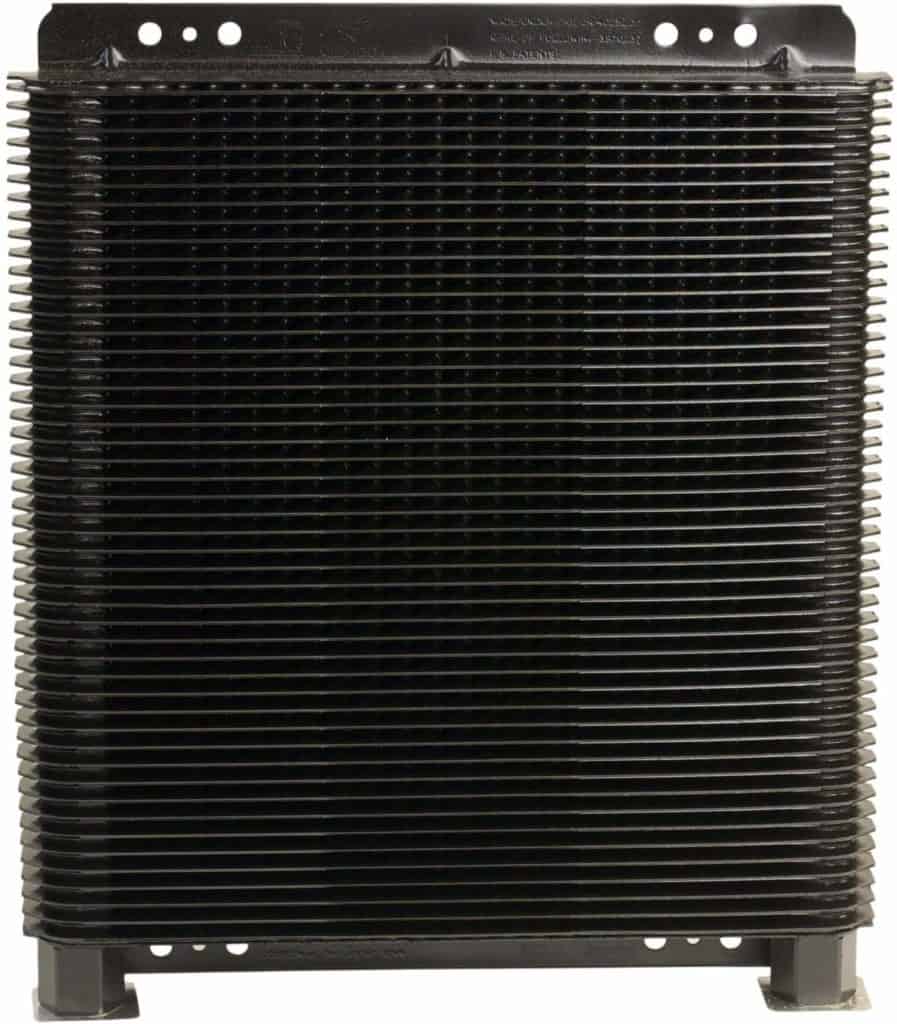 If you are looking to install the B&M 70274, you need to consider placement. Due to its size, this cooler will not be able to fit on all applications.
However on most trucks and modified cars, it would be easier to install compared to a smaller commuter car.
When considering this cooler as a stand alone (bypassing the stock cooler), it is certainly large enough to handle the transmission cooling needs of most applications.
While is it typically recommended to utilize this cooler with the stock radiator cooler, it can certainly be used by itself as a stand alone cooler that bypasses the radiator.
B&M 70274 Pros & Cons
Pros
Stacked Plate Design

Large Size & Capacity

1/2″ NPT Fittings
Can Be Stand Alone Cooler
Cons
Difficult To Fit In Some Vehicles
B&M 70274 Transmission Cooler - How Well Does It Work?
See what B&M 70274 trans cooler users have to say about this transmission cooler and how it helped their trans temps drop like crazy.
"Reduced peak temp by 30 degrees in traffic and 40 degrees while driving. Run a 4l80e trans with radiator trans cooler and this one in series. Its big it works."
"After installing this cooler I saw a 50-60 degree drop in temperature, and at least a 30 degree improvement over my old cooler. B&M states it's a better design, and it shows."
Great cooler. Well built. Easy to install. reduced my transmission temps by 20 degrees in stop and go traffic.
These are the only trans coolers I buy. They are well built, and are very efficient. I added the B&M 70274 and the trans temp dropped 25 degrees! Awesome product!
Conclusion
Overall, the B&M 70274 is certainly one of the best heavy duty transmission cooler options for trucks, SUV's, and performance cars. With its size, stacked plate design, and 29,200 BTU rating, this cooler is able to handle all your cooling needs.
Despite the fact that this cooler does not include hardware or fittings to compete the installation, the cost of the cooler will allow you to purchase everything you need. We highly recommend utilizing either -6an or -8an lines with this cooler to get as much cooling capacity as possible while creating a very secure, leak free connection.
B&M 70274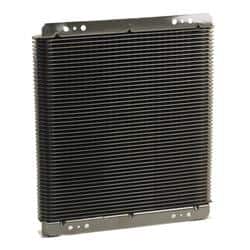 The B&M 70274 is the largest transmission cooler in the SuperCooler lineup and provides serious cooling. See why the B&M 70274 is a great choice for you.
Product Brand: B&M
Pros
Stacked Plate Design
Large Size & Capacity
1/2″ NPT Fittings
Can Be Stand Alone Cooler
Great For Heavy Duty Use
Cons
Difficult To Fit In Some Vehicles
No Installation Kit