Towing with an automatic transmission equipped vehicle is very common. So common in fact that some heavy duty trucks and SUV's already have a transmission cooler that can handle the added stress placed on the transmission.
When it comes to towing, you want to ensure that your transmission stays as cool as possible. It is recommended to try to keep your transmission fluid temperature in a range between 180 and 200 degrees. After 220+ degrees, you will dramatically lessen your transmission's lifespan.
When towing, it is highly recommended to keep an eye on your transmission temperatures. The most effective way to monitor your transmission temperatures is to use a transmission temperature gauge. Most transmission temperature gauges are mechanically installed in the transmission pan to monitor fluid temp. There are a number of options that will simply plug into your OBD2 port and monitor the temperature via the factory gauge in the transmission's valve body.
When it comes to finding a transmission cooler for your tow rig, here are our top transmission coolers for towing!
| | | | |
| --- | --- | --- | --- |
| Transmission Cooler | Type of Cooler | Type Of Cooler | Price |
| Tru-Cool Max LPD47391 | 40,000 | Plate & Fin | Shop Now |
| Hayden 679 | 30,000 | Plate & Fin | Shop Now |
| B&M 70274 | 29,200 (BTU) | Stacked Plate | Shop Now |
| Derale 15960 | 30,000 | Stacked Plate w/ Fan | Shop Now |
Do I Need A Transmission Cooler For Towing?
While some vehicles can get by without adding an external transmission cooler, most will need it. If your vehicle is designed to be able to tow, odds are there already is an external transmission cooler in conjunction with the stock unit. Most vehicles utilize a transmission cooler inside the radiator, and more heavy duty vehicles will supplement with an external cooler in front of the radiator and air conditioning condenser.
Despite the fact that vehicles have a setup for towing from the factory, this may not be enough. Depending on your tow capacity and the realistic load you will be moving, consider adding a transmission cooler, or upgrade the existing one. While some may argue that this is not needed, it is a matter of being overly protective of your vehicle. The last thing you want is to rely on an inadequate cooling system and have your transmission fail while on the road. Not only will you need to pay for a tow, but a new transmission as well.
Does A Transmission Cooler Increase Towing Capacity?
While there are a number of benefits of using a transmission cooler for your vehicle, they do not increase towing capacity. Despite the fact that a transmission cooler will not increase towing capacity, it will however increase the cooling efficiency of your transmission fluid.
Towing puts a heavy strain on your transmission and increases the heat being transferred throughout the fluid. A transmission cooler that is designed for being used in towing situations will help keep your transmission fluid cooler. As long as you have a transmission cooler with a appropriate GVW rating, you can safely tow within your vehicle's towing capacity.
What Size Transmission Cooler Do I Need For Towing?
When you are towing, your transmission fluid can certainly get warm. Because of this, you need a large transmission cooler to handle the added heat. When shopping for a transmission cooler for your tow rig, it is important to get one that has a high GVW rating. Transmission coolers are rated by their gross vehicle weight or GVW, and this can go from as little as 10,000, all the way up to 40,000 or more!
Based on the transmission cooler GVW chart shown below, the optimal transmission cooler should be at least 20,000 depending on the tow capacity.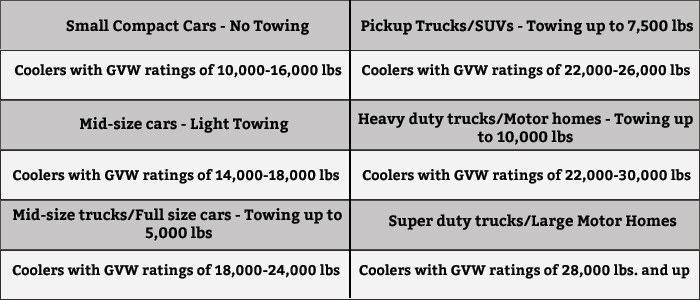 Can A Transmission Cooler Be Too Big?
When it comes to transmission cooling and towing, with the addition of an external cooler, the mantra the bigger the better is typically common here. However, if you are towing in a colder climate you may need to block off part of the cooler depending on what you are seeing for temperatures. So based on this, a transmission cooler may be too large depending on your climate and temperatures. This is seldom the case for the average driver who tows once in a while.
What Are The Best Transmission Coolers For Towing?
The best types transmission coolers for towing are typically stacked plate, or plate and fin coolers because they are able to disperse heat the most effectively. While these types of transmission oil coolers are more expensive than a simple tube and fin style cooler, they will keep your tow vehicle's transmission temps down, preventing wear and tear caused by excessive heat.
Most heavy duty transmission coolers are either plate and fin and stacked plate cooler, so they are designed to do the job right. While a tube and fin can be large transmission cooler, they may not be ideal when it comes to towing heavier loads.
When adding an external cooler on your Truck or SUV, it is recommended to place the cooler in front of the radiator and air conditioning condenser. This will allow the cooler to get as much air flow as possible. Air flow will help the cooler better reduce transmission fluid temperatures before going back to the transmission.
Tru-Cool 40k – Best Transmission Cooler For Towing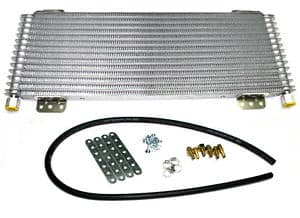 The Tru-Cool Max, or as it is commonly referred to, the Tru Cool 40k is a plate and fin style trans cooler that boasts a 40,000 gross vehicle weight rating. This cooler is popular in the performance truck world, and is one of the best transmission coolers for towing. Almost every user of this cooler experiences a significant drop in transmission cooler temperatures compared to using just the stock cooler.
There are 2 different style Tru Cook 40k coolers. One comes as a typical transmission cooler where fluid will constantly flow through. The other (LPD4739) has a cold weather bypass, which does not allow transmission fluid to circulate through the entire cooler until it reaches a certain temperature. This is ideal for those who live in colder climates.
Tru Cool 40k Features
The Tru Cool 40k cooler features a durable double brazed aluminum construction with precise fin spacing for efficient air flow and cooling. This cooler is designed with 13 plates for cooling and its dimensions are 8.5 x 22 x 1.25 making it one of the largest transmission coolers on the market.
The Tru Cool 40k uses 3/8 inverted flare hex fittings which makes it great for running custom transmission cooler lines with an fittings. Smaller Tru Cool coolers use a 3/8 hose barb fitting, which makes it easier to install rubber transmission hose.
What We Like About The Tru Cool 40k:
GVW Rating of 40,000 pounds
Includes cold weather bypass – Perfect for towing in colder climates
Fitting type – The inverted flex flare provides a more secure connection to to transmission cooler lines assuming the right fittings are used
Can bypass the stock cooler – This cooler is large enough to use as a stand alone transmission cooler
Overall, the Tru Cool 40k takes our vote for the best transmission cooler for towing. Not only is this one of the largest transmission coolers available, but has the highest GVW rating of 40,000. One of the biggest benefits is that you have the option to have an internal cold weather bypass or not depending on which model you buy.
The only thing we can see as the negative of this cooler is getting it to fit on your vehicle. This should be easy to mount on most full size trucks, but SUV's may have a harder time getting it to fit. Other than that, this is in our opinion the #1 transmission cooler for moderate towing applications where there aren't extreme loads.
Find The Lowest Price On Tru Cool 40k Transmission Coolers
Hayden 679 – Best Budget Transmission Cooler For Towing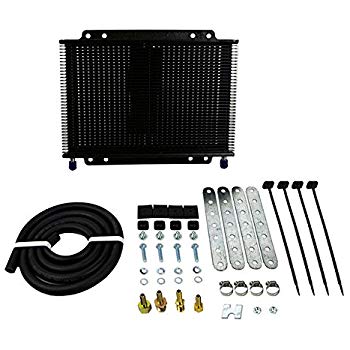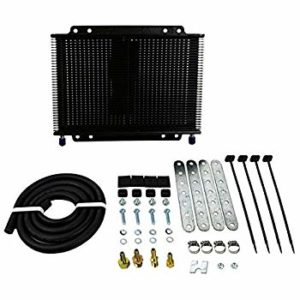 Like described in our buyer's guide, the Hayden 679 offers a high GVW, which makes it a great transmission cooler to use when you're towing. The Hayden 679 is a plate and fin style cooler designed for easy installation. The cooler comes as a complete kit with extra transmission hose, fittings, clamps, and zip ties.
The cooler's dimensions are 11 5/8 x 11 x 3/4 and is rated at 30,000 GVW. This provides enough capacity to tow 10,000 pounds or be used on class A motor homes, large travel trailers, or with 5th wheel trailers.
What We Like About The Hayden 679:
Size – The size of the cooler makes it easy to mount in most locations on your truck or SUV.
High GVW Rating – The Hayden 679 offers a 30,000 GVW rating which is plenty for most common applications.
Cost – This cooler provides an excellent value and is the perfect choice for those looking for a higher capacity cooler at a lower price.
Comes as a complete kit with extra hose, clamps, and mounting hardware
Overall, the Hayden 679 transmission cooler is a great value for a transmission cooler for your tow rig. With its thinner design, the cooler is easy to install on your vehicle with little to no modification. Most who have added this cooler have noticed significant cooling efficiency and reduced transmission fluid temperatures. We highly recommend this cooler for the budget minded who need extra cooling capacity.
Find The Lowest Price On Hayden 679 Transmission Coolers
B&M 70274 – Best Stacked Plate Transmission Cooler For Towing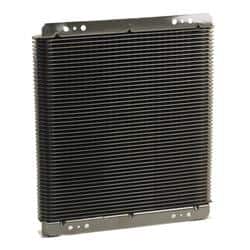 The B&M 70274 super cooler is a stacked plate style cooler with a very robust design. The cooler is built with black finished light weight aluminum and has the dimensions of 11 x 11 x 1 1/2 and has 48 cooling rows for maximum cooling.
The B&M 70274 is equipped with 1/2″ NPT fittings which will require you to go out and purchase extra fittings, but if you are purchase a transmission cooler for added piece of mind, this should not deter you from buying this cooler. The NPT fittings, when installed correctly, provide a worry and leak free connection. This possibly eliminates the use of rubber transmission line which is prone to leaking over time.
Another added benefits of this cooler is that, similar to the Tru Cool 40k, colder, thicker fluid will be routed differently than warmer, thinner fluid. This helps to prevent over-cooling and to allow transmission fluid to be directed through the core as temperatures increase.
What We Like About The B&M 70274:
NPT Fittings for secure fitment
48 cooling rows for added cooling capacity
Low pressure drop
High capacity
11″ x 11″ x 1 1/2″ size
Overall, the B&M 70274 is one of the best coolers on the market for towing applications. Its design and size are great for keeping transmission temperatures low. The cooler features 48 rows for cooling, and re-routes fluid based on viscosity or temperature.
If you are fine with having to purchase extra fittings, this cooler will provide a worry and leak free connection. After having previous experience with the B&M 70274, we highly recommend this cooler.
Find The Lowest Price On B&M 70274 Transmission Coolers
Derale 15960 – Best Transmission Cooler With A Fan For Towing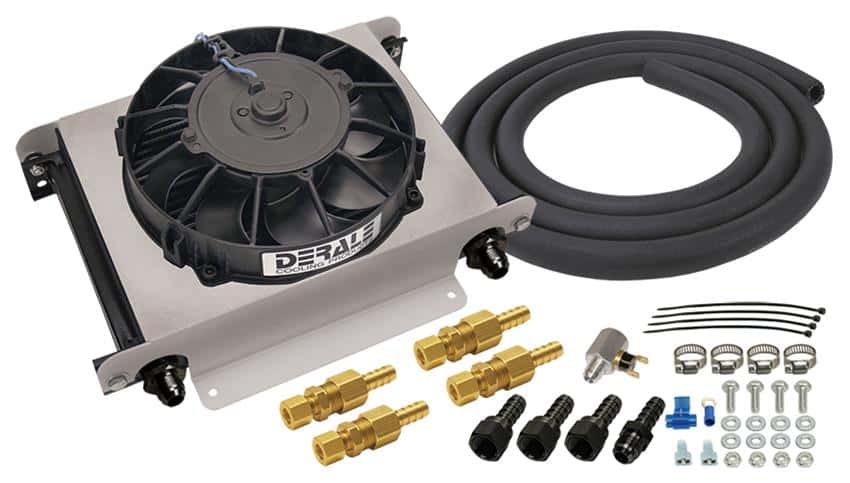 Like most Derale transmission coolers, the Derale 15960
transmission cooler is a stacked plate style cooler with 25 cooling rows and an 8″ fan that flows 500+ CFM. This combo was designed for maximum transmission cooling efficiency. The cooler itself is rated for 30,000 GVW, so with the addition of the fan, this is one serious transmission cooler.
This cooler comes complete with an installation kit that includes 10 ft of transmission hose, fittings, and clamps to aid in the mounting process. While the cooler comes with the fittings and extra rubber hose, the fitting on the cooler are -8AN, so custom lines with AN fittings are certainly an option as well.
One of the nice features of the Derale 15960 is that it comes with a thermostat that will automatically turn the fan on when transmission temperatures flowing into the cooler reach 180 degrees. This is great to have for the user who is looking for a 100% worry free transmission cooler.
What We Like About The Derale 15960:
Size – The size of the cooler makes it easy to mount in most locations.
Stacked plate style cooler for maximum efficiency.
180 degree inline thermostat that automatically turns fan on.
Comes as a complete kit with extra hose, clamps, and mounting hardware. This cooler can be used with barb fittings or custom lines can be used with AN fittings.
Overall, the Derale 15960 is certainly in the discussion for being one of the top rated transmission coolers with a fan for towing. With its stacked plate construction, heavy duty fan, and inline thermostat, transmission cooling shouldn't ever be an issue. We have seen a number of dually drivers who tow heavy 5th wheel loads utilize this cooler in addition to their factory cooler and never have any issue.
One of the pros of this cooler is that is comes equipped with -8AN line fittings, so it is easy to plumb custom lines to increased cooling capacity. This cooler will handle anything the most extreme conditions, and because of that, it is on our list of being one of the best rated transmission cooler for your tow rig.
Find The Lowest Price On Derale 15960 Transmission Coolers
How To Cool A Transmission Down When Towing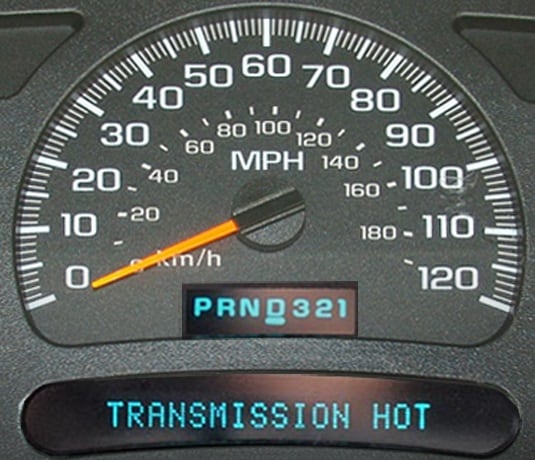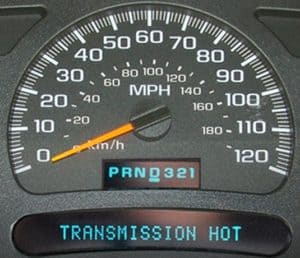 By now, you know that you need to monitor transmission temps, but what happens if you see that the temperatures are still higher than you'd like? The first thing to take note of is if you are still in the temperature range. The best way to do this would be with either the factory of an aftermarket transmission temperature gauge.
If your vehicle's transmission fluid temperature is starting to creep past the recommended range, there are a few ways to help it cool and prevent failure. By acting quickly, you can keep your transmission from overheating and severe damage.
Tow Haul Mode
Most trucks and SUV's have a feature called Tow – Haul mode. This is used to change how the transmission shifts under a heavier load. It is common for Tow Haul mode to allow to reduce shift cycles as it changes shift points to a higher RPM. This is done to help you stay in the power bang while towing a heavier load.
Not only does tow haul mode help with transmission shift points and power, but also may disengage overdrive. This helps prevent burning out the overdrive gear, but will still allow the torque converter to lock up under load.
Use A Lower Gear
Prevent your transmission from getting too hot while you're towing by using a lower gear. If you are towing on the freeway, it might be better to use a non-overdrive gear. For example, if you have a 4 speed transmission, it is often recommended to use 3rd gear rather than 4th. This is done to prevent constant downshifts.
Since you are towing and adding additional strain, the transmission will have a tendency to want to downshift to keep the motor in the power band. This is most common on any type of grade. If you know you are going to be going through an area that is not flat, see how often the vehicle will downshift and if need be, manually select a lower gear.
Conclusion
When it comes to towing with your vehicle, it is highly recommended to install a higher capacity transmission fluid cooler than what comes standard. This will not only help keep your transmission cooler, but help in most daily driving situations.
The common thing people hear when it comes to buying a transmission cooler is "get the biggest one you can fit", and this is true. Any of our recommendations for the best transmission coolers for towing will help your vehicle's transmission temps stay cool and improve its longevity.