The GlowShift tinted 7 color series transmission temp gauge utilizes a full sweep mechanical design that reads a wide range of transmission temperatures ranging from 80 to 260 F.
With its 7 colors to choose from, these transmission temp gauges can match any interior, helping you create a very clean look.  
GlowShift Tinted 7 Color Transmission Temp Gauge Specs
The GlowShift 7 color trans temp gauges come complete with a transmission fluid temperature installation kit that includes a  gauge visor, temp sensor, 2ft power harness,  mounting bracket with hardware, and detailed installation instructions.
Gauge Size: 2 1/16″ (52.4mm)
Type of Gauge: Full sweep analog
Transmission Fluid Temperature Range: 140 – 280 °F
Gauge Lighting: LED (Blue, Green, Red, Teal, Yellow, Purple, and White)
A great feature of the GlowShift 7 color trans temp gauge series is its ability to reduce light output 30% under night time driving conditions. This is done to reduce the brightness and help drives better focus on the road rather than an attention grabbing gauge.
GlowShift 7 Color Transmission Temperature Gauge Installation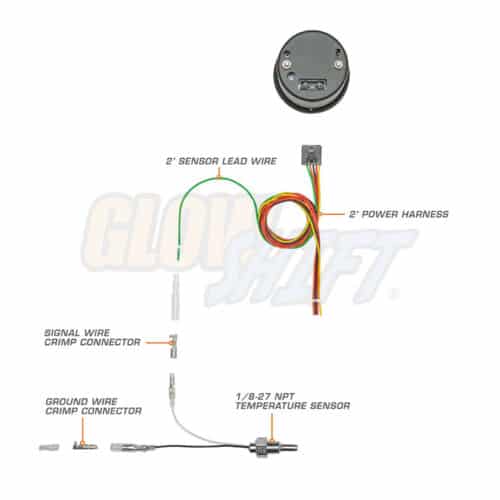 Because of the mechanical design of this gauge, installation of a wired temp sender is not required. However, this gauge comes with a 8 capillary tube with a 1/2″ NPT mounting nut that can be installed in your transmission pan, transmission line, or transmission pressure port.
While there is no electric sensor wiring, you would still need to wire in a ground and 12 volt lighting to illuminate the gauge.  This is common with all mechanical Auto Meter gauges.
No matter how you plan to install this gauge, you still need to find a mounting location inside the cabin of your vehicle.  Depending on your application, you might be able to utilize a gauge pod specific for your vehicle that mounts on the A pillar, or a universal gauge mount would be fine.
View GlowShift 7 color transmission temperature gauge installation instructions.
GlowShift 7 Color Transmission Temp Gauge Pros & Cons
Pros
Easy To See LED Lighting
7 Color and 3 Face Options
80 – 260 F Reading
Easy To Install Kit
Dims 30% For Night Driving
Low Cost
Cons
May Be Hard To Read Quickly