One of the most popular transmission cooler, the B&M 70264 SuperCooler utilizes a durable black, lightweight aluminum stacked plate construction that delivers serious transmission fluid cooling and efficiency. This design is damage and corrosion resistant to give you many  years of worry free transmission cooling. 
Like all B&M SuperCoolers, the 70264's stacked plate design is an estimated 30% more efficient than traditional tube and fin designs and have 15% less transmission fluid flow restriction which allows for maximum cooling. 
The B&M 70264 comes with pre-drilled mounting holes and barb style fittings to make installation quick and easy. If you're looking for a highly efficient and easy to install transmission cooler, the B&M 70264 is perfect for a range of cars, trucks, and SUV's to provide extensive transmission cooling. 
Overall, the B&M 70264 is one of the best mid-sized transmission coolers and was featured in our best transmission coolers buyer's guide.
B&M 70264 SuperCooler Specs
The B&M 70264 is built with  an 11.25″ x 7.25″ x 1.5″ body that is not only large enough to efficiency cool transmission fluid, but is still small enough to mount in most common locations without much hassle. In addition, the B&M 70264 is a 19,000 GVW cooler that provides great cooling  for many applications.  
The B&M 70264 SuperCooler is the perfect option excellent option for those looking to keep transmission temperatures down when using your vehicle in a wide range of transmission stress inducing conditions such as light towing, hauling, or sitting in traffic on your daily commute. 
Cooler Dimensions: 11.25″ x 7.25″ x  1.5″
Cooler Type: Stacked Plate
GVW: 19,000 pounds (14,400 BTU)
Fitting Size: 11/32″ barb 
Recommended Uses
Full size trucks that see light towing or hauling
Performance street vehicles 
Daily driven cars or trucks
Based solely on the size of the B&M 70264, it is recommended for use on most standard vehicles. With it's average sized construction, this cooler will easily handle most situations that you will typically encounter. 
This cooler is quite popular in the GM truck and car world with the 4l60e transmission, in addition to commonly being used on other mid sized truck and SUV platforms. 
With its 19,000 GVW rating, this cooler can easily handle towing or hauling smaller to moderate loads.  While this cooler may not be the biggest or best for when it comes to extreme situations, it certainly holds its own in the daily driven car, truck, SUV or performance street vehicle markets. 
This cooler despite its size is perfect for those looking for added insurance and need to better control trans temps. 
Due to its size, we recommend this cooler be used in addition to the factory transmission cooler within the radiator.  
When used in more high performance oriented vehicles, some users will opt to install a fan on this cooler to increase cooling capabilities.  This is done when the standard cooling of just the cooler alone cannot keep up with your demands,  or the cooler is remotely mounted. 
B&M 70264 Installation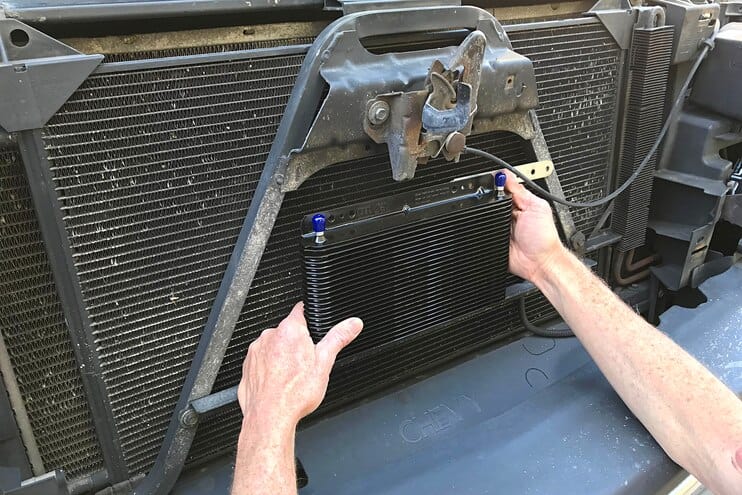 The B&M 70264 SuperCooler comes as a universal trans cooler kit, so installation is dependent on each vehicle.  The kit comes with extra transmission hose, mounting brackets with nuts and bolts, various barb fittings, hose clamps, spacers and mounting ties.
Since most people will commonly mount and install transmission coolers in front of the air conditioning condenser and radiator, the installation kit that are included will be enough for most installs.  
The biggest thing to consider when installing this cooler is where to mount it.  Depending on your vehicle, the 1.5″ thickness may make installation a tight fit, so be sure to find a place that receives more than adequate air flow to the cooler. 
B&M 70266 Pros & Cons
Pros
Stacked Plate Design
Complete With Installation Kit
Great Size For Most Vehicles
Cons
Conclusion
With the combination of being a highly efficient stacked plate transmission cooler, the B&M 70264 SuperCooler automatic transmission cooler is by far one of the best transmission coolers for trucks, suvs, cars, and performance street driven vehicles.  The cooler offers a 19,000 GVW capacity that allows for ample trans cooling in most common lighter duty applications. 
Another great benefit the B&M 70264 offers is that it comes with a complete installation kit with extra transmission hose, clamps, and everything else needed for an easy installation.  While the kit comes with various fittings, it might be necessary to purchase additional fittings, depending on how you plan to route the fluid lines.
Overall, if you are looking to add extra transmission fluid cooling capacity, it is hard to beat the B&M 70264 SuperCooler for your car, truck or SUV! 
Find The Lowest Price On B&M 70264 SuperCooler Transmission Coolers
B&M 70264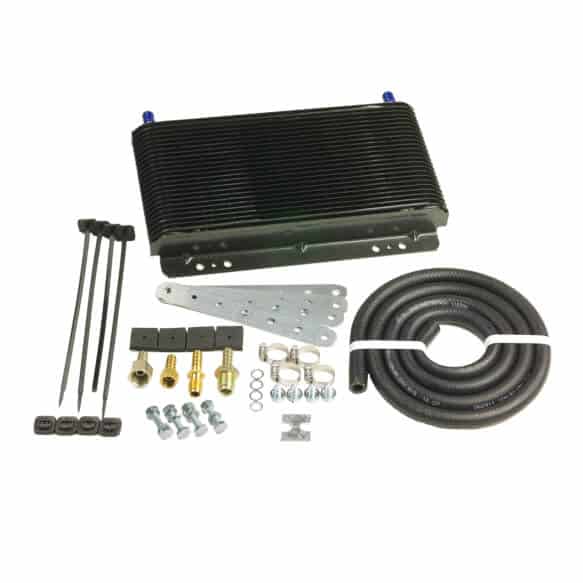 The B&M 70264 SuperCooler is one of the most used transmission coolers on the market and provides cooling for a wide array of applications.
Product Brand: B&M
Pros
Stacked Plate Design
Complete With Installation Kit
Great Size For Most Vehicles