Looking for a heavy duty transmission cooler that won't break the bank? Look no further than Tru Cool's M7B. This cooler packs a heavy punch in the cooling department at a price you will love.
With its 11″ x 8″ x 1 1/2″ stacked plate design, durable black aluminum construction, and 1/2″ NPT fittings,  this cooler is certainly an option for those looking for performance in their transmission cooling system. 
Like with most large stacked plate trans coolers, drivers  can expect to see a significant drop in transmission fluid temperatures.  The combination of it having a highly efficient stacked plate construction and its overall size help keep transmission fluid cool in even the most conditions.
Tru Cool M7B Specs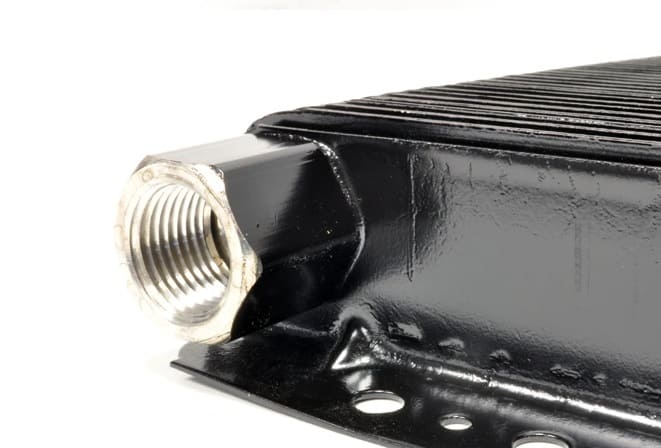 Like most Tru Cool transmission coolers, the Tru Cool M7B offers highly efficient atf flow through the body for maximum cooling. This cooler utilizes 36 rows of cooling plates making it more than adequate  for almost any application.
Cooler Dimensions: 11″ x 8″ x  1 1/2″
Cooler Type: Stacked Plate
Cooling Rows: 36
BTU: 20,500
Fitting Size: 1/2″ NPT
Highlighted Features
TRU-COOL 8 x 11 x 1-1/2 in LPD Fluid Cooler P/N M7B
Tru Cool Low Pressure Drop System
The M7B utilizes Tru Cool's unique low pressure drop design that allows for more efficient cooling. The colder automatic transmission fluid is, the thicker it is in viscosity.
This causes the fluid to not flow through the cooler as efficiently as possible, so a passive bypass is built into the cooler to allow the thicker fluid to flow as normal. This thermal bypass is located in the first rows of the cooler.
As the fluid gets warmer, it will start to efficiently flow through the rest of the cooler to keep temperatures as low as possible.  This allows for optimal heat transfer and improved protection against lube system failure. More information about Tru Cool's low pressure drop system can be found here.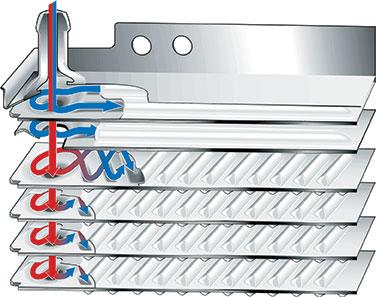 Recommended Uses
Towing & Hauling
Racing or Performance Oriented Cars
Based on the size of the Tru Cool M7B, this cooler is a great option for those looking to ad serious cooling capacity to their trucks, or performance vehicles.
This cooler is the exact same as the B&M 70266, which we recommend highly for drag racing, and as one of the overall best transmission coolers in our complete buyer's guide.
Tru Cool M7B Pros & Cons
Pros
Stacked Plate Design
Low Pressure Drop (LPD)
Larger Than Average Size
Can Be Used As Stand Alone Cooler
Cheaper alternative to B&M 70266
Cons
May Be Hard To Fit In Some Vehicles
No Installation Kit
Conclusion
The Tru Cool M7B is a great choice for the performance oriented driver on a budget. Between its size and shape, this cooler is hard to beat. Compared to other coolers that provide similar cooling, the M7B is a serious bargain.  
Not only, does this cooler have an attractive price point, but it can stand up to serious abuse. Whether you use it for towing and hauling, or to keep trans temps down when cruising in your muscle car, the M7B is a solid choice for all your transmission cooling needs!