Like most 7.3 Powerstroke owners, you use your truck to tow or haul some serious weight. When doing so, your transmission takes a serious beating. To combat this, Mishimoto offers a complete direct install transmission cooler kit for your truck. The stock transmission cooler on your 99 – 03 7.3L Powerstroke struggles to provide your truck with sufficient atf cooling, so with increased strain from added weight in the bed or on a trailer, you transmission temperatures will rise. The Mishimoto MMTC-F2D-99SL can help you avoid high temperatures and added transmission stress.
| | | | |
| --- | --- | --- | --- |
| Transmission Cooler | Direct Fit | Type Of Cooler | Price |
| | Yes | Plate & Fin | Shop Now |
Mishimoto 7.3L Powerstroke Transmission Cooler Specs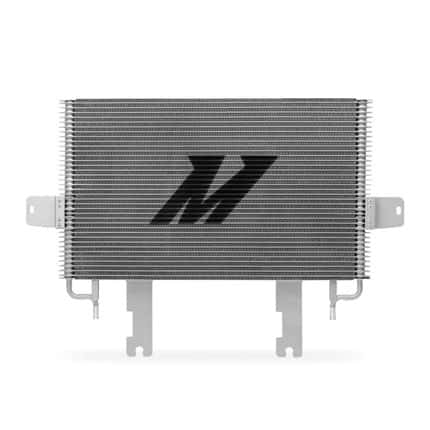 With the Mishimoto 7.3L Transmission Cooler, worries about high transmission fluid temperatures will be a thing of the past. This cooler is designed with a 37-row core that provides a larger surface area over both of the stock coolers. Based on its sheer size, the 7.3 transmission cooler allows for an insane volume increase of 265% which increases transmission fluid capacity by 1.0 qt. This cooler was designed for 100% "plug and play" installation, meaning no modifications are necessary to get it to fit. Just like all Mishimoto 7.3L Powerstroke parts, you can expect this transmission cooler to come with the standard Mishimoto Lifetime Warranty.
Cooler Core Dimensions:
 25.25″ x 16.13″ x  1.34″
Cooler Type:
  Plate & Fin
Cooling Rows:
37
BTU:
20,500
Fitting Size:
 1/2″ NPT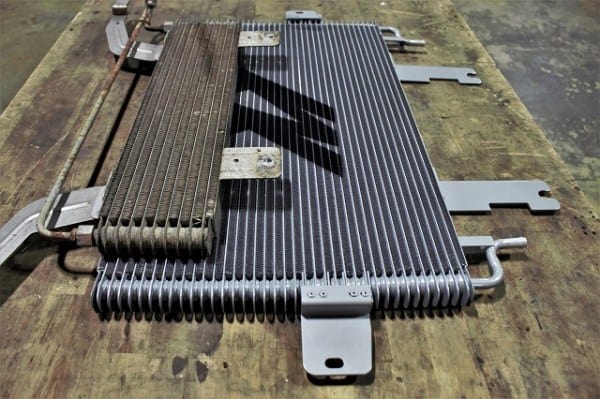 More information can be found in this
press release
on Mishimoto's website
99-03 7.3 Powerstroke Transmission Cooler Installation
When it comes to installing the Mishimoto 7.3 transmission cooler, there are no modifications needed to get it to fit. This cooler comes as a 100% direct fit kit with everything you need for installation. 
The below video shows step by step what goes into installing the MMTC-F2D-99SL.
Mishimoto 7.3 Transmission Cooler Pros & Cons
Pros
Direct Fit 
265% Increase In Core Size
Increased Fluid Capacity 
Lifetime Warranty
37 Row Core
Cons
Conclusion
The Mishimoto MMTC-F2D-99SL is the perfect choice for all your 7.3 powerstroke's transmission cooling needs. With its large core, you get a cooling capacity increase of about 265% compared to the factory external cooler. 
This provides an additional quart of fluid to the transmission cooling system.  As always, when installing a transmission cooler you will need to check your transmission fluid to ensure you have the proper level. 
The Mishimoto 7.3 Powerstroke transmission cooler is a direct fit for your 99 – 03 truck, so installation is a breeze compared to universal trans coolers. 
Overall, if you use your truck for any serious towing or hauling, this cooler will help prolong the life of your transmission and keep your truck on the road longer.