Keep transmission temps low with the Derale 12903 universal transmission cooler. This cooler utilizes an efficient tube and fin construction with a 15.25″ x 7.5″ x 0.75″ core that has a total of 6 cooling rows. 
About Derale 6000 Series Transmission Coolers
The Derale 6000 series transmission coolers are a line of high-performance cooling products designed to improve the efficiency and lifespan of your vehicle's transmission. 
These coolers utilize an aluminum tube and fin design to dissipate heat and increase fluid capacity, reducing the risk of overheating and prolonging the life of your transmission. 
The 6000 series transmission coolers are available in various sizes and configurations, including the Derale 12903,  allowing you to choose the best fit for your specific vehicle and cooling needs.
All 6000 series transmission coolers include a number of additional features, such as built-in mounting brackets, pressure-tested hoses, and durable finish options.
Overall, the Derale 6000 series transmission coolers are a reliable and effective choice for anyone looking to improve the performance and longevity of their transmission system without hurting your wallet.
| | | | |
| --- | --- | --- | --- |
| Transmission Cooler | Direct Fit | Type Of Cooler | Price |
| | No | Tube & Fin | Shop Now |
Derale 12903 Transmission Cooler Specs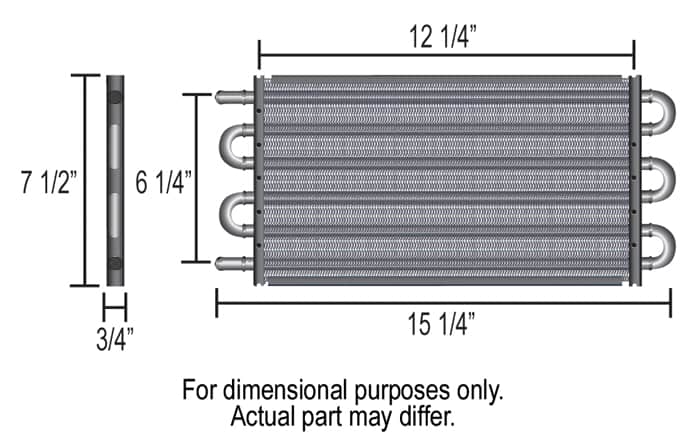 The Derale 12903 transmission cooler is a universal kit that is designed for mounting in any application where space is appropriate. With its efficient and lightweight design, this tube and fin design promotes increased fluid cooling and helps with lowering temperatures in your vehicle. 
This cooler comes complete with in installation kit that includes 4 ft of durable rubber hose, universal hardware mounting kit and clamps.
Cooler Core Dimensions: 15.25″ x 7.5″ x 0.75″
Cooler Type:  Tube & Fin
Cooling Rows: 6
Installation Kit: 4 ft rubber hose, (4) plastic zip ties, (4) plastic tie connectors, (4) foam pads (4) worm clamps, (1) drain-cock connector
Fitting Size: 3/8″ barb
Derale 12903 Universal Transmission Cooler Pros & Cons
Pros
Cost Effective 
Includes Install Kit
Cons
Conclusion
If you're looking for a transmission cooler that will lower fluid temps and won't break the bank, the Derale 12903 universal cooler is a great option. With its 15.25″ x 7.5″ x 0.75″ tube and fin construction and 6 cooling rows, this cooler will certainly help lower transmission temps.  
The Derale 12903 comes complete with a universal transmission cooler installation kit that includes all necessary hose and hardware to install your cooler.