The B&M 70273 SuperCooler is universal stacked plate transmission oil cooler that is built from the same rugged black aluminum construction as all other B&M SuperCoolers.
The SuperCooler 70273 comes with 1/2″ NPT fittings which will require you to source your own fittings, but this allows you to construct your own custom lines such as -6an or -8an braided lines for a higher quality and secure connection.
Like all B&M SuperCoolers, the stacked plate design of the 70273 gives drivers an estimated 30% more transmission fluid cooling efficiency than traditional tube and fin designs while, having 15% less transmission fluid flow restriction which allows for maximum cooling.
Based on its size and construction, the B&M 70273 would be best suited for daily driven trucks and SUVs, performance street vehicles, and light towing and hauling.
This cooler shares the same characteristics as the popular B&M 70264 with the only difference being the fittings. The 70264 utilizes basic barb fittings and includes a complete installation kit with hose and mounting hardware.
B&M 70273 SuperCooler Specs
Like all B&M SuperCoolers, the 70273 is a stacked plate style transmission cooler that will effectively cool your transmission fluid. The B&M 70273 has an 11″ x 5.75″ x 1.5″ body with 24 rows of cooling to handle even the most extreme conditions.
The B&M 70273 SuperCooler is the perfect option excellent option for those looking to keep transmission temperatures down when using your vehicle in a wide range of transmission stress in conditions such as light towing, hauling, cruising in your hotrod on the weekends, or sitting in traffic on your daily commute.
Cooler Dimensions: 11″ x 5.75″ x 1.5″
Cooler Type: Stacked Plate
Number of Cooling Rows: 24
GVW: 15,000 BTU
Fitting Size: 1/2″ NPT threads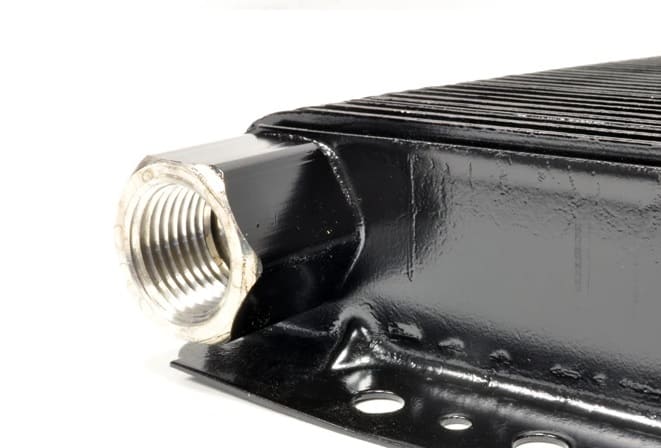 Highlighted Features
Rigid stacked-plate design is resistant to damage, and much better at cooling than ordinary 'fin and tube' coolers
Constructed from black finished lightweight aluminum alloy for maximum corrosion resistance
11″ x 5-3/4″ x 1-1/2″ racing model is rated at 15,000 BTU, and pressure tested to 200 PSI
Fluxless, oven brazed construction is vibration resistant
Multiple oil flow paths for maximum cooling efficiency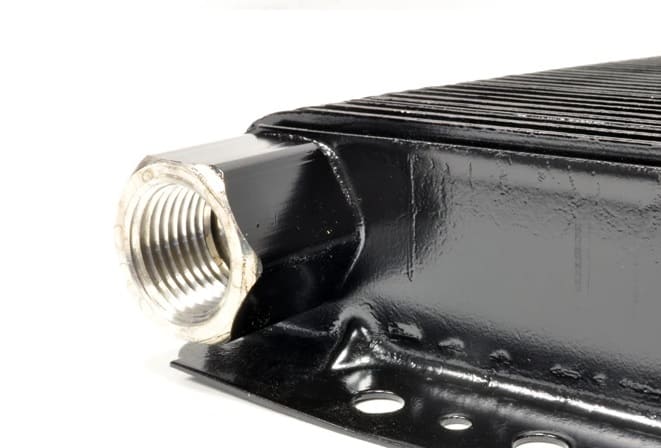 Recommended Uses
Light Towing or hauling
Performance street vehicles
Daily driven trucks or SUVs
With its 15,000 BTU rating, this cooler would be a great addition to any factory transmission cooling system.
B&M 70273 Installation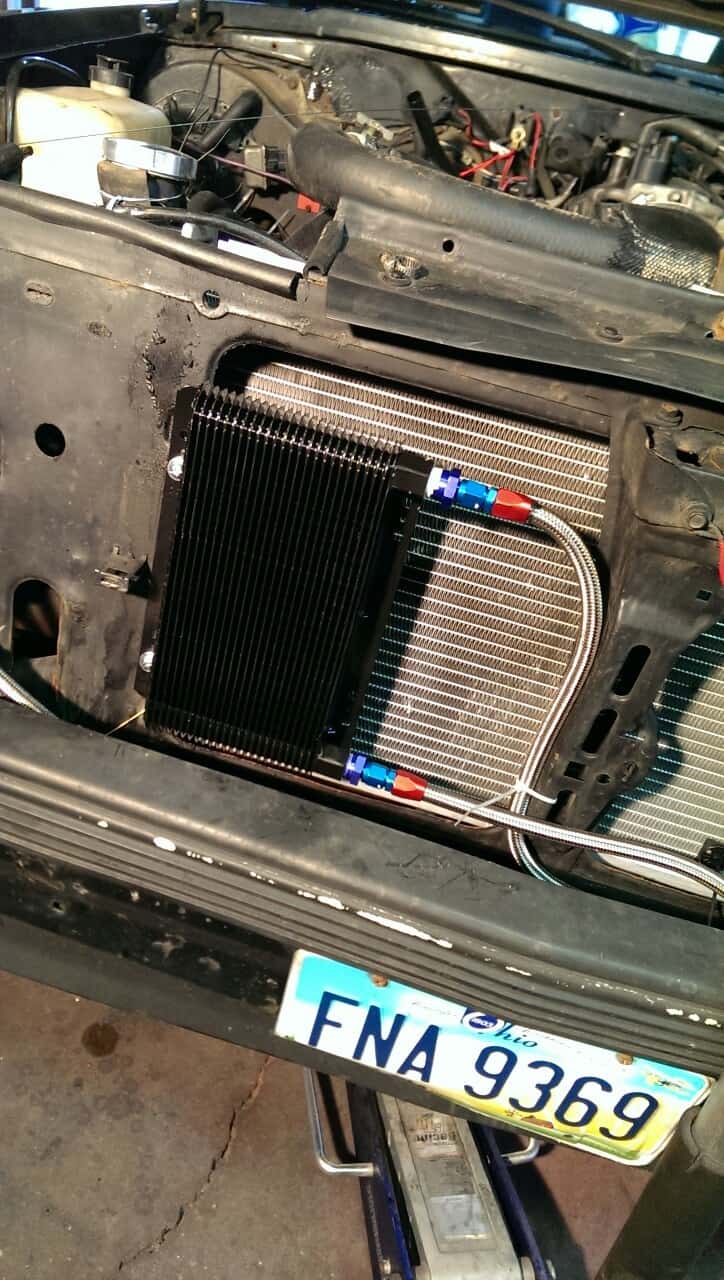 The B&M 70273 SuperCooler comes as a stand alone cooler, so there is no installation kit included unlike other coolers in the B&M lineup. Because of this, installation will be dependent on each vehicle's application. Most will mount and install transmission coolers in front of their vehicle's air conditioning condenser and radiator, so the installation of the 70273 will require you to get your own mounting hardware and trans cooler lines.
The biggest thing to consider when installing this cooler is where to mount it. Depending on your vehicle, the 1.5″ thickness may make installation a tight fit, so be sure to find a place that receives more than adequate air flow to the cooler.
B&M 70273 Pros & Cons
Pros
Heavy Duty Stacked Plate Design
1/2″ NPT Fittings
15,000 BTU Rating
Low Pressure Drop Sytem
Cons
Hard To Install In Tight Spaces
No Installation Kit
Conclusion
Overall, the B&M model 70273 is certainly one of the best transmission cooler options for daily driven trucks, SUV's, and performance oriented cars that demand efficient transmission fluid cooling. Between its size and 20,500 BTU rating, this cooler is more than capable to withstand the rigors of daily abuse.
Despite the fact that this cooler does not include hardware or fittings to compete the installation, the cost of the cooler will allow you to purchase everything you need. We highly recommend utilizing either -6an or -8an lines with this cooler to get as much cooling capacity as possible while creating a very secure, leak free connection.
The 70273 is a very high quality transmission cooler that will do what you ask of it and then some. For the cost and performance, this is one of the best medium duty transmission coolers on the market that is a duplicate of the reliable B&M 70264 SuperCooler.
Rigid stacked-plate design is resistant to damage, and much better at cooling than ordinary 'fin and tube' coolers
Constructed from black finished lightweight aluminum alloy for maximum corrosion resistance
11″ x 5-3/4″ x 1-1/2″ racing model is rated at 15,000 BTU, and pressure tested to 200 PSI
Fluxless, oven brazed construction is vibration resistant
Multiple oil flow paths for maximum cooling efficiency