Looking for a transmission cooler that can take all that you can throw at it and cool without skipping a beat?
If so, look no further than the Mishimoto MMOC-F . The MMOC-F is a heavy duty transmission cooler with an electric fan that provides serious transmission fluid cooling. This cooler was designed to keep your vehicle's transmission temperature low even in extreme conditions.
This Mishimoto transmission cooler utilizes a 100% aluminum tube and fin style construction with an 8″ electric fan. This cooler comes with a rugged outer frame that the fan is mounted to and has pre drilled holes which makes for an easy installation.The MMOC-F comes standard with 3/8″ barb style fittings that accommodate most common transmission cooler line hose.
If you're looking for a highly efficient and easy to install transmission cooler, the Mishimoto MMOC-F is one of the most cost efficient heavy duty trans coolers available at a price that won't break the bank.
Mishimoto MMOC-F Specs
The Mishimoto MMOC-F is built with an 12.8″ x 7.5″ x 2.36″ 6 row tube and style trans cooler body that is large enough to efficiency cool transmission fluid, yet small enough for the fan to cover the majority of the cooling surface.
With its fan, transmission cooler installation is can be easy. The MMOC-F can be mounted anywhere you have the room, either in front of the radiator, or remotely. This is great for all types of uses such as towing, off-roading, drag racing, or on your performance street vehicle.
For the cost, the Mishimoto MMOC-F is a great option for those looking for a transmission cooler with a fan that has the capabilities to withstand serious situations, and will keep transmission temperatures down.
Cooler Type: Tube & Fin With Electric Fan
Cooler Dimensions: 12.8″ x 7.5″ x 2.36″
Fan Specs 8″ diameter (slim design), 1,100 CFM, 2,800 RPM, 4 amps
Fitting Size: 3/8″ barb
Warranty: Lifetime
Recommended Use: Heavy duty use vehicles such as towing, racing, off-roading, performance street
Mishimoto MMOC-F Installation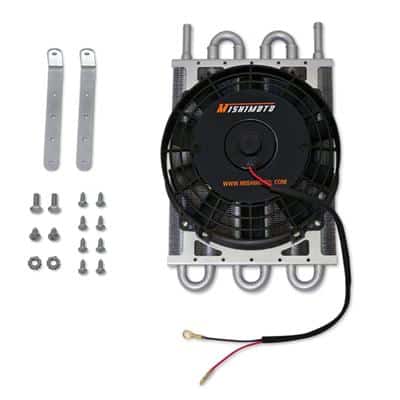 The Mishimoto MMOC-F is a universal fit transmission cooler, so installation is dependent on each vehicle and how you plan on mounting it. The cooler comes with pre-drilled mounting holes and the fan is already installed along with cooler specific mounting brackets with nuts and bolts. Unlike most installation kits, this cooler does not include extra rubber transmission hose, clamps, and various fittings.
Since this cooler is more heavy duty, it is assumed the installation process will be unique, so you might need to get creative with how to run the wiring for the fan. It may be a good idea to install an in-line fan thermostat in the transmission line. This will allow the fan to automatically turn on once the fluid reaches a certain temperature (typically 180 F).
Based on this cooler having a fan, you can opt to run the Mishimoto MMOC-F as a standalone cooler. The fan will allow for adequate cooling no matter where it is mounted, so there it is not a requirement to run in conjunction with the factory trans cooler.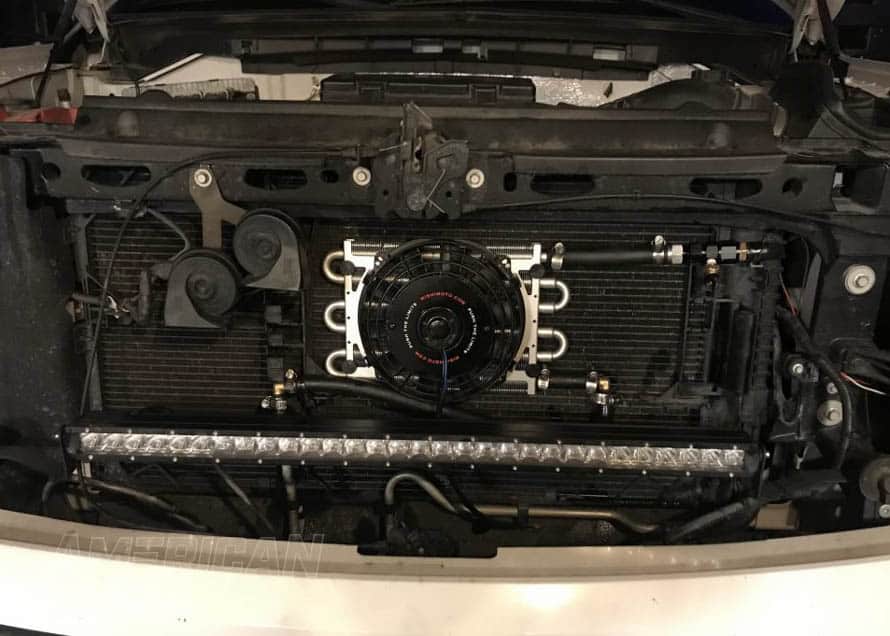 Mishimoto MMOC-F Pros & Cons
Pros
Easy To Install
Cost Effective For Performance
Slim 8″ 1,100 CFM Fan
Fan Already Mounted
Includes Mounting Brackets
Lifetime Warranty
Cons
Tube & Fin Style Cooler
Barb Fittings
No Installation Kit
Conclusion
Given the design of this Mishimoto transmission cooler, this will suit the most extreme transmission cooling needs. With its 8″ electric fan, this cooler is one of the better trans coolers for the price. Compared to similar trans coolers, the Mishimoto can be found at the lower to middle ends of the cost spectrum, which makes it a great buy.
Another great benefit the Mishimoto MMOC-F is that is comes with a lifetime warranty. This is very common of most Mishimoto products, and depending on how you need this cooler, can be a huge selling point for you. God forbid you are on the trails and a rock hits the cooler and cracks it, you may be able to get a replacement.
Overall, this cooler is a great buy when comparing the performance for the price. Once you get past the fact that you'll need to purchase extra pieces to complete the installation, you will still be way ahead of the game.
If you're in the market for a heavy duty transmission cooler, we highly recommend the Mishimoto MMOC-F for applications that need more than average transmission cooling.
Find the Best Price On Mishimoto MMOC-F Transmission Coolers