While not often regarded as the go to in their class since it's not an American big 3 truck (GM, Ford, or Dodge), Nissan Titan owners will argue that their truck is often looked down upon despite being super reliable and just as durable as any truck on the market.
When it comes to doing truck stuff, the Titan is certainly able to hold its own. Because of this, transmission cooling is a big part of being able to tow or haul a decently heavy load from time to time.
Like most trucks, the Nissan Titan is easily modifiable, so adding an external transmission cooler to one of these trucks is rather simple. Many Titan owners use their trucks the way they were meant to be used, so they care about keeping their ride as reliable as possible.
If your plan is to keep your Titan on the road for as long as possible, then upgrading your transmission cooler should be at the top of your list. Here is our list for the best transmission coolers for the Nissan Titan.
Nissan Titan Transmission Cooler Installation
Installing an auxiliary transmission cooler on your Nissan Titan is not as daunting as it seems. For the basic DIY mechanic, the installation process shouldn't be too hard at all. The first step to installing a transmission cooler on a Nissan Titan is removing the grille. This will give you all the access you need to mount the cooler in front of the air conditioning condenser.
One of the more common spots to mount a trans cooler on a Titan is right on that middle support bar going across the middle of where the radiator is, right below the horn. The below image shows where the cooler would be exposed to oncoming air coming through the bumper if mounted off of that support bar.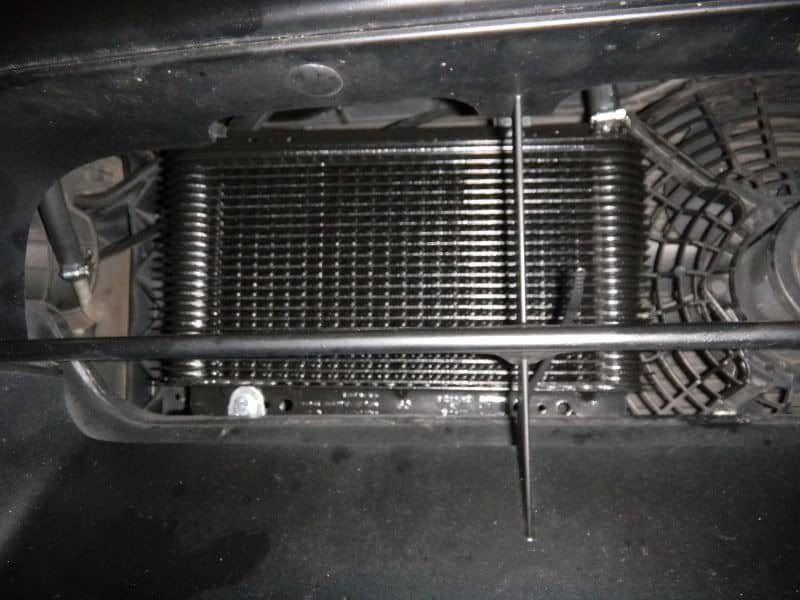 Once you have decided on where to mount your trans cooler, you need to figure out how to route your new transmission lines to the new cooler. When installing an aftermarket transmission cooler, you need to make sure that your trans fluid routing goes from the return line to the new cooler, then back to the transmission. This will allow the hot fluid to go through the factory cooler then to the external cooler where it will continue to cool further.
If you plan on bypassing the factory cooler on your Nissan Titan, then you can get new transmission hose to loop the factory cooler inlet and outlets together, or simply plug them with 3/8″ vacuum caps.
Tru Cool LPD4588
The Tru Cool 4588 is one of the most popular transmission coolers for Titan owners, and reasonably so. Users on both titantalk.com and clubtitan.org agree that this cooler is a great option for your truck.
The 4855 transmission cooler features Tru-Cool's low pressure drop system which allows trans fluid to heat up to a certain temperature before flowing through the entirety of the cooler. This helps prevent over-cooling and gives the trans fluid the opportunity to flow much more efficiently as the fluid heats up and becomes thinner.
This trans cooler utilizes a stacked plate 11″ x 5 3/4″ x 1 1/2″ construction with standard 11/32″ barb fittings. Between the size and construction, this cooler is very efficient.
The image below shows the Tru Cool LPD4588 installed on a Titan in front of the radiator and air conditioning condenser. Based on the front bumper of the titan, mounting the cooler in this location will provide some serious airflow to help keep trans temps as low as possible.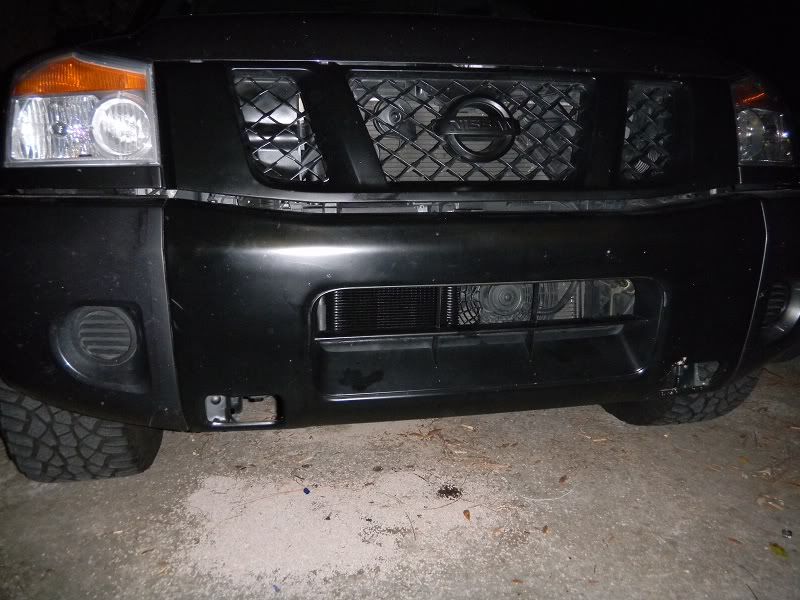 The 4588 has a GVWR of 19,000 pounds which gives your Titan plenty of cooling capacity. The cooler comes complete with additional installation hardware including mounting hardware, extra rubber hose, clamps, and fittings.
Tru Cool 4588 Pros & Cons
Pros
Size – Easy To Mount On Your Titan
19,000 GVW Rating
Tru Cool Low Pressure Drop (LPD)
Includes Complete Installation Kit
Common on Titan trucks
Cons
Not the best for a stand alone cooler
The LPD4588 is a great transmission cooler, and is our top choice for your Nissan Titan. Not only is this cooler a great option based on the cost and ease of install, but it just flat out works. Full size trucks need more than adequate transmission cooling, and the video below shows how good of a job the 4588 does on Nissan Titans.
Overall, it's hard to beat the Tru Cool LPD4588 for your Nissan Titan. Despite its smaller size, this cooler does a phenomenal job at keeping trans temps cool. Given the fact it utilizes the Tru Cool Low Pressure Drop system, this cooler allows for increased trans cooling efficiency to keep temps low in many situations.
See more Nissan Titan specific reviews for the Tru Cool LPD4588 here.
Find The Lowest Price On Tru Cool 4588 Transmission Coolers
Hayden 679
The Hayden Automotive 679 transmission cooler has been referenced multiple times on Transmission Cooler Guide as a top choice for a transmission cooler, and for good reason. This cooler is one of the best values for the performance of any transmission cooler on the market. The low cost and high cooling capacity make this cooler a top choice for almost any truck or SUV.
As described in our buyer's guide and best transmission coolers for towing guide, the Hayden 679 has a high GVW rating making it a great transmission cooler to use for your truck or SUV. This plate and fin style cooler designed for easy installation. The cooler comes as a complete kit with extra transmission hose, fittings, clamps, and zip ties.
The cooler's dimensions are 11 5/8″ x 11″ x 3/4″ which makes it simple to install on your Titan without much hassle in front of the condenser. This cooler is rated at 30,000 GVW making is a great option for most driving conditions you may face. This provides enough capacity to tow 10,000 pounds or be used on class A motor homes, large travel trailers, or with 5th wheel trailers. This will allow you to tow and haul plenty with your Titan without having to worry about trans temps getting too high.
Another great feature of the Hayden 679 is that it is very cost effective. For the more budget conscious, this cooler is hard to beat, and can be found in the $50 range including a complete installation kit. The installation kit includes extra transmission line, hose clamps, fittings, and mounting hardware.
Hayden 679 Pros & Cons
Pros
Size
30,000 GVW Rating
Cost – Very Budget Friendly
Includes Complete Installation Kit
Cons
Hard To Install In Tight Spaces
Overall, the Hayden 679 transmission cooler is by far one of the best transmission coolers for your Nissan Titan. With its thinner design, the cooler would be quite easy to install on your Titan with out any need to modify anything.
Find The Lowest Price On Hayden 679 Transmission Coolers
Bypassing Factory Transmission Cooler On Nissan Titan
There are always conflicting thoughts on whether or not it is best to bypass the factory radiator transmission cooler and run an external trans cooler as a standalone unit. The answer to this is one of personal preference. While it may be good to bypass the cooler in many instances, it would be best to do so in very hot climates or if you're running a large enough cooler.
One of the major reasons that Titan owners consider bypassing their factory cooler is due to failure resulting in coolant getting into the cooler and mixing with the trans fluid. As we know, this will then recirculate back into your transmission causing it to fail quickly.
Many Titan owners that prefer to bypass the factory cooler use the Tru Cool 4588 at a standalone unit. While it may be fine, it would be best to use a larger cooler to run by itself such as the Tru Cool 4590, Tru Cool H7B, or B&M 70274. These coolers are exactly the same, but one uses barb fittings, and the other two have 1/2″ NPT threads on the cooler. Any of these coolers are a great to use as stand alone units based on their larger size and number of cooling rows.
Conclusion
When it comes to installing a transmission cooler on a Nissan Titan, you have options. Since the Titan has the nice wide opening in its front grille and bumper, mounting your trans cooler in front of the radiator and condenser provides serious airflow, which will help keep your trans temps low.
Because the Titan has a decent bit of room behind the grille, you have a number of options in how big you'd want to go with your transmission cooler.