The iconic World War II Jeep from the 1940s became famous as the "go-to"transport vehicle of the United States Military and its Allies in both the European and Asian arenas and continued well after the war ended. President Dwight D. Eisenhower who served as President from 1953 through 1961 once called it "one of three decisive weapons the U.S. had during WWII."
In 1986 the Jeep Wrangler was introduced on the market as a four-wheel-drive off-roadSUV. From 2007 until 2011 the, base engine of the Jeep Wrangler JK was a 3.8 Liter EGH V6 with a displacement of 230.5 cubic inches replacing the AMC 242 straight 6.
Other vehicles to share this engine were the popular minivans including the first-generation Chrysler Pacifica Crossover, Chrysler Town and Country, Dodge Grand Caravan, and Volkswagen Routan.
The choice of transmissionswasa standard six-speed Chrysler NSG370 manual transmission with most owners opting for the Chrysler Ultradrive 42RLE 4-speed automatic transmission.
Now in its fourth generation, the Jeep Wrangler is a truck-based midsize SUV available as a two-door or four-door Unlimited. It remains one of the most popular vehicles of its type on or off the road today.
The 2020 Jeep Wrangler has three engine choices. The 2.0-liter engine offered on the two-door variant is the most fuel-efficient. The powertrain update for the 2020 Jeep Wrangler is 3.0-liter EcoDiesel V6, which puts out 260 horsepower. The largest, and base engine is the3.6-liter Pentastar V6, that cranks out 285 hp.
A well-maintained Jeep Wrangler, like any quality motor vehicle, should benefit the owner with well over 100,000 miles and many years of service.
The transmission is one of the most vital components of any automobile engine. It "protects" the engine by making sure that its RPM count stays below a certain level called the "red line".
The transmission fluid (or oil) has two functions: to lubricate the moving parts inside the transmission and to keep it running cool at about 200° F. Hot fluid is pumped through cooling lines and returned to the transmission in a continuous cycle when the engine is running. Three signs that you may have overheated your transmission are an acrid odor as the fluid begins to darken and burn, the slow response when you shift gears and the transmission slipping out of gear.
For clarity, we will refer to the large heat exchanger behind the grille as the radiator and any auxiliary heat exchange device as a "cooler" (not to be confused with the container full of ice and beer that you keep in your garage as you tinker with your car).
The "work" of cooling the transmission oilis done bythe vehicle's radiator. An added auxiliary cooler will work separately or in unison with the OEMradiator (usually with cooling lines that pass through the radiator) and is pretty much a standard OEM part on any Jeep Wrangler.
Owners of newer Jeep Wranglers will likely not have to worry too much assuming their factory fresh transmission cooling system is free of defects. Owners will need to judge for themselves if the OEM system is keeping the transmission fluid at a proper temperature.
Owners of older vehicles experiencing some overheating with their Jeep Wranglers will want to keep reading, especially if they plan to spend a lot of time driving off-road where a breakdown caused by a transmission failure could be costly as well as dangerous.
Best Transmission Coolers For Your Jeep Wrangler
When it comes to adding an external transmission cooler on your Wrangler, you have a number of high quality options. Depending on how you use your Jeep, you can go with a smaller universal cooler for the average daily driver, or something more heavy duty like a remote mounted transmission cooler with a fan for more extreme use. 
The beauty of the Jeep Wrangler is that the aftermarket is to vast and many parts are direct fit, transmission coolers included included.  
Here are our top picks for the best external transmission cooler for your Wrangler.
This is a cooler unit with dimensions of 26-inches wide, 15-inch height and 8-inch depth with a shipping weight of 5.25 lbs. It is compatible with Jeep Wrangler Model years 2007 through 2011 and is suggested for heavy-duty trailer towing (within your Wrangler's tow capacity. Please consult your owner's manual to see how much you can safely tow).
It works in unison with the factory transmission cooler to provide enhanced transmission oil cooling that will add many miles to the lifetime or your Jeep Wrangler's transmission. It is of OEM quality and comes with a manufacturer's warranty.
The cooler is also available as a kit that includes brackets, lines, and adapters.in addition to the cooler unit. User ratings, although few have been positive for this purchase.
Jeep 82212486AB Pros & Cons
Complete Installation Kit
Includes Brackets & Lines
OEM Quality
Perfect Fit
Mishimoto MMTC-WRA-07 Jeep Wrangler JK Transmission Cooler Kit2007-2011
The Mishimoto MMTC-WRA-07 is a large 19-row transmission cooler kit that includes three precision-engineered brackets that allow the installer to affix it to the front grille area. Other parts of the kit area 6-ft black rubber 3/8" transmission line, two fittings, two hose connections, six hose clamps and, of course, the cooler unit all designed for an easy installation. 
This cooler is available in both silver and black finishes to help you not only keep your Wrangler's transmission cooler, but will help you look good doing it. 
The cooler is compatible with 2007 through 2011 Jeep Wrangler JK models and its physical dimensions are 45.7-inch width x 20.3-inch depth x 36.8-inch height.
It is common for Jeep Wranglers to have trans temp issues, so the addition of this cooler will significantly help reduce the operating temperatures to reduce the wear and tear on the vehicle's transmission and increase overall vehicle safety.
Installers should realize that this cooler kit will require some minor modifications to the original factory transmission cooler lines. Purchasers have described the kit as "excellent" but a bit overpriced with the only negative comments directed toward the installation instructions.
The below video demonstrates the best way to go about installing the MMTC-WRA-07 transmission cooler on your Wrangler.
Mishimoto MMTC-WRA-07 Pros & Cons
Large Design
Complete Installation Kit
Black & Silver Finishes
Direct Fit
Minor Modifications To Fit
Derale 20561 Jeep Wrangler Direct Fit Automatic Transmission Cooler
If you use your Jeep Wrangler for heavy hauling or off-road activities like rock climbing, then have no doubt that the Derale 20561 cooler is the "beast" of the coolers discussed. When properly installed it can lower the fluid temperature by 30 to 40 degrees F.
It features an ultra-efficient plate and fin cooler and Tornado fan combination for limited air-flow situations. A thermostat controls the fan, so it turns on only when needed. The system is rotatable to 90°from horizontal for off-road use to a vertical position for freeways and streets.
If you have the proper tools, then everything is provided to make for a smooth installation. Note that the unit was designed as a direct fit for the 1987-2006 Jeep Wrangler TJ/YJ but should fit easily into subsequent models with minor modifications.
The dimensions are 13-1/4-inches width, 10-3/4-inches height, and 5-1/2-inches depth. The fan size is 8-inches with an air movement capacity of 500CFM.  A feed hose of 72 ½-inch and a return hose of 82-1/4 inch is supplied. No drilling is needed to mount it to the frame rail.
Purchasers have given the unit very favorable ratings with some commenting that it was a "perfect fit and easy to install" and that it provided more than adequate cooling in the most demanding hot environments. Problems reported included a defective fan that was easily replaced and some hardware issues with clamps and hoses.
Derale 20561 Pros & Cons
Plate & Fin Cooler
8″ Puller fan
100% Complete Kit
Easy Installation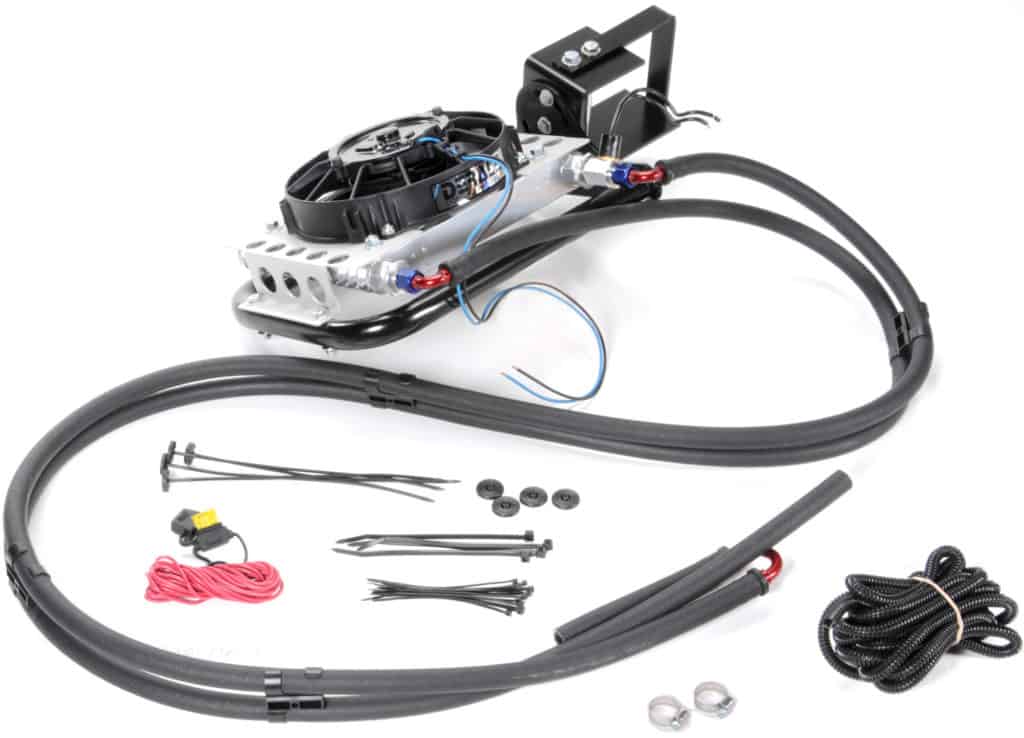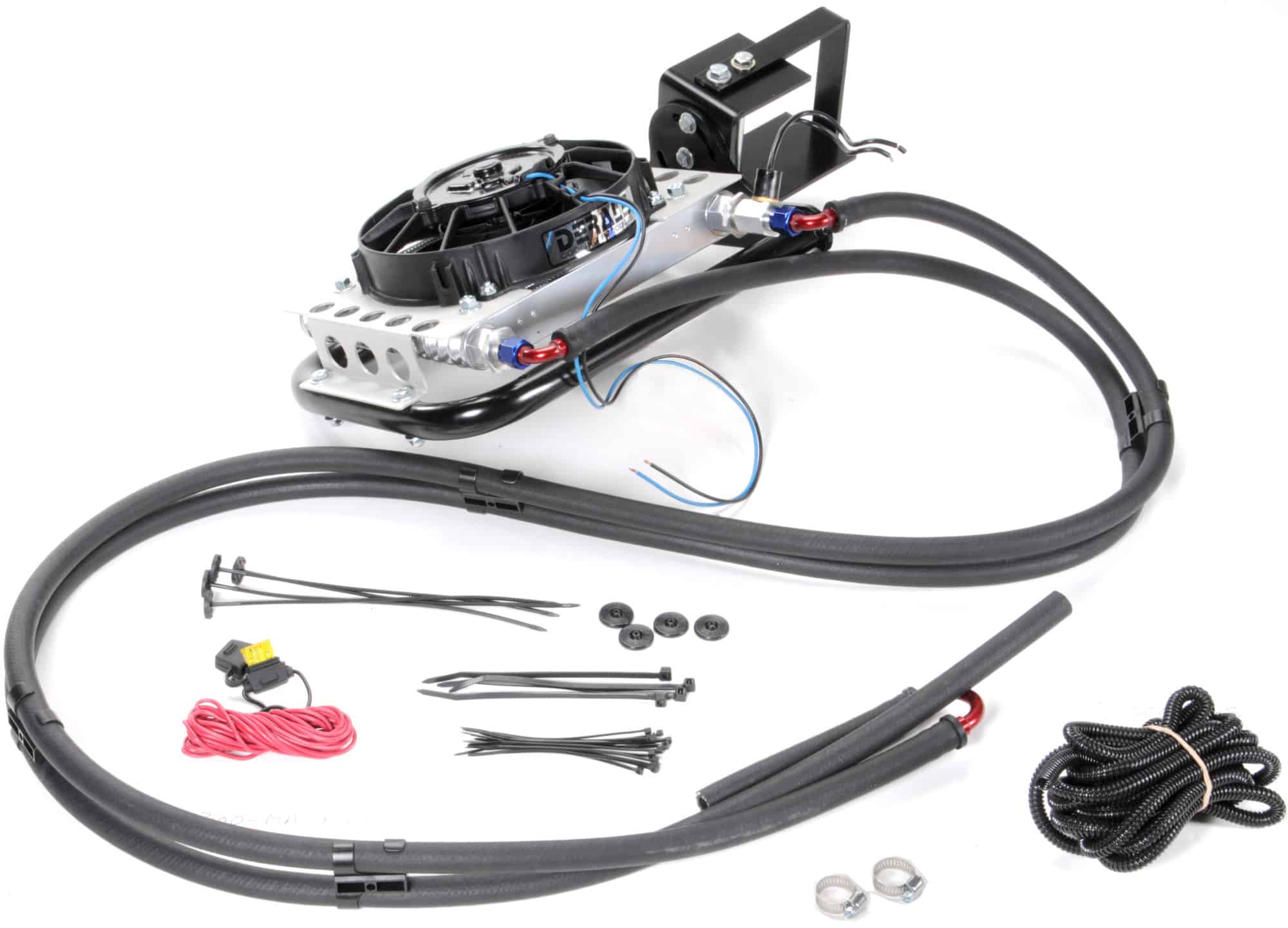 The Derale 20561 offers a lot of value and performance for the cost.  This cooler was actually the first direct fit remote mounted transmission cooler for Jeep Wranglers, and features one of the market's most efficient plate and fin coolers. 
The cooler's fan includes an inline thermostat that the fan to turn on and off automatically, making it worry free for you.  
This cooler has been proven to reduce trans temps 30 – 40 F and installs on your frame rail with no drilling required. 
Fan Size: 8″
CFM: 500
Amp Draw: 4.8
Size: 13 1/4: x 10 3/4″ x 5 1/2″
Fan Airflow: Reverse Puller 
Hose Lengths: 72 1/2″ (feed line) 82 1/4″ (return line)
The Jeep Wrangler is one of the most popular SUV's both on and off road because it is durable, reliable, and has a huge aftermarket to customize it however you want. 
To keep your Wrangler running as long as possible, a transmission cooler will help provide years of added longevity and worry free driving. 
Summary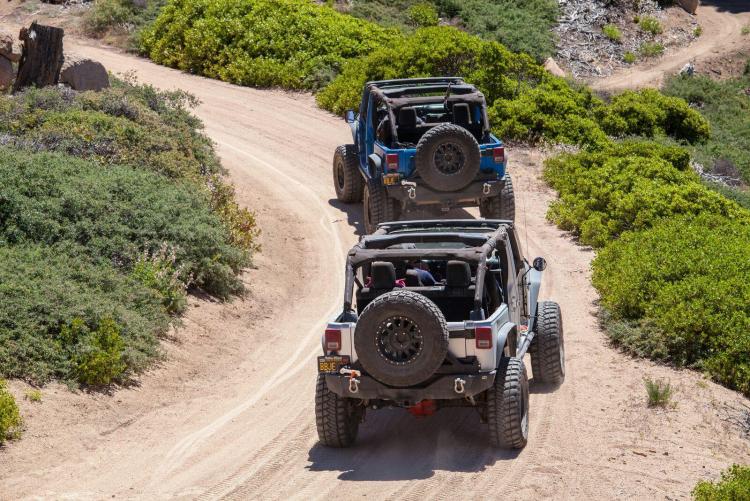 Article Name
Best Transmission Coolers For Jeep Wrangler
Description
The Jeep Wrangler is one of the most common SUVs for both on and off road use. Learn how to keep your Wrangler running longer with the addition of a transmission cooler
Author
Transmission Cooler Guide
Publisher Name
Transmission Cooler Guide
Publisher Logo