Hands down one of the most popular vehicles on the road today, the Jeep Wrangler can be seen all over the place in all kinds of forms.  From a simple daily driver to off-road built and lifted on aggressive mud tires, and everything in between, the Jeep Wrangler is a very easy vehicle to modify.
Between their on and off-road capabilities, reliability, simplicity, and being able to customize however you'd like, the Wrangler is fun to own and drive (until you start taking them off-road more and venture down the bottomless pit of modding them).
When it comes to modifying the Wrangler, there are a few often overlooked areas. Yes, a lift, new wheels, and more aggressive tires are cool, but what about modifications to make it more reliable?
One of these often overlooked modifications is a transmission cooler.  You might be thinking that since the Wrangler isn't really designed to tow or haul that you don't need one.  While you might not be completely wrong, there are a number of valid reasons to add a transmission cooler to your Wrangler.
Between lowering trans temps at least 20 degrees, extending the life of your transmission fluid, and being easy to install, there are a number of options that make adding an external transmission cooler to your Wrangler a breeze.
Here are some of the best transmission cooler for your Jeep Wrangler that offer a direct fit and easy installation.
Jeep Wrangler Transmissions
Dating back to 1987, the Jeep Wrangler has been one of the most popular vehicles both on and off road. The Wrangler's early predesecors include the Willys and CJ.  
The early Wrangler YJ had a number of automatic transmission offerings, including the 30RH (A904), A999, and 32RH.  Each of these transmissions came in a 3 speed configuration. 
The next generation of Wrangler, the TJ came with a number of transmission options as well. Depending on the engine you had in your Wrangler, you had the 30RH like the early YJ behind a 2.5L straight 4, or the 42RLE behind the 2.4L PowerTech engine. 
The straight 6 engines were also equipped with the 32RH (1997 – 2002) or the 42RLE (2003 – 2006). Both of these transmissions were stout enough to handle most abuse, but have some common issues as well. 
When it comes to the newer Wrangler JK, the transmission options include the 42RLE, W5A580, or 545RFE, all depending on the year and trim level.
Jeep Wrangler Transmission Cooler Benefits
As we know already, the transmission fluid (or oil) has two functions: to lubricate the moving parts inside the transmission and to keep it running cool at about 200° F. Hot fluid is pumped through cooling lines and returned to the transmission in a continuous cycle when the engine is running.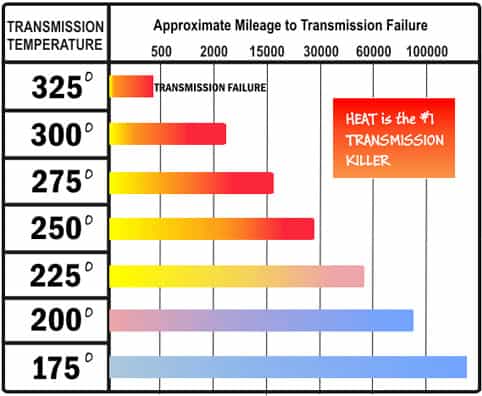 In order to keep trans temps low on your Wrangler, it is a smart idea to install a transmission oil cooler. 
The transmission cooler works by adding an extra bit of cooling the transmission fluid after it has gone through the vehicle's factory trans cooler located within the radiator. An added auxiliary cooler will work separately or in unison with the OEM radiator (usually with cooling lines that pass through the radiator) and is pretty much a standard OEM part on any Jeep Wrangler.
Owners of newer Jeep Wranglers will likely not have to worry too much assuming their factory fresh transmission cooling system is free of defects. Owners will need to judge for themselves if the OEM system is keeping the transmission fluid at a proper temperature.
Owners of older vehicles experiencing some overheating with their Jeep Wranglers will want to keep reading, especially if they plan to spend a lot of time driving off-road where a breakdown caused by a transmission failure could be costly.
Best Transmission Coolers For Your Jeep Wrangler
When it comes to adding an external transmission cooler on your Wrangler, you have a number of high quality options. Depending on how you use your Jeep, you can go with a smaller universal cooler for the average daily driver, or something more heavy duty like a remote mounted transmission cooler with a fan for more extreme use. 
The beauty of the Jeep Wrangler is that the aftermarket is to vast and many parts are direct fit, transmission coolers included included.  
Here are our top picks for the best external transmission cooler for your Wrangler.
This is a cooler unit with dimensions of 26-inches wide, 15-inch height and 8-inch depth with a shipping weight of 5.25 lbs. It is compatible with Jeep Wrangler Model years 2007 through 2011 and is suggested for heavy-duty trailer towing (within your Wrangler's tow capacity. Please consult your owner's manual to see how much you can safely tow).
It works in unison with the factory transmission cooler to provide enhanced transmission oil cooling that will add many miles to the lifetime or your Jeep Wrangler's transmission. It is of OEM quality and comes with a manufacturer's warranty.
The cooler is also available as a kit that includes brackets, lines, and adapters.in addition to the cooler unit. User ratings, although few have been positive for this purchase.
Jeep 82212486AB Pros & Cons
Pros
Complete Installation Kit
Includes Brackets & Lines
OEM Quality
Perfect Fit
Cons
Shop Jeep 82212486AB Transmission Coolers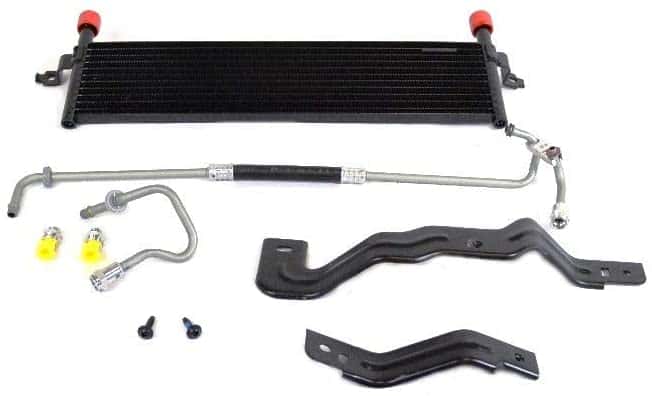 Get the best price on all Jeep 82212486AB transmission coolers and lower the trans temps of your JK Wrangler today!
Shop On Amazon
Shop On Ebay
Mishimoto MMTC-WRA-07 Jeep Wrangler JK Transmission Cooler Kit 2007-2011
The Mishimoto MMTC-WRA-07 is a large 19-row transmission cooler kit that includes three precision-engineered brackets that allow the installer to affix it to the front grille area. Other parts of the kit area 6-ft black rubber 3/8" transmission line, two fittings, two hose connections, six hose clamps and, of course, the cooler unit all designed for an easy installation. 
This Mishimoto transmission cooler is available in both silver and black finishes to help you not only keep your Wrangler's transmission cooler, but will help you look good doing it. 
The cooler is compatible with 2007 through 2011 Jeep Wrangler JK models and its physical dimensions are 45.7-inch width x 20.3-inch depth x 36.8-inch height.
It is common for Jeep Wranglers to have trans temp issues, so the addition of this cooler will significantly help reduce the operating temperatures to reduce the wear and tear on the vehicle's transmission and increase overall vehicle safety.
Installers should realize that this cooler kit will require some minor modifications to the original factory transmission cooler lines. Purchasers have described the kit as "excellent" but a bit overpriced with the only negative comments directed toward the installation instructions.
The below video demonstrates the best way to go about installing the MMTC-WRA-07 transmission cooler on your Wrangler.
Read our complete write up about the Jeep JK direct fit Mishimoto MMTC-WRA-07 
Mishimoto MMTC-WRA-07 Pros & Cons
Pros
Large Design
Complete Installation Kit
Black & Silver Finishes
Direct Fit
Cons
Minor Modifications To Fit
Shop Mishimoto MMTC-WRA-07 Transmission Coolers
Get the best price on all Mishimoto MMTC-WRA-07 transmission coolers and lower the trans temps of your JK Wrangler today!
Shop On Amazon
Shop On Ebay
B&M 70291 Direct Fit 07-18 Wrangler JK Transmission Cooler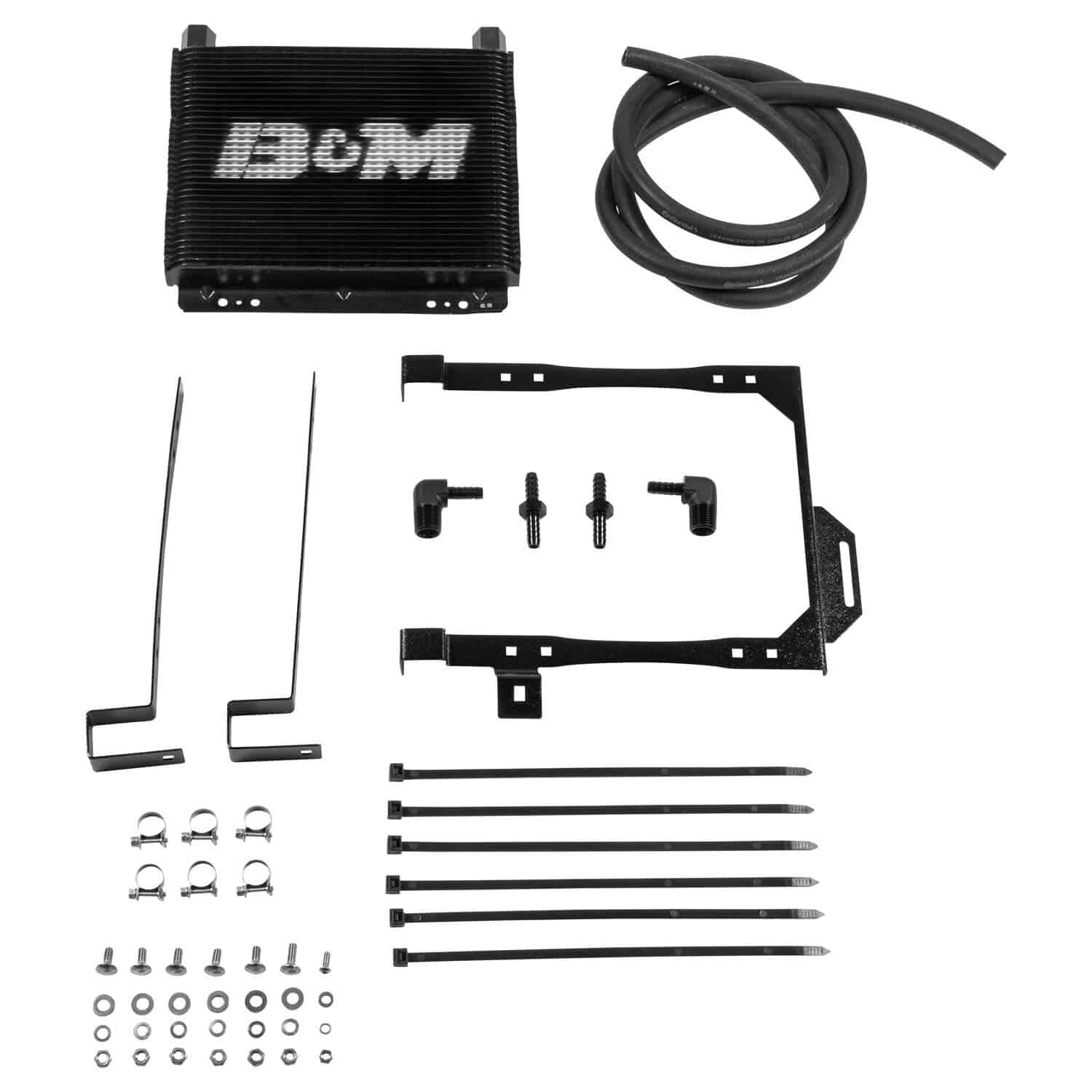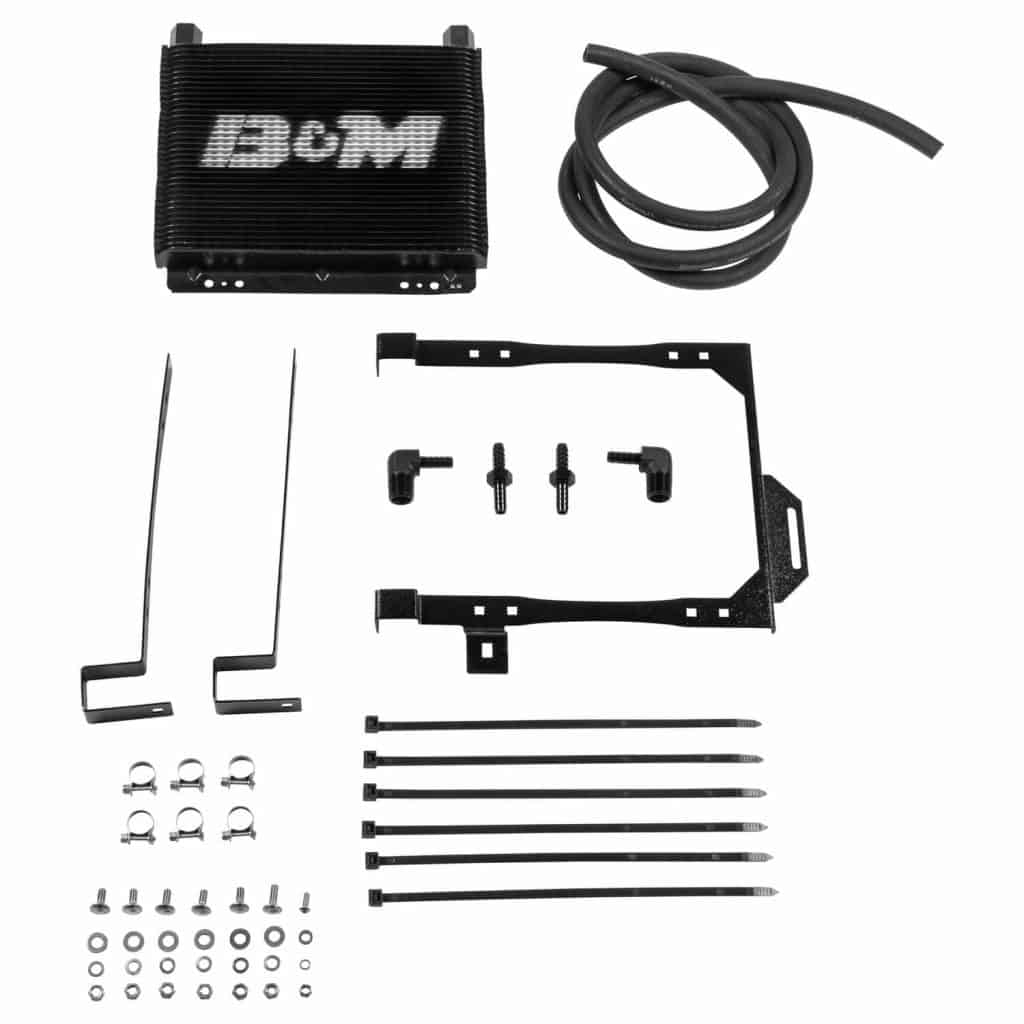 Another Wrangler direct fit transmission cooler option for the JK owners is the B&M 70291. This transmission cooler comes as a complete kit including all direct fit mounting hardware, fittings, hoses and of course, the cooler itself.
It features an ultra-efficient stacked plate that B&M is most known for which will handle any handle any road or trail debris it may face (within reason of course). 
The beauty of this cooler is that it's designed to fit nice and tight behind the grill making for a very clean installation. 
B&M 70291 Pros & Cons
Pros
Cons
Occasionally On Backorder
Like all B&M SuperCoolers, the 70291 is a stacked plate style transmission cooler that will effectively cool your transmission fluid.  The B&M 70291 has an 11.25″ x 10″ x 1.5″ body with 40 rows of cooling to handle even the most extreme conditions you might put your JK through.
The B&M 70291 SuperCooler is a great option for the jeeper looking to keep transmission temps down either during your daily commute or getting muddy out on the trails on the weekends.  
Cooler Dimensions: 11.25″ x 10″ x 1 .5″
Cooler Type: Stacked Plate
Number of Cooling Rows: 40
GVW: 20,000 BTU
Fitting Size: 1/2″ NPT
Shop B&M 70291 Transmission Coolers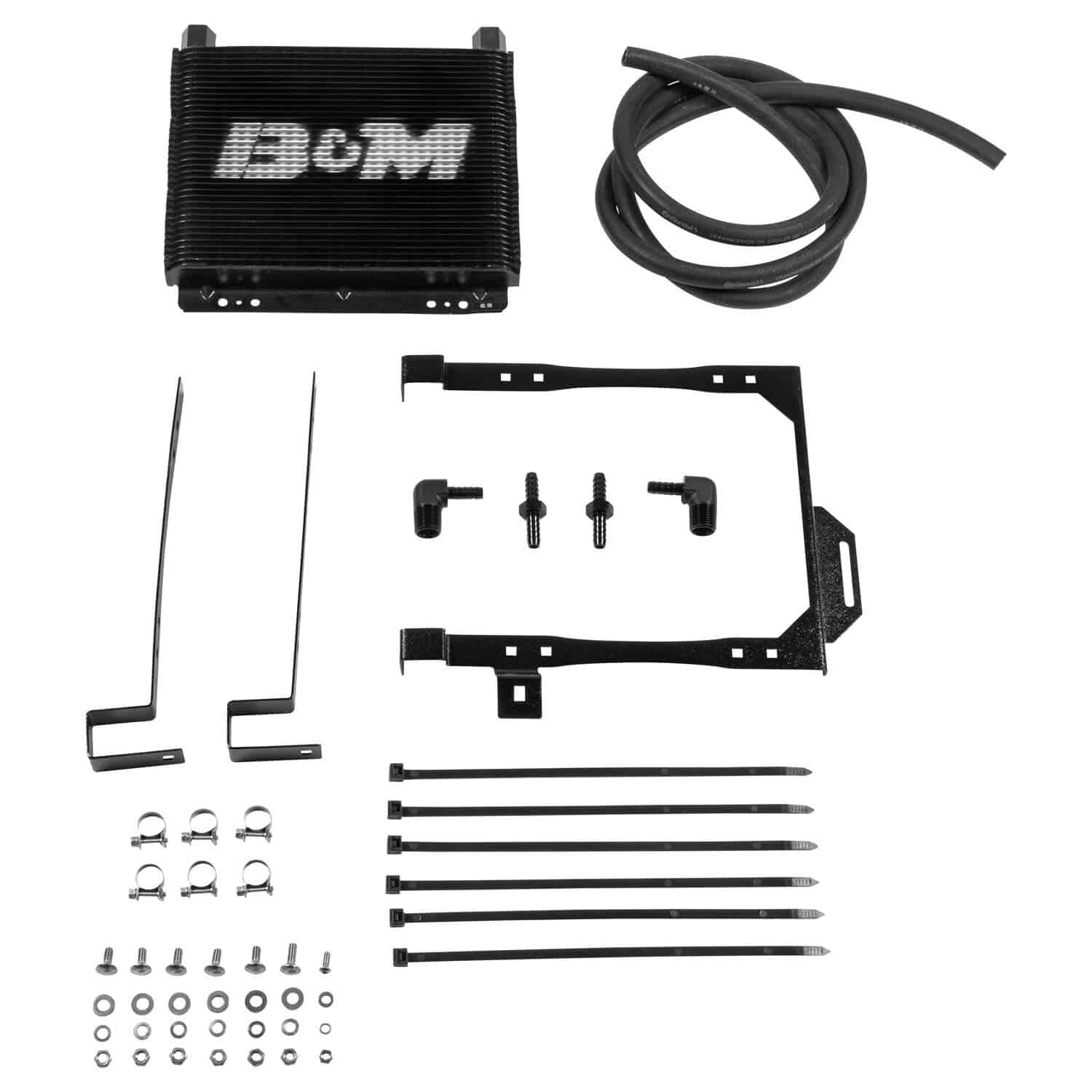 Get the best price on all B&M 70291 transmission coolers and lower the trans temps of your JK Wrangler today!
Shop On Amazon
Shop On Ebay
Mishimoto MMTC-JL-18SL Direct Fit 18+ Wrangler JL Transmission Cooler
Whether you use your 2018 and up Wrangler JL on or off road, keeping transmission temps low is easy. with the Mishimoto MMTC-JL-18SL transmission cooler. This cooler features a large 11-row plate and fin design that is a 100% complete, direct fit kit with all necessary hardware to allow for mounting right behind the grille to help provide more than enough airflow to help keep temps down..
Like all direct fit, vehicle specific Mishimoto transmission coolers, this can be installed on your Wrangler JL without any major modifications with basic hand tools in an hour or two depending on your skill level.
Mishimoto MMTC-JL-18SL Pros & Cons
Pros
Large, Efficient Design
Complete Installation Kit
Direct Fit
Lifetime Warranty
Cons
Mishimoto MMTC-JL-18SL Transmission Cooler Specs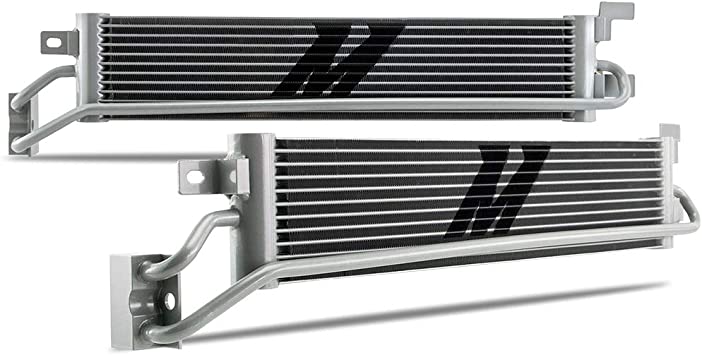 The Mishimoto MMTC-JL-18SL transmission cooler comes with all necessary installation hardware, which isn't much, just 4 spacers and some screws. This makes for an extremely simple installation. 
In addition, this cooler provides for an extra .5 quarts of added fluid capacity. Based on this, you will need an extra quart of transmission fluid. 
Cooler Core Dimensions: 19.44″ x 4.21″ x 1.25″
Cooler Type:  Plate & Fin
Cooling Rows: 11
Installation Kit: Built in distribution block designed for stock lines.
Shop Mishimoto MMTC-JL-18 Transmission Coolers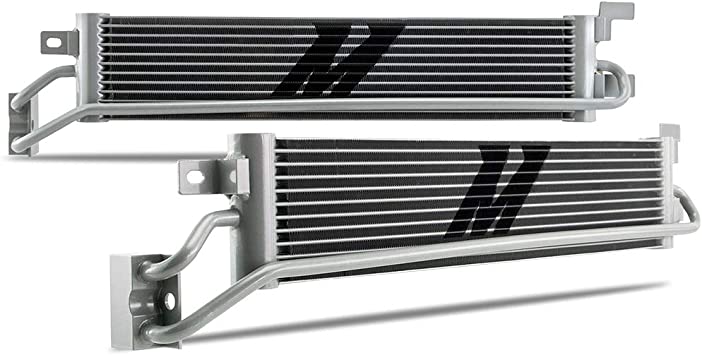 Get the best price on all Mishimoto MMTC-JL-18 transmission coolers and lower the trans temps of your JL Wrangler today!
Shop On Amazon
Shop On Ebay
Derale 20561 Jeep Wrangler TJ Direct Fit Automatic Transmission Cooler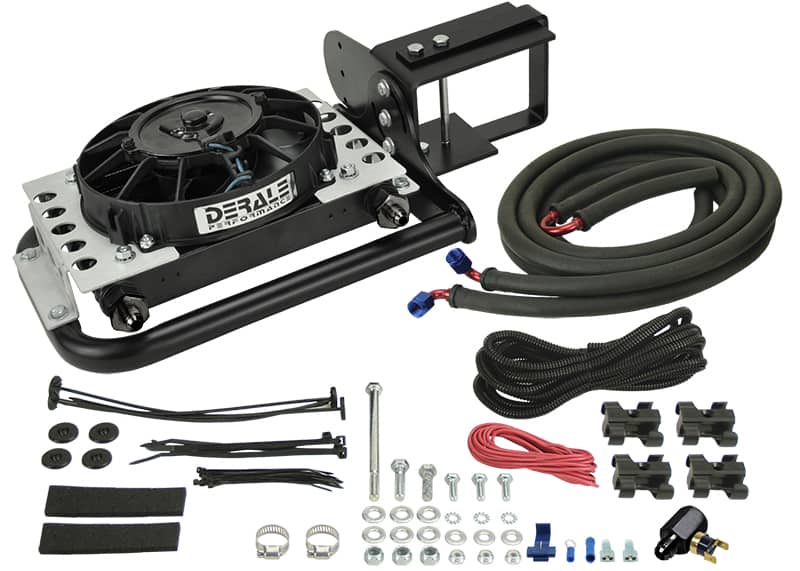 If you use your Wrangler for off-road fun, then no doubt the Derale 20561 cooler is the best Jeep Wrangler TJ transmission cooler. When properly installed it can lower the fluid temperature by 30 to 40 degrees F.
It features an ultra-efficient plate and fin cooler and Tornado fan combination for limited air-flow situations. A thermostat controls the fan, so it turns on only when needed. The system is rotatable to 90°from horizontal for off-road use to a vertical position for freeways and streets.
If you have the proper tools, then everything is provided to make for a smooth installation. Note that this Derale transmission cooler was designed as a direct fit for the 1987-2006 Jeep Wrangler TJ/YJ but should fit easily into subsequent models with minor modifications.
The dimensions are 13-1/4-inches width, 10-3/4-inches height, and 5-1/2-inches depth. The fan size is 8-inches with an air movement capacity of 500CFM.  A feed hose of 72 ½-inch and a return hose of 82-1/4 inch is supplied. No drilling is needed to mount it to the frame rail.
Fellow Jeep TJ owners have given this cooler high praise saying that it was a "perfect fit and easy to install" and that it provided more than adequate cooling in the most demanding hot environments. Problems reported included a defective fan that was easily replaced and some hardware issues with clamps and hoses.
Derale 20561 Pros & Cons
Pros
Plate & Fin Cooler
8″ Puller fan
100% Complete Kit
Easy Installation 
Cons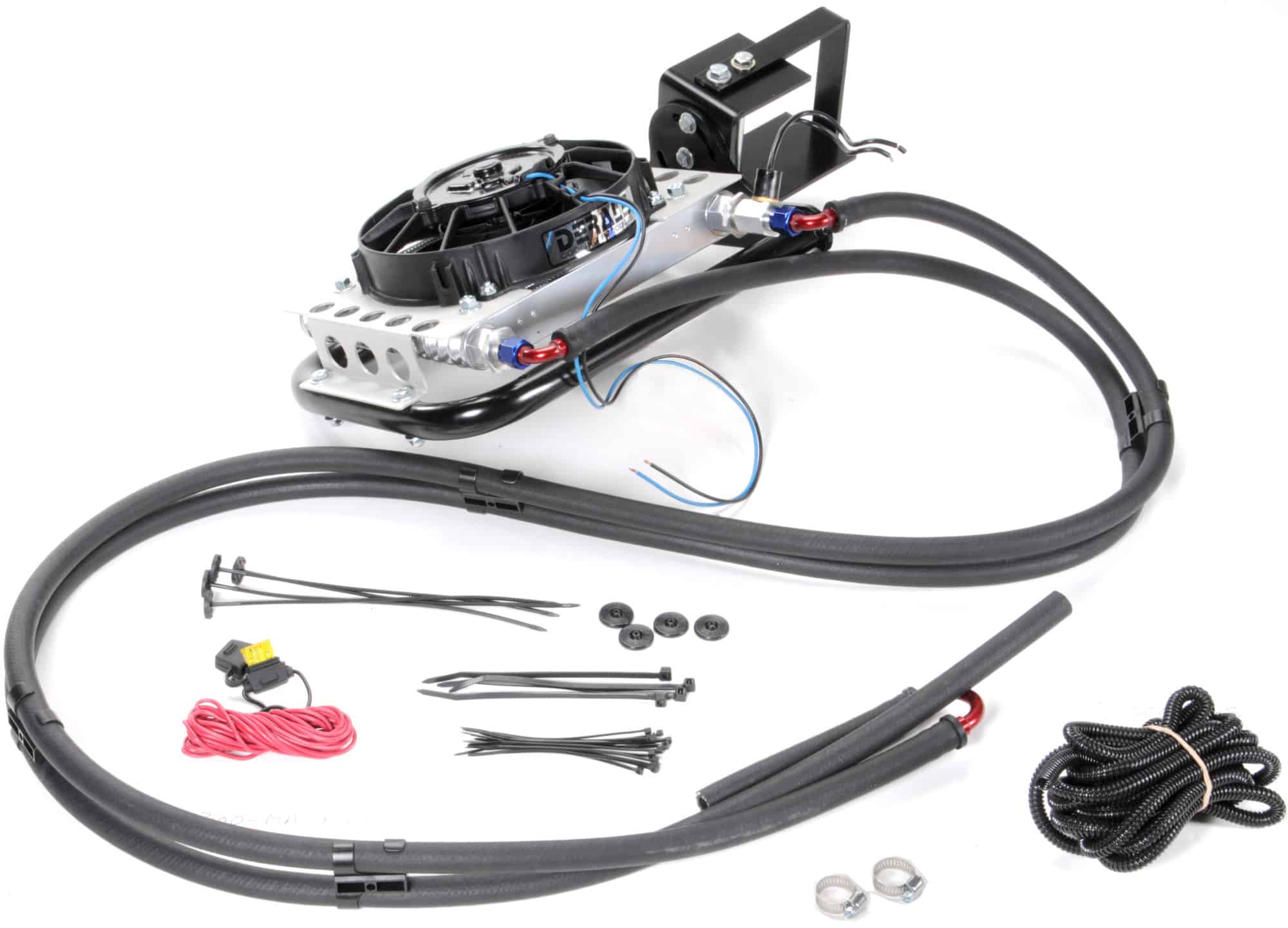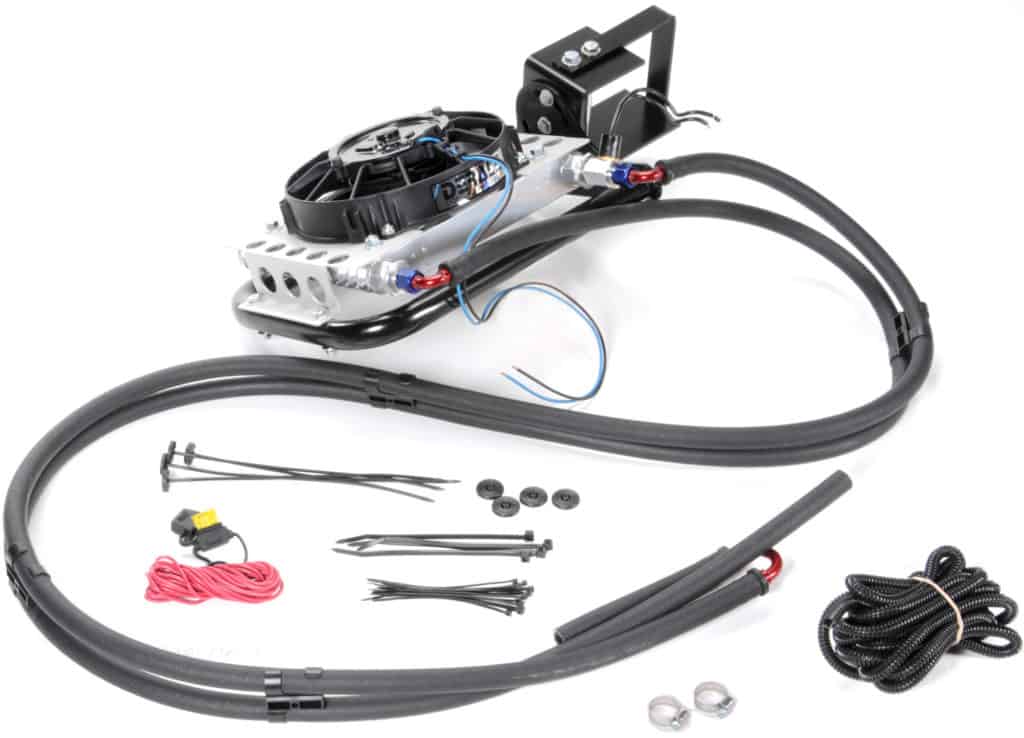 The Derale 20561 offers a lot of value and performance for the cost.  This cooler was actually the first direct fit remote mounted transmission cooler for Jeep Wranglers, and features one of the market's most efficient plate and fin coolers. 
The cooler's fan includes an inline thermostat that the fan to turn on and off automatically, making it worry free for you.  
This cooler has been proven to reduce trans temps 30 – 40 F and installs on your frame rail with no drilling required. 
Fan Size: 8″
CFM: 500
Amp Draw: 4.8
Size: 13 1/4: x 10 3/4″ x 5 1/2″
Fan Airflow: Reverse Puller 
Hose Lengths: 72 1/2″ (feed line) 82 1/4″ (return line)
If you are looking for the best Jeep Wranger TJ transmission cooler, then the Derale 20561 is the best option. Not only does this cooler provide serious cooling, but it comes with everything you need for an easy installation. 
Shop Mishimoto MMTC-JL-18 Transmission Coolers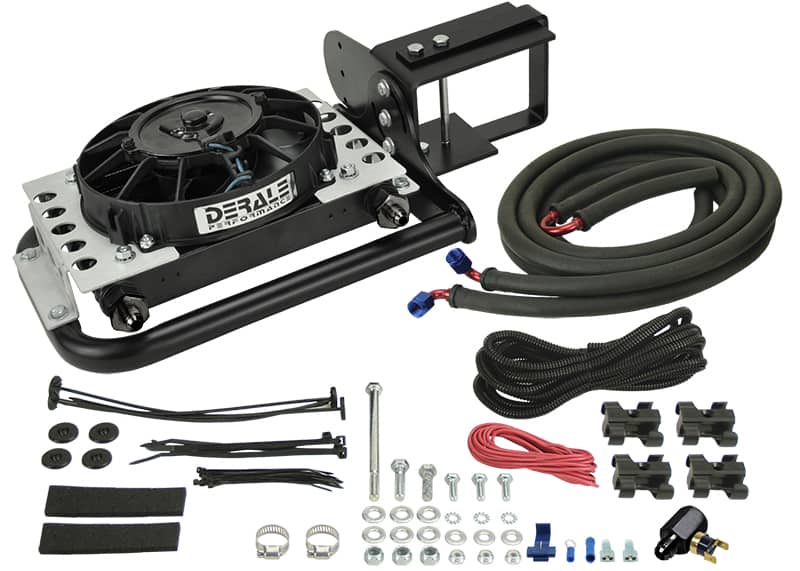 Get the best price on all Derale 20561 transmission coolers and take all your off road adventures can throw at you!
Shop On Amazon
Shop On Ebay
The Jeep Wrangler is one of the most popular SUV's both on and off road because it is durable, reliable, and has a huge aftermarket to customize it however you want. The best part of the extreme customization ideas of the Wrangler platform is there is no shortage of high quality components that will keep you on the trails or street longer, with transmission coolers being no exception.
When it comes to installation of an aftermarket transmission cooler, we always recommend that you purchase an additional quart or so of transmission fluid to take into account the increased capacity the cooler and new lines may provide, as well as any spills. 
Once your new cooler is installed, it is highly recommended to check your transmission fluid level to make sure you are still within a safe range. 
Happy Jeeping!