Dodge Ram trucks are a popular line of pickup trucks known for their powerful engines and rugged design.  These trucks are a favorite among those who need a reliable and capable vehicle for everything from daily driving, work, off-road adventures, and everything in between.
When it comes to performance, the Dodge Ram is a capable and reliable vehicle that can handle a wide range of conditions. The truck's four-wheel drive system and high ground clearance make it well-suited for off-road adventures, and it also features a number of advanced safety features, such as stability control, traction control, and airbags, to keep drivers and passengers safe on the road.
Overall, the Dodge Ram is a popular choice among those who need a powerful and capable pickup truck that can handle tough jobs and and more. With its impressive engine options, rugged design, and advanced technology and safety features, the Ram is a reliable and versatile vehicle that can handle whatever challenges come its way.
When it comes to making sure your Ram stays on the road longer, a simple upgrade is with its transmission cooling.  The Ram has a number of transmission cooler upgrade options. and installing a transmission cooler on your truck is very simple for the average DIY enthusiast in your driveway in only a few hours.
Whether you drive your truck daily to work, use it to tow  haul from time to time, or need to drive your crew to job sites, it is always recommended to install a transmission cooler to prolong the life of your transmission and keep you on the road.
Looking for a  transmission cooler upgrade for your Ram to help lower transmission temperatures? You have a number of options for getting the job done. Here are our choices for the best transmission coolers for Ram 1500 trucks.
Note: Looking for transmission coolers for a Cummins Diesel Ram truck? Check out our Cummins Transmission Cooler Guide.  
How To Install A Transmission Cooler On A Ram Truck
When it comes to installing a transmission cooler on your Ram, the process is fairly straight forward.  For instance, since there is so much room in front of the truck behind the grille, you already know where the transmission cooler will be placed generally.  
Most Ram trucks have amble room behind the grille and in front of the radiator, making transmission cooler installation simple. 
Ram Transmission Temperature
The ideal transmission temperature for your Ram is typically in the 160 – 180 degree range. It is much easier to keep trans temps lower in older trucks due to their simple transmission cooler line setup.
The transmission fluid temperature chart shows that 175 degrees is the ideal temperature. For every 25 degree increase in temps, the shorter your transmission's life becomes.  As with all vehicles, cooler transmission temps are always preferred.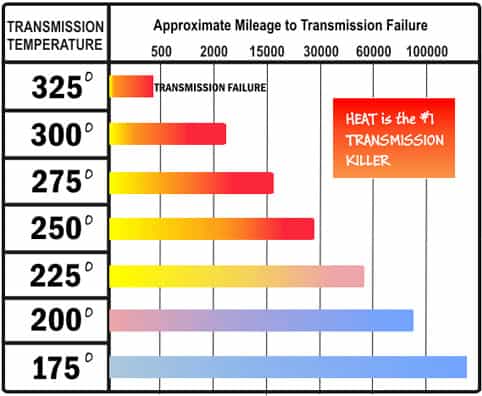 Transmission Coolers For Ram Trucks
When considering a transmission cooler upgrade for your Ram truck, there are a number of factors to consider, such as: 
Transmission Cooler Size – How well will it fit?
Gross Vehicle Weight Rating (GVWR) – Cooling capacity
Type of Transmission Cooler
For a full size pickup truck is it typically best to get a larger cooler that has a large cooling surface with a higher GVWR, and either a stacked plate or plate and fin construction. 
With all these things in mind, our choices for the best transmission coolers for a Dodge Ram include: 
Tru Cool 40k

B&M 70274

Factory 2500 / 3500
Each of these transmission coolers will do a phenomenal job at keeping your trans temps down, even under the most extreme situations. 
Tru Cool 40k - Best Heavy Duty Transmission Cooler
As mentioned before on Transmission Cooler Guide, the Tru Cool 40k is one of the top rated heavy duty transmission coolers. This cooler is widely used on a number of trucks and SUV's, and would make for a great upgrade on Ram 1500s making it a great upgrade over your stock cooler.
In fact, there is plenty of aftermarket support for the Tru Cool Max 40k in terms of installation kits which help to make for a very simple installation. Because of this, the Tru Cool 40k is the best transmission cooler upgrade for your Ram truck. 
The image below shows the difference between the Tru Cool 40k and a factory GM external cooler. The size difference is evident, and once you install it on your truck, the drop in trans temps will be too.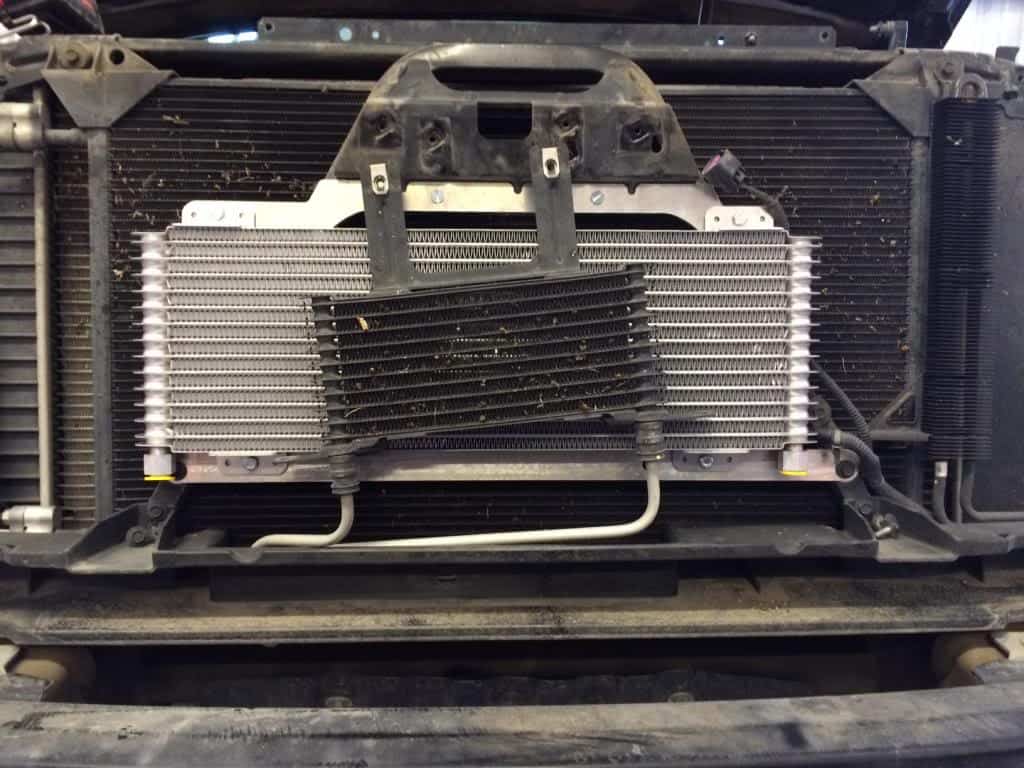 Tru Cool 40k Specs
The Tru Cool 40k utilizes a large plate and fin design that provides ample cooling for all strenuous driving situations.  With 13 rows of cooling, the Tru Cool 40k does a phenomenal job at keeping temperatures in check.
This cooler uses a 3/8″ inverted hex flare fitting, which allows for the use of 6 or 8 an lines and fittings for a more secure fit and greater fluid capacity.
Because this cooler is so large and provides extremely efficient cooling capabilities, you can use this as a standalone trans cooler if you so choose.
Cooler Dimensions: 8 1/2″ x 22″ x 1 1/4″
GVW: 40,000 pounds
BTU Rating: 45,000
Fitting Size: 3/8″ inverted flare hex with 5/8″ thread size –  This is great for those looking to install custom transmission lines
Installation Kit:  Yes – Includes universal installation kit with rubber transmission line, various fittings, clamps, and mounting hardware
Tru Cool 40k Pros & Cons
Pros
40,000 GVW Rating
Low Pressure Drop System
Specific Kits Available
Includes Universal Install Kit
Cons
Requires Extra Pieces For Install
See What Other Silverado & Sierra Owners Have To Say About The Tru Cool 40k
"Installed this transmission cooler on my 2012 Ram and the Install was easy. Noticed an instant drop in trans temps"
"Before I installed this cooler I was seeing 200+ trans temps. After I barely bust 160 in Texas heat"
Shop Tru Cool 40k Transmission Coolers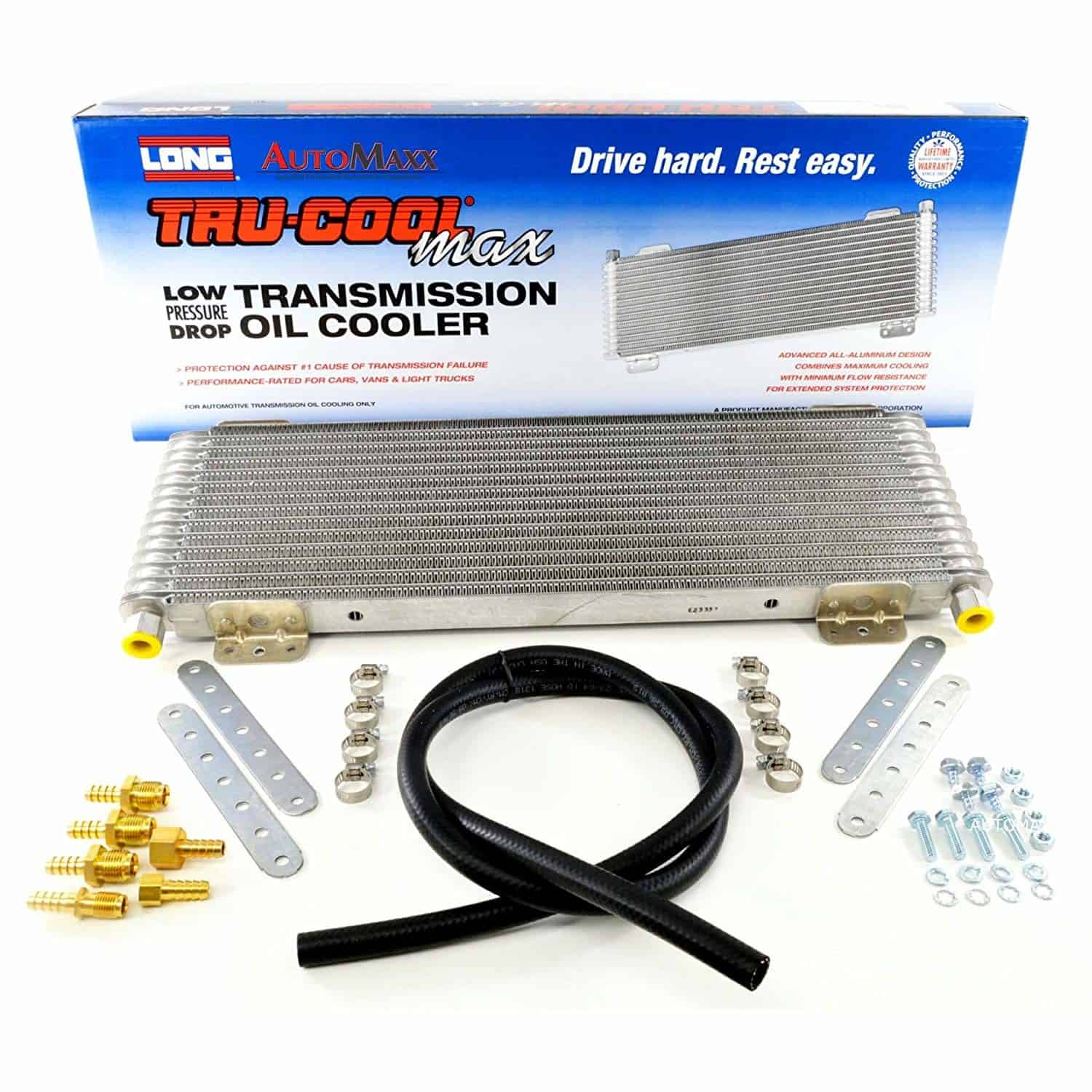 Get the lowest price on Tru Cool 40k transmission coolers and lower your transmission temps today!
Shop On Amazon
Shop On Ebay
B&M 70274 SuperCooler Transmission Cooler
The B&M 70274 has been mentioned in our transmission coolers for towing guide and rightfully so. This cooler is a great option for your Ram, and will definitely help with lowering trans temps by at least 25-30 degrees. 
Like all B&M SuperCoolers, the 70274 utilizes a stacked plate construction that is strong and durable. The cooler also features a low pressure drop system that allows for fluid to flow through only part of the cooler before getting to optimal operating temp. 
B&M 70274 Specs
Cooler Dimensions: 11″ x 11″ x 1.5″
Cooler Type: Stacked Plate 
Fitting Size: 1/2″ NPT
Number of Cooling Rows: 48
B&M 70274 Installation On Ram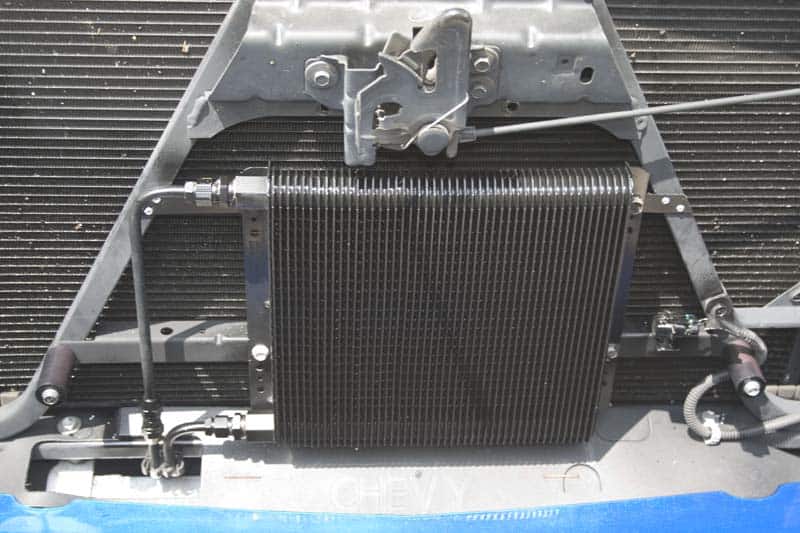 When figuring out how to install a B&M 70274 transmission cooler into a Ram, there are a two of important factors to consider:
Routing the transmission lines
Mounting the cooler
Since the B&M 70274 uses 1/2″ NPT fittings, you will need to get the appropriate fittings to run the lines of your choosing.  This may be a great option since you can upgrade the factory transmission cooler lines to something more heavy duty if you so choose 
B&M 70274 Pros & Cons
Pros
Stacked Plate Design
48 Cooling Rows
Low Pressure Drop System
1/2″ NPT Fittings
Heavy Duty Capacity
Cons
B&M 70274 Reviews From Around The Web
"Reduced peak temps by 30 degrees in traffic and 40 degrees while driving. Highly recommend the B&M 70274 for any full size truck"
"After installing this cooler I saw a 50-60 degree drop in temperature, and at least a 30 degree improvement over my old cooler."
"I went a bit overboard on the size for my work truck, but trans temps are staying nice and cool when pushing or pulling heavy loads."
"Cools very well. Keeps temps below 190F with a combined weight of around 16,000lbs. This cooler was worth every penny!"
Shop B&M 70274 Transmission Coolers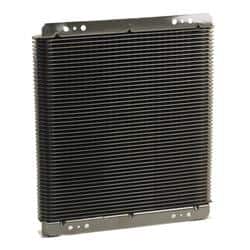 Get the best price on B&M 70274 SuperCooler transmission coolers for your Ram today!
Shop On Amazon
Shop On Ebay
Factory 2500 / 3500 Transmission Cooler
Ram Factory Transmission Coolers
One of the common questions that owners ask is does my Ram have a transmission cooler? Yes, all Ram 1500 trucks do have a transmission cooler, and depending on the years or model (1500 vs 2500), there can be an external cooler in addition to the factory cooler within the radiator. 
A popular upgrade that Ram 1500 owners will do is add a factory style 2500 transmission cooler to their truck. Since it's designed specifically for the truck but in a higher package, the fit is almost too perfect despite needing minor hardware.
This thread on Ram Forum explains in more detail about adding a 2500 or even 3500 factory trans cooler.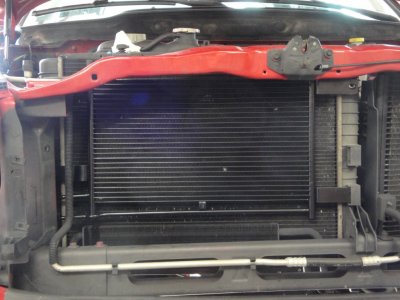 As you can tell, the factory cooler is big can can do a decent enough job, but an aftermarket cooler might be a better option in some cases.
Conclusion 
The Dodge Ram is one of the most popular trucks on the road.  They are highly dependable, provide a great ride, are easy and cost effective to maintain, and have plenty of aftermarket support for upgrading and improving factory parts. 
This is also true with improving the transmission cooling capabilities on your truck. Not only are there plenty of options for a transmission cooler upgrade, but it is very easy for the average weekend mechanic to install a transmission cooler on their truck.
Keep the transmission temps low in your Ram to keep it on the road for as long as possible!