One of the best upgrades to make to a 6l80 is to delete the thermostat that limits fluid flow to the cooler until the thermostat opens up.  The factory 6l80 transmission thermostat is designed to keep fluid in the transmission until it opens up at about 190F degrees. 
While the 6l80 is a fairly stout transmission and can handle some abuse, keeping the transmission temp at or above 190F is (in our opinion) is less than optimal. 
| Photo | Title | Price | Shop Now |
| --- | --- | --- | --- |
| | 6l80 Thermostat Bypass Kit | $36.48 | |
| | ICT Billet 6l80 Transmission Cooler Line Adapter Plate with Gasket & 6AN Fittings | $32.99 | |
6l80 Thermostat Purpose & How To Delete
The purpose for the transmission thermostat is to help with overall fuel mileage, but this is done at the expense of the transmission.  
Although 190F degrees isn't the end of the world, it starts to get into that warm range where if you're towing, for example, you might be in a position to keep temps in the 200-205+ range very easily. 
One of the known issues with the 6l80 is that it may fail due to overheating. Because of this, it's recommended to bypass the factory thermostat, and there are a few ways to go about it. 
How To Delete 6l80Thermostat
Deleting the factory 6l80 thermostat is a fairly straightforward process and can be done with basic hand tools in an hour or so.  When deleting the thermostat, it's highly recommended that you buy an extra quart of Dexron 6 transmission fluid  in case some spills out when taking the factory lines and block off. 
Below are the common methods of modifying your factory 6l80 thermostat and getting rid of it completely based on cost:
"Pill flip" mod
Sure Cool Thermostat Bypass Delete Kit
Installing revised thermostat
Getting rid of the thermostat block completely 
6l80e Thermostat Removal and Modification Methods
Removing the factory 6l80 thermostat is a simple process and is easily done with snap ring and needle nose pliers in less than 5 minutes once the thermostat block is out.
Pill Flip / Thermostat Flip
The "pill flip" modification to the 6l80 transmission thermostat block is an easy and free modification that, can be done in a matter of minutes in your driveway.  
The pill flip uses the existing factory parts and, as it says, flips them to allow for transmission fluid to flow continually throughout the system. 
The video below does a great job of demonstrating how easy it is to do the pill flip.
Sure Cool / Superior Solutions 6l80 Thermostat Delete Kit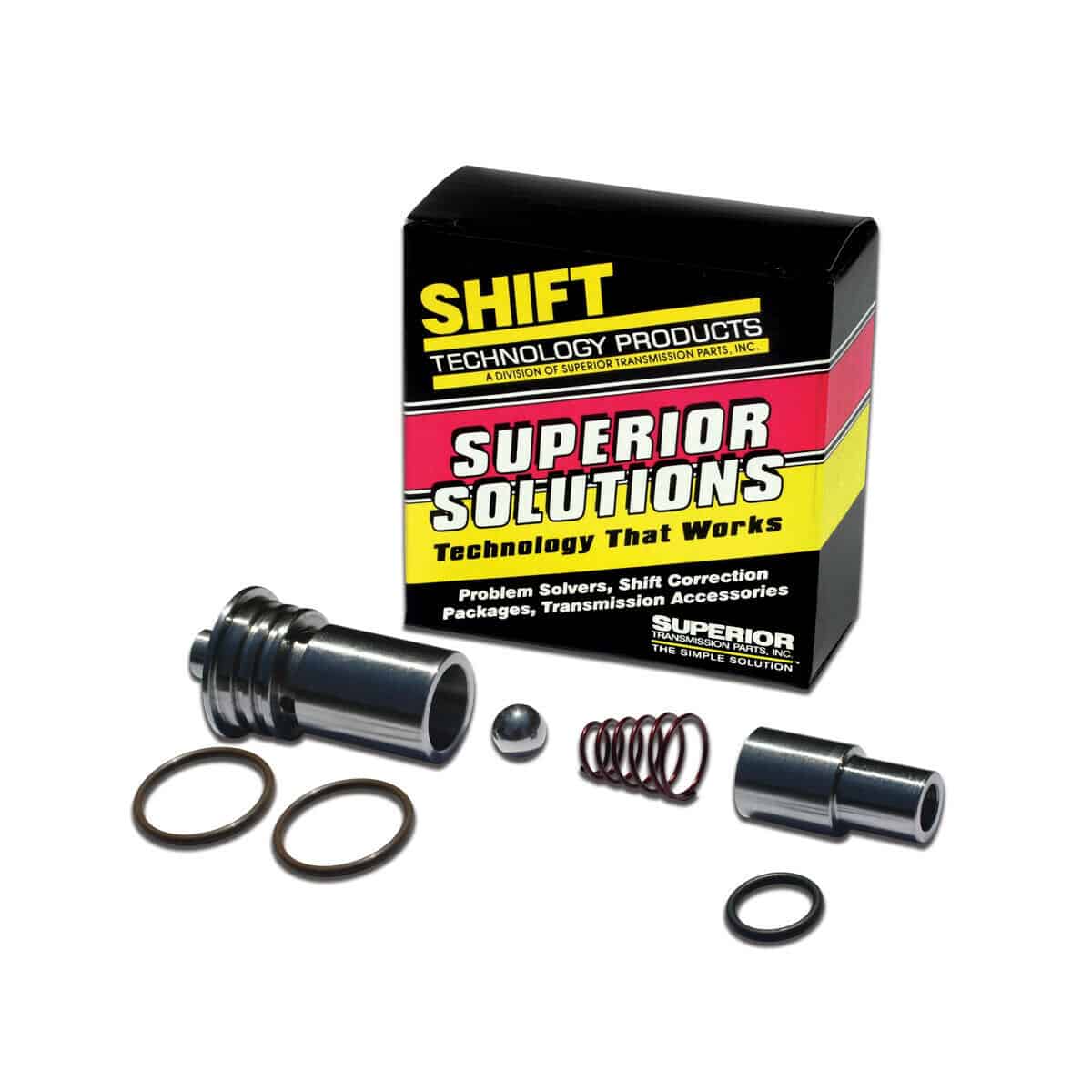 The Superior Solutions 6l80 thermostat delete kit is a cost effective way to delete the factory thermostat and is very easy to install. Just like the pill flip method, you need to take out the factory thermostat but instead of reusing it, you replace it with the Superior Solutions kit.  
The view below from Precision Transmission (highly recommended!) does an awesome job at explaining more about the benefits of the 6l80 thermostat delete kit and how to go about installing it.  
In our experience, we installed a SURE-COOL transmission thermostat delete kit in our 2016 Chevy Silverado and saw an immediate 45+ degree drop in temps in 95F degree heat.  In the cooler months, temps are down nearly 65 degrees after an hour of city driving.   While this is great, this may not be ideal for those who live in colder climates. 
We are located in the northeast, we saw transmission temperatures hardly reach 100 degrees while on the highway.  Although cooler transmission temps is the goal here, we think having 100 degree temps after a sustained period of driving is not ideal.  The thing that stood out was that the shifts were harsh when cold and it took a while for the fluid to heat up, surprisingly. 
So while the Superior Solutions transmission thermostat kit was great in the summer and late spring / early fall, as temperatures drop below ~50 degrees, the transmission will seem to over-cool. 
Our final thoughts on the Sure Cool / Superior Solutions 6l80 thermostat delete kit are that is is FAR better than the factory 190 degree thermostat BUT should used in warmer climates, just like the pill flip.  
Built in safety bypass
Immediate cooler fill
Immediate accurate fluid level check without warm-up cycle
Reduced average operating temperatures by as much as 20%
Reduced risk of overheat while under load, Increased ATF life.
Although we highly recommend doing the 6l80 thermostat bypass, you should certainly take your climate into consideration. If you live somewhere that is hot most of the year, then this modification is a great idea.
However, if you live in a very cold climate, it might be best to keep the factory thermostat depending on your driving style.
GM Thermal Bypass Valve Recall & Revised 6l80 Thermostat
In late 2021, GM released a bulletin (bulletin #21-NA-199)regarding an updated 6l80 thermal bypass valve which allows the transmission to run much cooler than the factory 194 degree thermostat allowed.
The newly revised version opens at 158 degrees, which is a much better alternative.
In our opinion, this revised thermal bypass kit is the most ideal for those living in colder areas, as the complete thermal bypass delete seems to somewhat over-cool trans fluid in the winter.
158 degree thermostat part number: 86774933
Revised GM Thermal Bypass Review: https://www.silveradosierra.com/threads/70-c-158-f-thermal-bypass-valve-review.743498/
Aftermarket 6l80 Thermostat Block Delete Options
If you're the kind of person who likes more custom options, then this one's for you! Like many older GM transmissions, there's plenty of aftermarket support for the 6l80, especially when it comes to correcting the flaws of the factory thermostat.
Many aftermarket parts manufacturers have developed a plate that allows for complete removal of the thermostat, and allows for the use of custom transmission cooler lines such as:
Fits all 6L80E, 6L90E, 8L90E (6 and 8 speed automatic transmissions)
-6AN (similar to 3/8″ hose size) fittings for the most common transmission line size
Allows the use of aftermarket AN braided hose fittings to build your own custom transmission cooler lines
Made in Wichita, Kansas from aerospace grade, USA produced billet aluminum
Includes adapter with -6AN fittings, factory gasket, and mounting bolt
Conclusion
When it comes to cooling your 6l80, there are plenty of options to improve transmission temps. From the pill flip, all the way up to a custom line setup that completely deletes the factory style block, you have choices for whatever your price range is.
If we had to choose a favorite method, we'd go with either the Sure Cool kit or the revised GM 158 degree thermostat.
The Sure Cool kit is specifically designed to allow for continuous fluid flow at all times, where as the "pill flip" is a band aid fix. There have been reports of plastic components breaking down on the factory 194 degree thermostat, so we'd rather spend the $40 or so to have a better option.
No matter what option is best for you, it's highly recommended to use the method that is best for your driving style and where you live.