Tired of dealing with higher than average transmission temps? Consider adding a transmission cooler to your car, truck, or SUV. The beauty of the 6l80e is that installing a transmission cooler makes a big difference in transmission temps, especially when combined with a thermostat bypass.
If you drive a newer GM truck or SUV our preferred transmission cooler is the Mishimoto MMTC-K2-14. This cooler is hands down the best 6l80e transmission cooler upgrade due because if its direct fit design and cooling capabilities for full size trucks.
If you are looking for a lower cost alternative, look no further than the Tru Cool 40k. The Tru Cool 40k is one of our recommended transmission coolers for most truck based applications.
For the car owners, we recommend the B&M 70274 or Hayden 679.  Installing a transmission cooler such as the Mishimoto MMTC-K2-14, Tru Cool 40k, or B&M 70274 will drastically lower transmission temperatures and help with the longevity of your transmission and fluid.
Mishimoto MMTC-K2-14
Like many Mishimoto transmission coolers, the MMTC-K2-14 is specifically designed for 2014 – 2018 GM full size trucks & SUV's (Silverado, Sierra, Yukon, Tahoe, Suburban, Escalade). In our more in depth product review of the Mishimoto MMTC-K2-14, we cover how the  cooler is a direct fit application that requires little effort installing.
Overall, if you have a 6l80e equipped late model truck or SUV, this cooler can't be beat for the ease of install and performance.  Because of this, we recommend it in our Chevy Silverado & GMC Sierra Transmission Cooler Upgrades write up. In our opinion, this is the ultimate 6l80e transmission cooler kit.
Mishimoto MMTC-K2-14 Specs
Cooler Dimensions: 27″ x 6″ x 1.25″
Cooler Type: Plate & Fin
Fitting Size: 3/8″ barb
Number of Cooling Rows: 14
Additional Fluid Capacity: 0.65 Quarts
Tru Cool 40k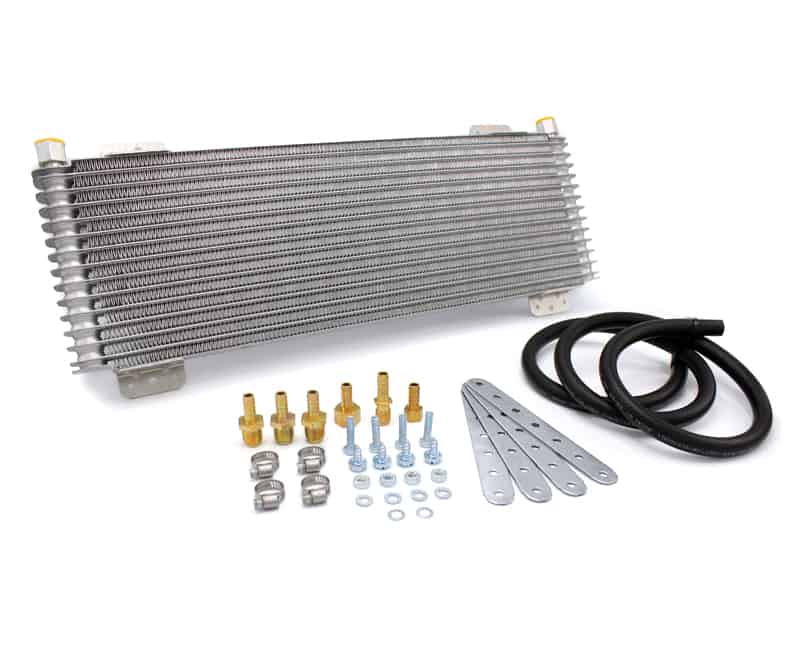 The Tru Cool 40k is a favorite of ours when it comes to universal transmission coolers used on trucks or SUV's. There are certainly other transmission coolers that might be larger or include a fan, but for the cost consistent performance, and simplicity, it's hard to go against the Tru Cool 40k for the money.
Tru Cool 40k Specs
Cooler Dimensions: 8 1/2″ x 22″ x 1 1/4″
GVW: 40,000 pounds
BTU Rating: 45,000
Fitting Size: 3/8″ inverted flare hex with 5/8″ thread size –  This is great for those looking to install custom transmission lines
Installation Kit:  Yes – Includes universal installation kit with rubber transmission line, various fittings, clamps, and mounting hardware
B&M 70274 SuperCooler Specs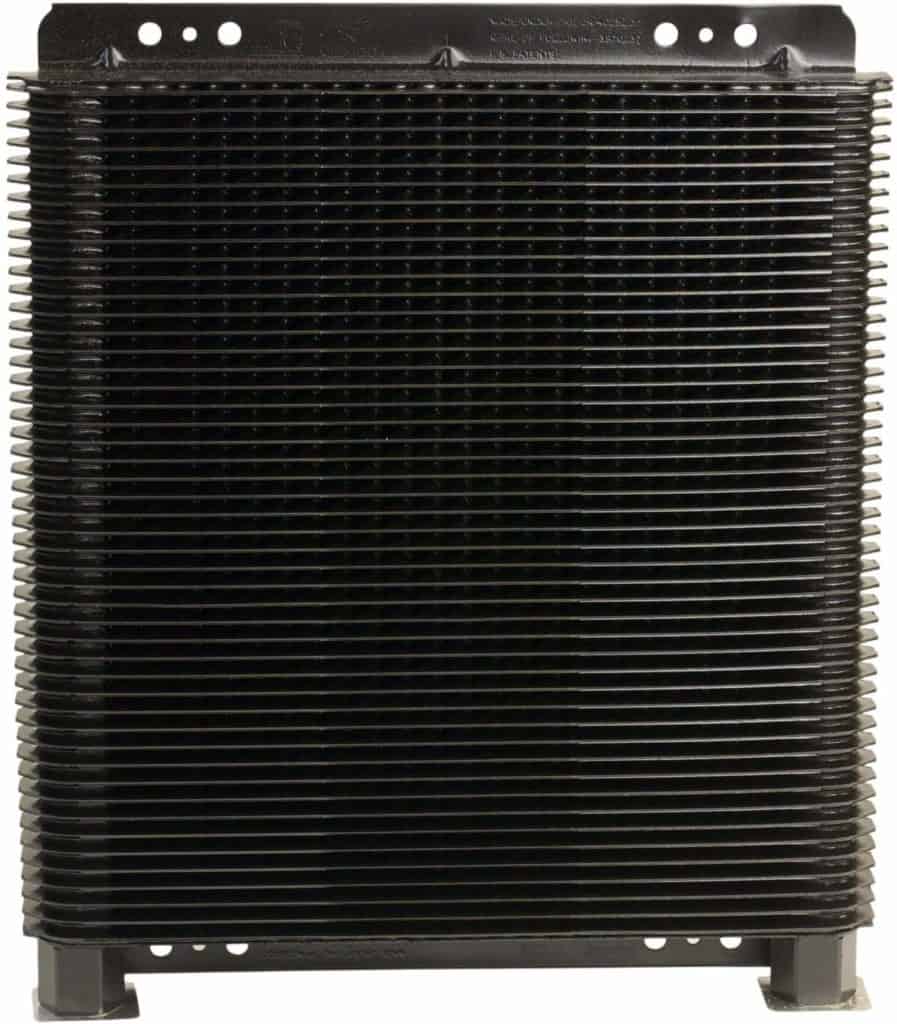 Just like all B&M SuperCoolers, the 70274 features a highly durable black aluminum construction that provides efficient fluid flow through the body for maximum cooling. It is designed with 48 cooling rows of cooling, very similar to the Tru Cool H7B. When it comes to adding a transmission cooler that is extremely effective in cooling for all sorts of applications, the B&M 70274 is the perfect candidate.
Whether you race your Camaro or tow with your pickup truck, this transmission cooler can handle all you can dish out.
Overall, this cooler does a phenomenal job at keeping transmission temperatures as low as possible, which is why it was featured in our towing and drag racing guides.
It uses 1/2″ NPT threads, which allows for the use of -6 or -8 an lines and fittings for a more secure fit and greater fluid capacity. Based on this, it's easy to make your own DIY transmission cooler setup with custom lines and fittings.
B&M 70274 SuperCooler Specs
Cooler Dimensions: 11″ x 11″ x 1 1/2″
Cooler Type: Stacked Plate
Cooling Rows: 48
GVW: 29,200 (BTU)
Fitting Size: 1/2″ NPT
Hayden 679
For the budget minded individual, there might be no better low cost transmission cooler that has the capabilities as the Hayden 679. This cooler utilizes an 11 5/8″ x 11 3/4″ x 3/4″ aluminum design that is not only large enough to efficiently cool your 6l80e, but is only 3/4″ thin which allows for installation in tighter spaces on a car.
The Hayden 679 offers a GVW rating of up to 30,000 pounds which provides the ability to help tow up to 10,000 pounds (if your vehicle is rated to do so).  Its 30,000 GVW rating makes it a great cooler for any 6l80 equipped vehicle whether it's your daily driven car or on a truck that you tow with on the weekends.
For the cost, like most Hayden transmission coolers, the 679 pack a mighty punch in terms of capabilities.  Not only is it not too large where it can cause mounting issues, but it has the ability to help keep fluid cooler without a high price tag.
Hayden 679 Specs
Cooler Type: Plate & Fin
Cooler Dimensions: 11 5/8″ x 11 3/4″ x 3/4″
GVW: 30,000 pounds
Fitting Size: 3/8″ barb
Other 6l80 Transmission Cooling Options
When it comes to cooling your 6l80, a transmission cooler is great, but have you considered deleting the factory thermostat?  Doing a 6l80 thermostat delete will cool trans temps 40 degrees or more.  Best part is, this can be done for FREE in your own driveway in less than 20 minutes!
There are a number of 6l80 thermostat delete options and upgrade such as the "pill flip", Sure Cool bypass kit, revised GM 158 degree thermostat, or you can make your own -6an custom transmission cooler lines with the help of an aftermarket thermostat delete plate.
Conclusion
Adding a transmission cooler to your 6l80 is a great upgrade and will offer serious cooling abilities.  No matter your budget, there are a number of options to suit your needs and driving style.
Whether you use a truck to tow on the weekends or drive a Camaro for fun, you can keep your 6l80 happy and you on the road longer.