The Hydra-Matic 6L80 (production code MYC) is a six-speed automatic transmission produced by General Motors for use in rear- and rear-biased all-wheel-drive vehicles with a longitudinal powertrain orientation. Developed in-house by General Motors, the Hydra-Matic 6L80 is part of the 6LXX family of fuel-saving, electronically controlled six-speed automatic transmissions that succeeded the 5LXX family.
Looking to find a new or used 6l80e transmission or parts for your car, truck or SUV?
Get The Best Prices on New or Used 6l80 Transmissions & Parts
6l80e Transmission Information
What Vehicles Did The 6l80e Come In?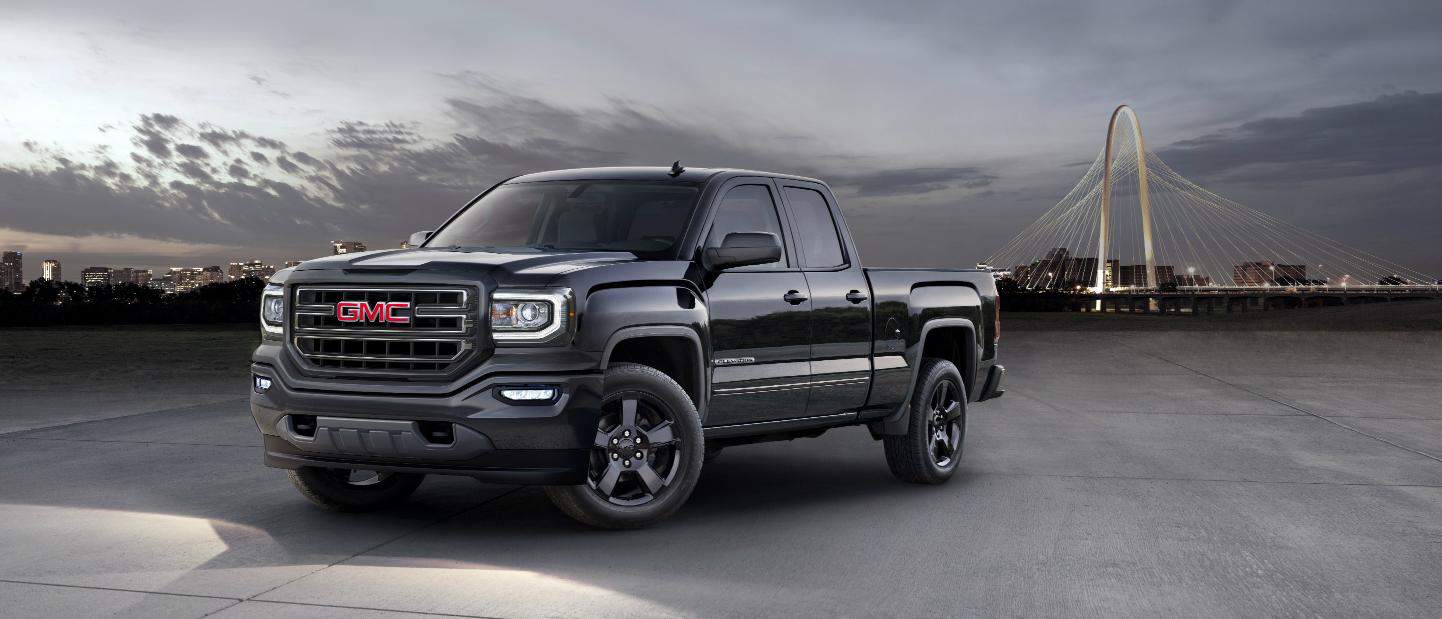 Because of its ability to be used on a number of different platforms, the 6l80e transmission was found in a many GM vehicles from model years 2006 – 2021 ranging from sports cars to full size pick up trucks. Here is the complete list of 6l80e equipped cars and trucks.
2006-2009 Cadillac XLR-V
2006-2014 Chevrolet Corvette
2006 Holden VE Commodore/2008 Pontiac G8
2006 Holden/Chevrolet WM Statesman/Caprice
2007-2016 Chevrolet Silverado 2500HD 6.0 (6L90)
2007-2009 Cadillac STS-V, STS
2007-2015 Cadillac Escalade
2010-present Chevrolet Express 2500-3500 (6L90-E)
2007-2015 GMC Yukon Denali
2009-2015 Chevrolet Tahoe
2008-2009 Hummer H2
2009-2013 Cadillac CTS-V (6L90)
2010-2021 (K2XX) Chevrolet Silverado/GMC Sierra 1500
2010-2015 Chevrolet Camaro
2011-2017 Chevrolet Caprice PPV
2012-2015 Chevrolet Camaro ZL1 (6L90)
2011(September)-2012 Holden VE Commodore Series 2(MY 2012)
2014-2017 Holden VF Commodore / Chevrolet SS
2008-2013 Chevrolet Avalanche
6l80e Transmission Specs
Case Material: Aluminum
Torque Rating: 664 ft lbs
Weight: 195 pounds (Dry), 230 pounds (Filled)
Gear Ratios:
1st Gear: 4.03:1
2nd Gear: 2.36:1
3rd Gear: 1.53:1
4th Gear: 1.15:1
5th Gear: 0.85:1
6th gear: 0.67:1
Reverse: 3.06:1
6l80e Transmission Fluid Type & Specs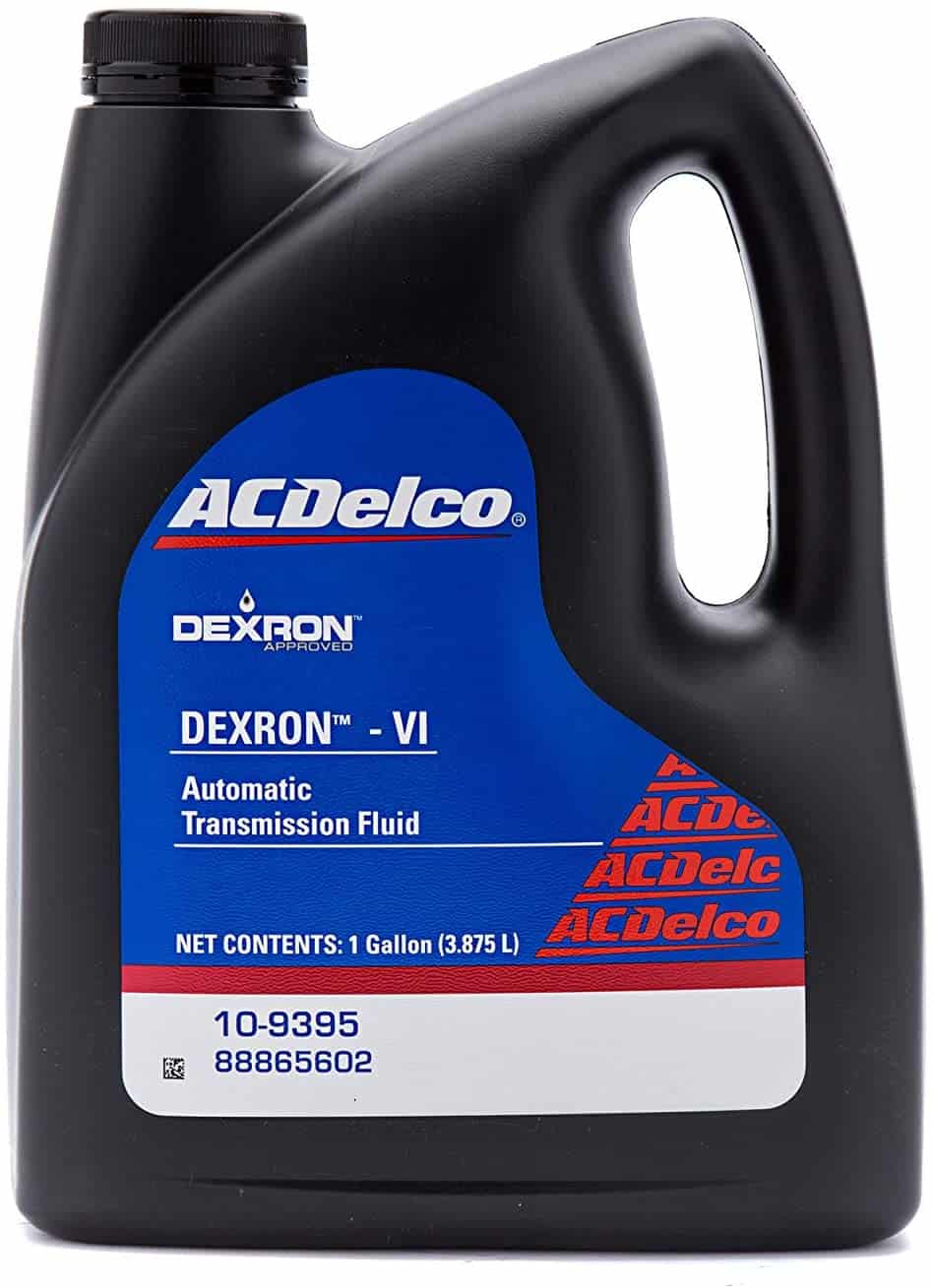 The 6l80e takes Dexron 6 (Dex VI) transmission fluid and has a 11 – 13 quart dry fill capacity. When dropping the transmission pan to perform a standard drain and fill transmission fluid change, you can expect to replace around anywhere from 4-6 quarts of fluid assuming the stock transmission pan is being used.
If you have a deeper aftermarket transmission pan on your 6l80e, then this quart estimate will likely be more and require you to check fluid levels as you fill and run the transmission through the gears.
Get The Best Price On Dexron 6 Transmission Fluid
6l80e Transmission Fluid Temperature
The 6l80 normal operating temperature is in the 180-200 range when fully warmed up, and this based on the thermostat that prevents transmission fluid from running through the whole transmission cooling system in an effort to improve gas mileage. While the engineering behind this is sound, the logic is somewhat questionable. The fluid stays in the transmission until the thermostat opens up then will flow to the cooler. When the cooler reaches that 190 degree temp, it will constantly cycle between the cooler and staying in the case.
We aren't the biggest fan of this for obvious reasons, and neither are many other owners of 6l80e equipped vehicles. While 200 degree temps aren't the end of the world, the fluid will constantly stay in that range over a long duration. The transmission fluid chart below shows that even a 25 degree drop from 200 will add another 40,000 miles of use out of our transmission.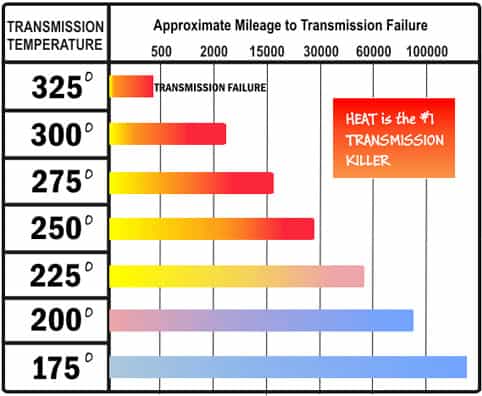 To combat transmission temp issues, installing an aftermarket transmission cooler is certainly helpful along with a deeper, higher capacity transmission pan if you have the space to do so, and thermostat bypass.
6l80e Transmission Filter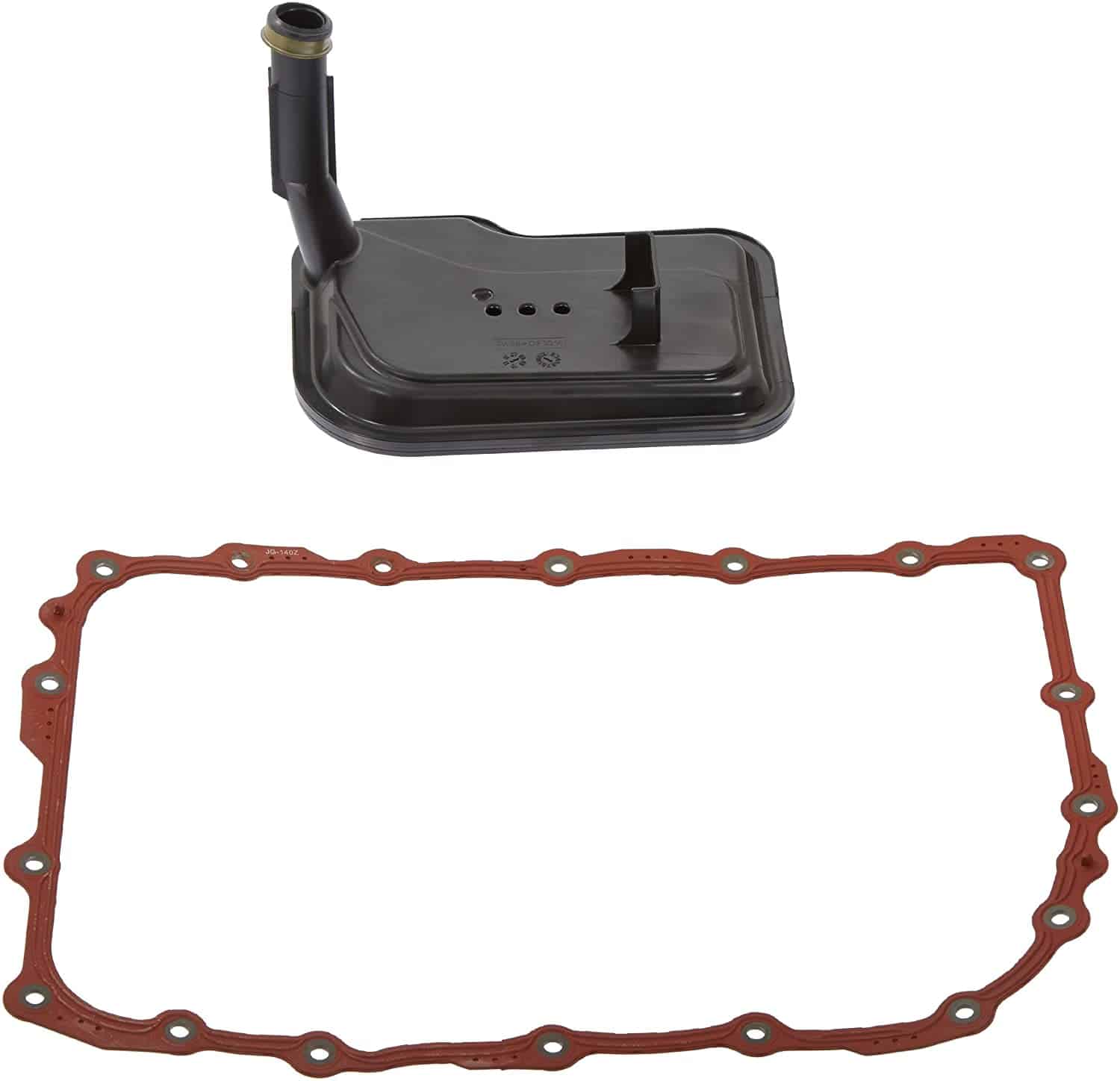 Transmission filter kits for the 6l80e are very inexpensive and simple. Most 6l80e transmission filters and kits which include a new pan gasket, filter, and filter seal cost around $20 – $30. The filters we recommend for your 6l80e are:
As an FYI, the 6l80 transmission pan gaskets are a much higher quality material than older style gaskets, which as usually a thin rubber or cork gasket. The more modern pan gasket on the 6l80 is reusable, but depending on it's condition, it might be best to replace it when dropping the pan.
6l80e Transmission Maintenance
The 6l80e requires recommended maintenance of changing the fluid, and filter every 30,000 – 50,000 miles depending on usage. If you have a truck that you use to tow or haul often, it's best to check your fluid and make a determination as to how frequent you should change out your fluid.
When checking your transmission fluid, be sure to not only look at the fluid level, but the color and smell. Good transmission fluid will have a reddish color to it, but if it looks dark, almost brown and has a slight burnt smell to it, then you are very past due on your maintenance. The chart below shows how transmission fluid looks at various stages.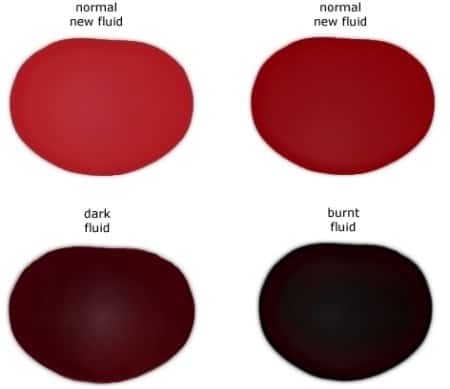 6l80e Transmission Fluid Change
Changing transmission fluid in your 6l80e can range from easy to a major pain average DIY weekend mechanic. In all actually, the hardest part of the job is draining the fluid from the pan if your pan doesn't have a drain plug in most situation, which is quite common with more transmission fluid changes. On the newer trucks however, you have a joy of dealing with the exhaust y-pipe not giving you enough clearance to drop the pan without some clever methods or loosening the exhaust which may be a pain in its own right.
Below is a detailed video of performing a transmission fluid change on a 6l80e in a Chevy Silverado.
How many quarts does it take to do a fluid and filter change on a 6l80e trans? For a typical pan drop and fluid change, you will need about 5-6 quarts to do the job.
As always, start with adding a few quarts of atf when you have the new filter and pan back on and shift through the gears to get fluid moving and warm, then keep checking and added until you have the right level.
6l80e Upgrades
When it comes to upgrading your 6l80e, besides adding better internals and hard parts, there are a few simple upgrades that you can make to keep transmission temps down. The most common simple DIY 6l80e upgrades that can be done with simple hand tools in your driveway without removing the transmission to tear apart are definitely transmission coolers, pans, and thermostat bypass.
6l80e Transmission Coolers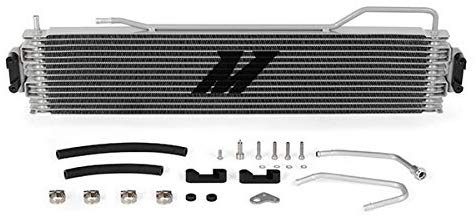 Tired of dealing with higher than average transmission temps? Consider adding a transmission cooler to your car, truck, or SUV. The beauty of the 6l80e is that installing a transmission cooler makes a big difference in transmission temps, especially when combined with a thermostat bypass.
If you drive a newer GM truck or SUV our preferred transmission cooler is the Mishimoto MMTC-K2-14. This cooler is hands down the best 6l80e transmission cooler upgrade due because if its direct fit design and cooling capabilities for full size trucks.
If you are looking for a lower cost alternative, look no further than the Tru Cool 40k. The Tru Cool 40k is one of our recommended transmission coolers for most truck based applications.
For the car owners, we recommend the B&M 70274 or Hayden 679.
Mishimoto MMTC-K2-14
Like many Mishimoto transmission coolers, the MMTC-K2-14 is specifically designed for 2014 – 2018 GM full size trucks & SUV's (Silverado, Sierra, Yukon, Tahoe, Suburban, Escalade). In our more in depth product review of the Mishimoto MMTC-K2-14, we cover how the cooler is a direct fit application that requires little effort installing.
Overall, if you have a 6l80e equipped late model truck or SUV, this cooler can't be beat for the ease of install and performance. Because of this, we recommend it in our Chevy Silverado & GMC Sierra Transmission Cooler Upgrades write up. In our opinion, this is the ultimate 6l80e transmission cooler kit.
Mishimoto MMTC-K2-14 Specs
Cooler Dimensions: 27″ x 6″ x 1.25″
Cooler Type: Plate & Fin
Fitting Size: 3/8″ barb
Number of Cooling Rows: 14
Additional Fluid Capacity: 0.65 Quarts
Get The Best Price on Mishimoto MMTC-K2-14 Transmission Coolers
Tru Cool 40k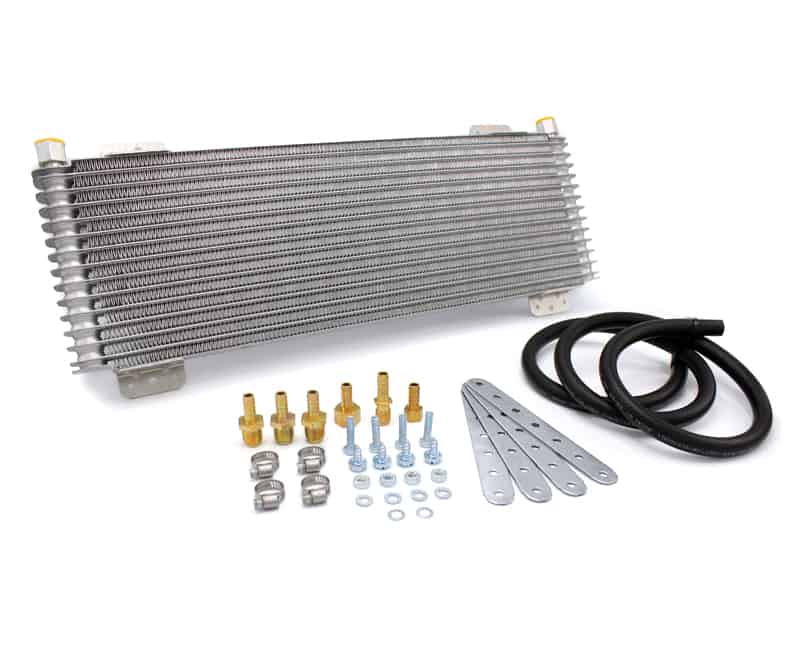 The Tru Cool 40k is a favorite of ours when it comes to universal transmission coolers used on trucks or SUV's. There are certainly other transmission coolers that might be larger or include a fan, but for the cost consistent performance, and simplicity, it's hard to go against the Tru Cool 40k for the money.
Tru Cool 40k Specs
Cooler Dimensions: 8 1/2″ x 22″ x 1 1/4″
GVW: 40,000 pounds
BTU Rating: 45,000
Fitting Size: 3/8″ inverted flare hex with 5/8″ thread size – This is great for those looking to install custom transmission lines
Installation Kit: Yes – Includes universal installation kit with rubber transmission line, various fittings, clamps, and mounting hardware
Get The Best Price on Tru Cool 40k Transmission Cooler
Installing a transmission cooler such as the Mishimoto MMTC-K2-14, Tru Cool 40k, or B&M 70274 will drastically lower transmission temperatures and help with the longevity of your transmission and fluid.
B&M 70274 SuperCooler Specs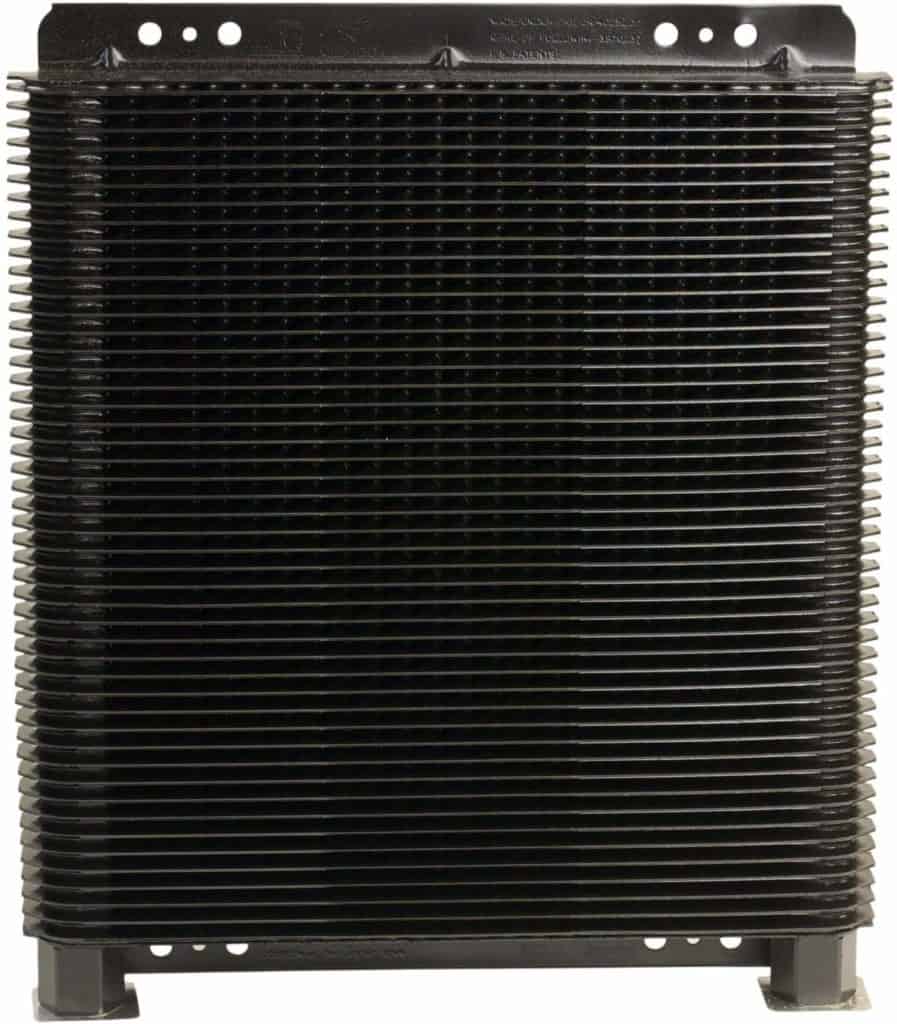 Just like all B&M SuperCoolers, the 70274 features a highly durable black aluminum construction that provides efficient fluid flow through the body for maximum cooling. It is designed with 48 cooling rows of cooling, very similar to the Tru Cool H7B. When it comes to adding a transmission cooler that is extremely effective in cooling for all sorts of applications, the B&M 70274 is the perfect candidate.
Whether you race your Camaro or tow with your pickup truck, this transmission cooler can handle all you can dish out.
Overall, this cooler does a phenomenal job at keeping transmission temperatures as low as possible, which is why it was featured in our towing and drag racing guides.
It uses 1/2″ NPT threads, which allows for the use of -6 or -8 an lines and fittings for a more secure fit and greater fluid capacity. Based on this, it's easy to make your own DIY transmission cooler setup with custom lines and fittings. Here is a complete 6l80e steel braided transmission cooler line kit.
6l80e Steel Braided Cooler Line Kit
B&M 70274 SuperCooler Specs
Cooler Dimensions: 11″ x 11″ x 1 1/2″
Cooler Type: Stacked Plate
Cooling Rows: 48
GVW: 29,200 (BTU)
Fitting Size: 1/2″ NPT
Get The Best Price on B&M 70274 Transmission Cooler
Hayden 679
For the budget minded individual, there might be no better low cost transmission cooler that has the capabilities as the Hayden 679. This cooler utilizes an 11 5/8″ x 11 3/4″ x 3/4″ aluminum design that is not only large enough to efficiently cool your 6l80e, but is only 3/4″ thin which allows for installation in tighter spaces on a car.
The Hayden 679 offers a GVW rating of up to 30,000 pounds which provides the ability to help tow up to 10,000 pounds (if your vehicle is rated to do so). Its 30,000 GVW rating makes it a great cooler for any 6l80 equipped vehicle whether it's your daily driven car or on a truck that you tow with on the weekends.
For the cost, like most Hayden transmission coolers, the 679 pack a mighty punch in terms of capabilities. Not only is it not too large where it can cause mounting issues, but it has the ability to help keep fluid cooler without a high price tag.
Hayden 679 Specs
Cooler Type: Plate & Fin
Cooler Dimensions: 11 5/8″ x 11 3/4″ x 3/4″
GVW: 30,000 pounds
Fitting Size: 3/8″ barb
Get The Best Price on Hayden 679 Transmission Cooler
6l80e Transmission Pans
Depending on what vehicle you have, your 6l80 might have different transmission pans. Pans that come factory on trucks and SUVs do not typically have a drain plug, where as on cars, you should have one towards the back of the pan. Below is an example of a factory truck pan that does not have a drain plug.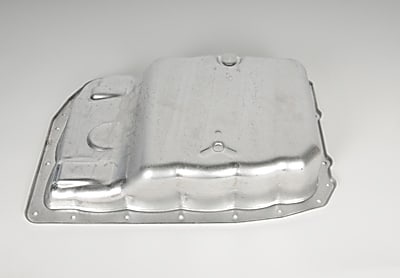 When you combine the limited space around the exhaust and lack of a drain plug, this makes dropping the transmission pan tough on trucks. With the cars however, things are far easier with the drain plug and exhaust out of the way.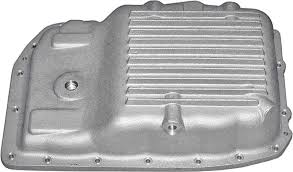 If you are looking for aftermarket pans that allow for more fluid capacity, there are plenty of options. Most aftermarket "deep" 6l80 pans are made from a heavy duty cast aluminum, and typically provide an extra 2 quarts of fluid capacity or retain the factory fluid levels but provide added strength.
6l80e Thermostat Bypass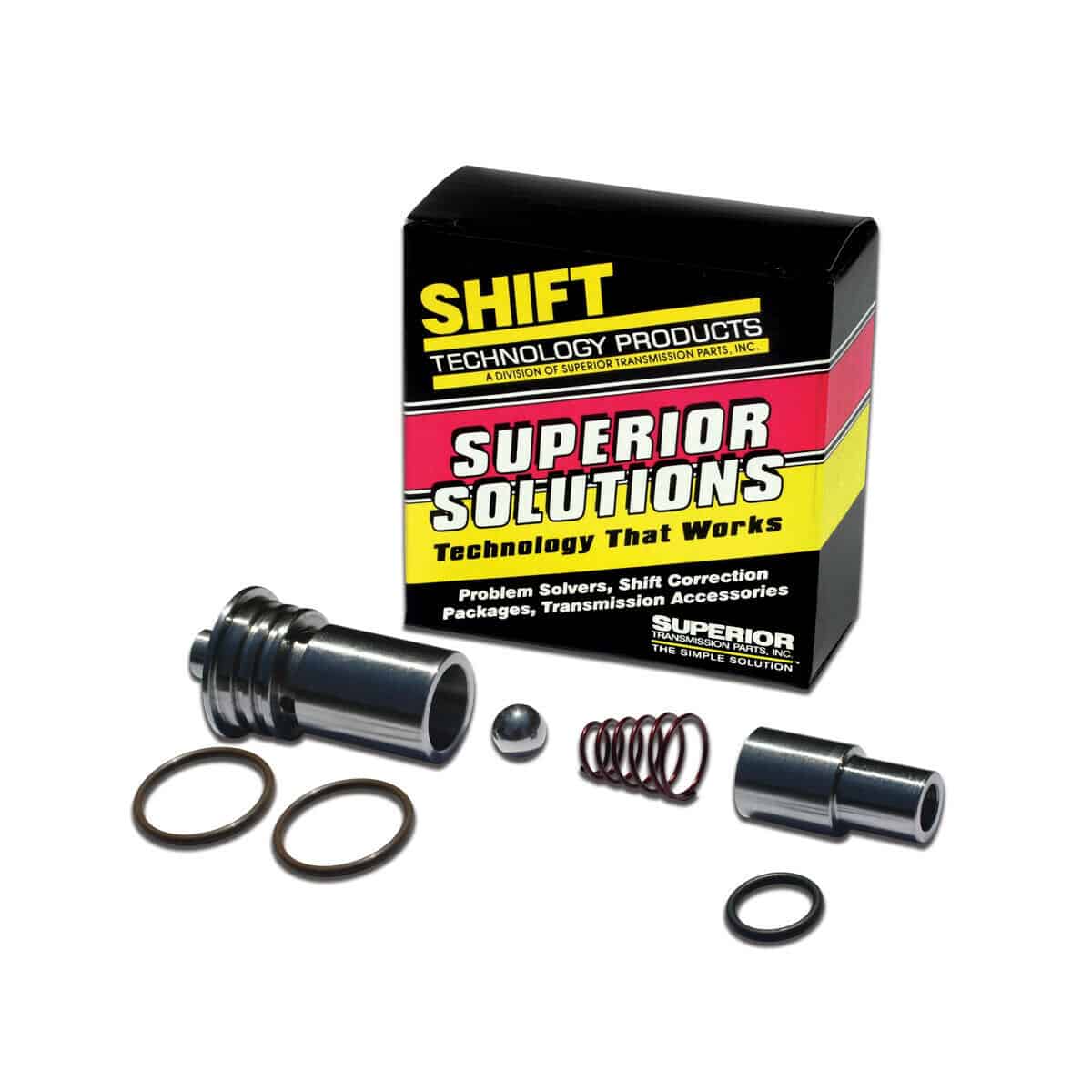 One of the best upgrades to make to a 6l80 is to delete the thermostat that limits fluid flow to the cooler until the thermostat opens up. The factory 6l80 transmission thermostat is designed to keep fluid in the transmission until it opens up at about 190F degrees. While the 6l80 is a fairly stout transmission and can handle some abuse, keeping the transmission temp at or above 190F is (in our opinion) is less than optimal.
The purpose for the transmission thermostat is to help with overall fuel mileage, but this is done at the expense of the transmission. Although 190F degrees isn't the end of the world, it starts to get into that warm range where if you're towing, for example, you might be in a position to keep temps in the 200-205+ range very easily. One of the known issues with the 6l80 is that it may fail due to overheating. Because of this, it's highly recommended to bypass the factory thermostat.
In our experience, we installed a SURE-COOL transmission thermostat delete kit in a 2016 Chevy Silverado and saw an immediate 45+ degree drop in temps in 95F degree heat. In the cooler months, temps are down nearly 65 degrees after an hour of city driving.
How To Delete 6l80 Thermostat
Deleting the factory 6l80 thermostat is a fairly straightforward process and can be done with basic hand tools in an hour or so. When deleting the thermostat, it's highly recommended that you buy an extra quart of transmission fluid (Dex 6) in case some spills out when taking the factory lines and block off.
The below below does a great job at explaining and showing how to delete the factory thermostat with the Superior Transmission Solutions bypass that we used in our Silverado. We followed this and were able to do the job in about 20 minutes in the driveway.
Although we highly recommend doing the 6l80 thermostat bypass, you should certainly take your climate into consideration. If you live somewhere that is hot most of the year, then this modification is a great idea. However, if you live in a very cold climate, it might be best to keep the factory thermostat depending on your driving style.
6l80e Common Problems
6l80e Diagnostic Trouble Codes (DTC)
| Trouble Code | Description |
| --- | --- |
| P0711 | Transmission Fluid Temperature Sensor Circuit Range/Performance |
| P0712 | Transmission Fluid Temperature Sensor Circuit Low Input |
| P0713 | Transmission Fluid Temperature Sensor Circuit High Input |
| P0714 | Transmission Fluid Temperature Sensor Circuit Intermittent |
| P0715 | Input/Turbine Speed Sensor Circuit |
| P0716 | Input/Turbine Speed Sensor Circuit Range/Performance |
| P0717 | Input/Turbine Speed Sensor Circuit No Signal |
| P0718 | Input/Turbine Speed Sensor Circuit Intermittent |
| P0720 | Output Speed Sensor Circuit |
| P0721 | Output Speed Sensor Circuit Range/Performance |
| P0723 | Output Speed Sensor Circuit Intermittent |
| P0741 | Torque Converter Clutch Circuit |
| P0742 | Torque Converter Clutch Circuit Stuck On |
| P0751 | Shift Solenoid 'A' Performance or Stuck Off |
| P0752 | Shift Solenoid 'A' Stuck On |
| P0756 | Shift Solenoid 'B' Performance or Stuck Off |
| P0757 | Shift Solenoid 'B' Stuck On |
| P0776 | Pressure Control Solenoid 'B' Performance or Stuck Off |
| P0777 | Pressure Control Solenoid 'B' Stuck On |
| P0796 | Pressure Control Solenoid 'C' Performance or Stuck off |
| P0965 | Pressure Control Solenoid B Control Circuit Range/Performance |
| P0966 | Pressure Control Solenoid B Control Circuit Low |
| P0967 | Pressure Control Solenoid B Control Circuit High |
| P2715 | Pressure Control Solenoid D Stuck On |
| P2723 | Pressure Control Solenoid E Stuck Off |