The Tru Cool Max LPD4739 and LPD47391, aka the Tru Cool 40k is regarded as one of the best overall transmission cooler for heavy duty use in trucks and SUV's. The Tru Cool 40k gets its name from having a GVW (gross vehicle weight) rating of 40,000.
It is very common for drivers who install this cooler to see a significant drop in transmission fluid temperatures. The combination of it being an efficient plate and fin style cooler and its overall size help keep transmission fluid cool in even the most extreme conditions.
Tru Cool 40k With Thermal Bypass
There are two different part numbers for the Tru Cool Max, LPD4739 and LPD47391. The two are designed exactly the same but the LPD4739 utilizes a thermal bypass system within the cooler. This lets the fluid heat up before it flows throughout the whole cooler. As fluid warms up it gets thinner, so the colder fluid only flows through the first part of the cooler until it is able to flow better after reaching optimal temperature.
The 40k cooler with thermal bypass is best for drivers who live in colder climates. It is recommended to utilize the stock transmission cooler in the radiator with the LPD4739 to allow the fluid to get to a suitable temperature. While having transmission fluid not get too warm is the goal, it still needs to get warm enough to flow properly through the body of the cooler.
The below image shows the Tru Cool 40k LPD4739 kit that includes the thermal bypass.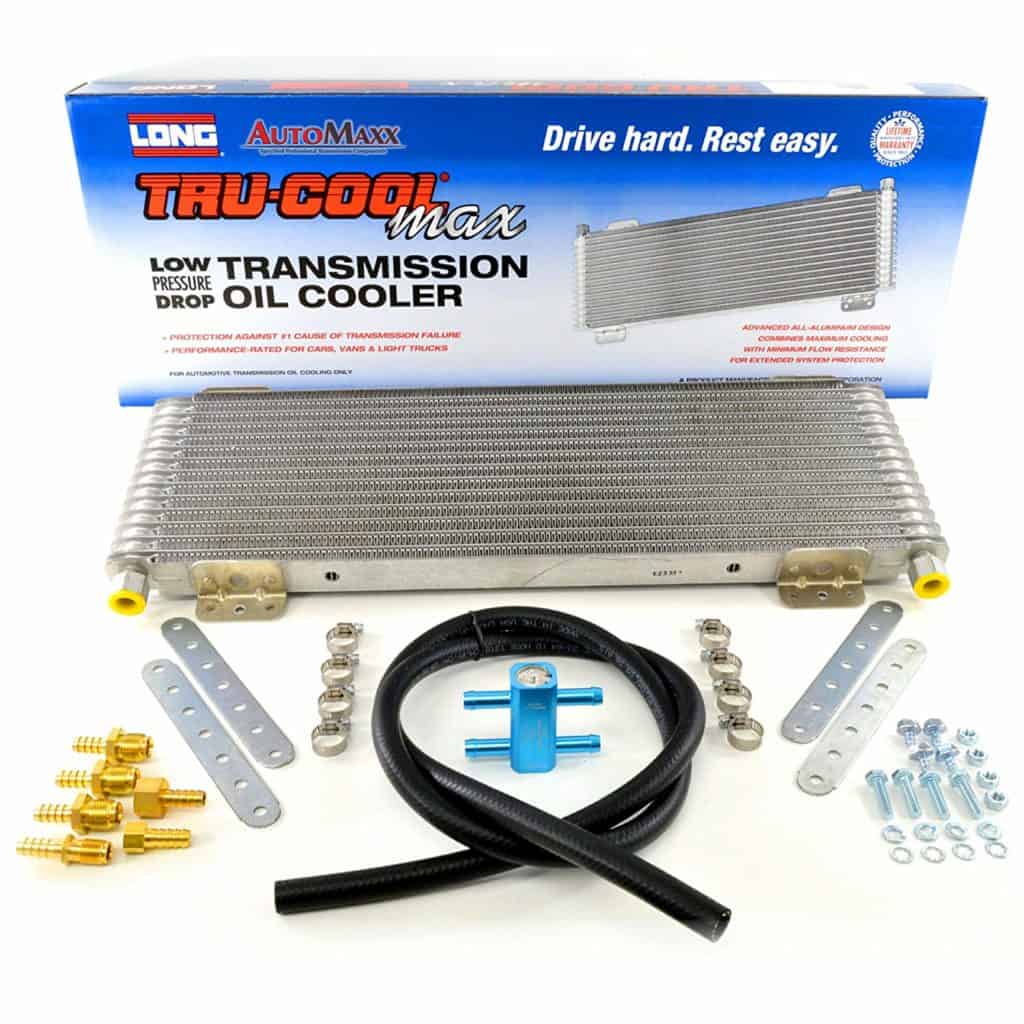 Tru Cool 40k Specs
The Tru Cook 40k features a highly durable double brazen aluminum construction with precise fin spacing to ensure efficient airflow through the body for maximum cooling. With its 13 plates of cooling, the cooler does a phenomenal job at keeping temperatures in check.
It uses 3/8″ inverted hex flare fitting, which allows for the use of 6 or 8 an lines and fittings for a more secure fit and greater fluid capacity.
Cooler Dimensions: 8 1/2″ x 22″ x 1 1/4″
GVW: 40,000 pounds
BTU Rating: 45,000
Fitting Size: 3/8″ inverted flare hex with 5/8″ thread size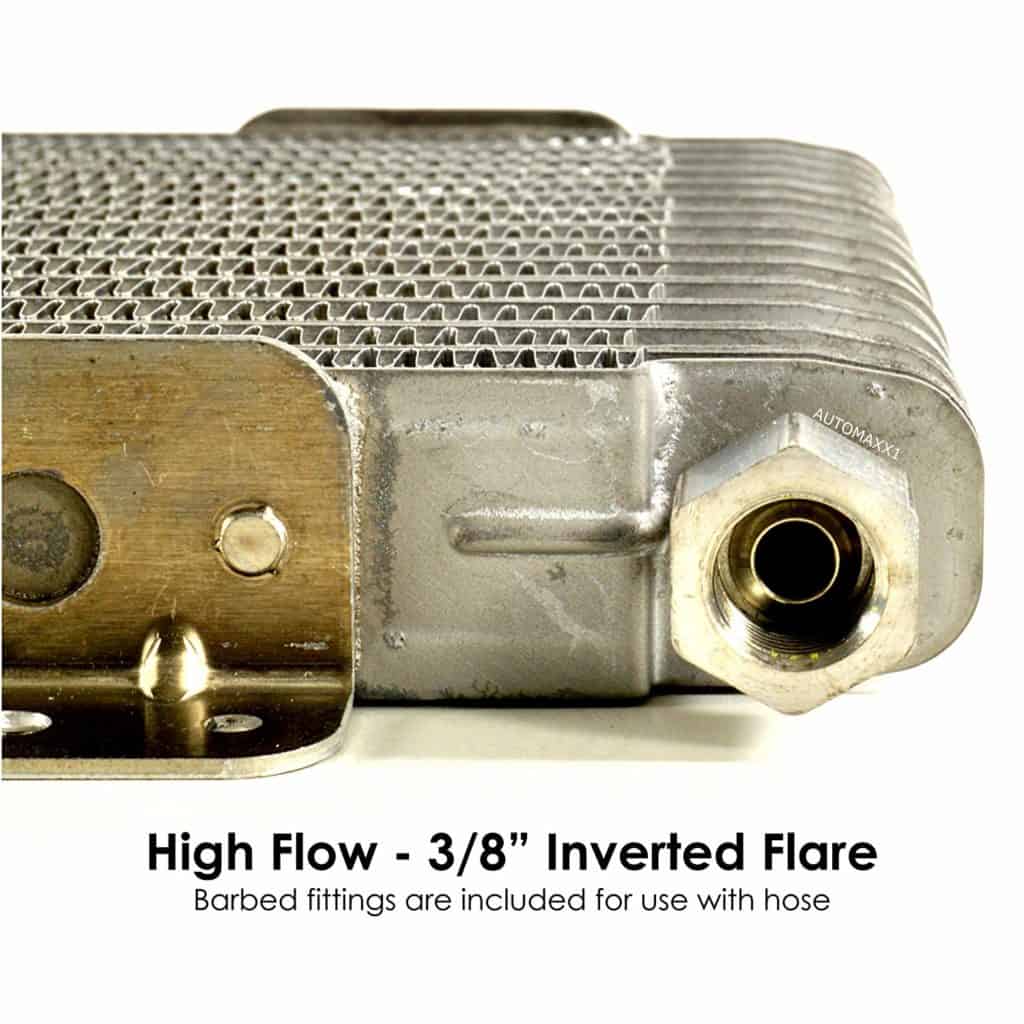 Recommended Uses
Towing
Daily Driven Trucks & Suv's
Performance Trucks & SUV's
With how big the Tru Cool 40k is, this cooler would be the ultimate trans cooler for those drivers who demand high cooling efficiency. Many diesel truck owners who tow utilize this cooler to help better control fluid temps. The Tru Cool 40k was on our list of transmission coolers to consider in our towing guide based on its size and how much cooling capacity is offers.
Another common market you will find these coolers used is is within the performance truck realm, especially the Chevy Trailblazer SS, Jeep Cherokee SRT 8, Ford Lightning, or modded full size trucks.
In addition, the Tru Cool 40k is a perfect transmission cooler upgrade for the Cummins, Duramax, and Powerstroke diesel guys as well. These trucks see some serious abuse, so theTru Cool 40k is a very great option for these trucks as well.
With how great this cooler is when it comes to keeping temperatures in a safe range, it's easy to understand why this is the go to transmission cooler for a number of truck or SUv needs. The Tru Cool 40k is by far on of the best transmission coolers for drivers who demand excellent cooling performance.
Tru Cool 40k Install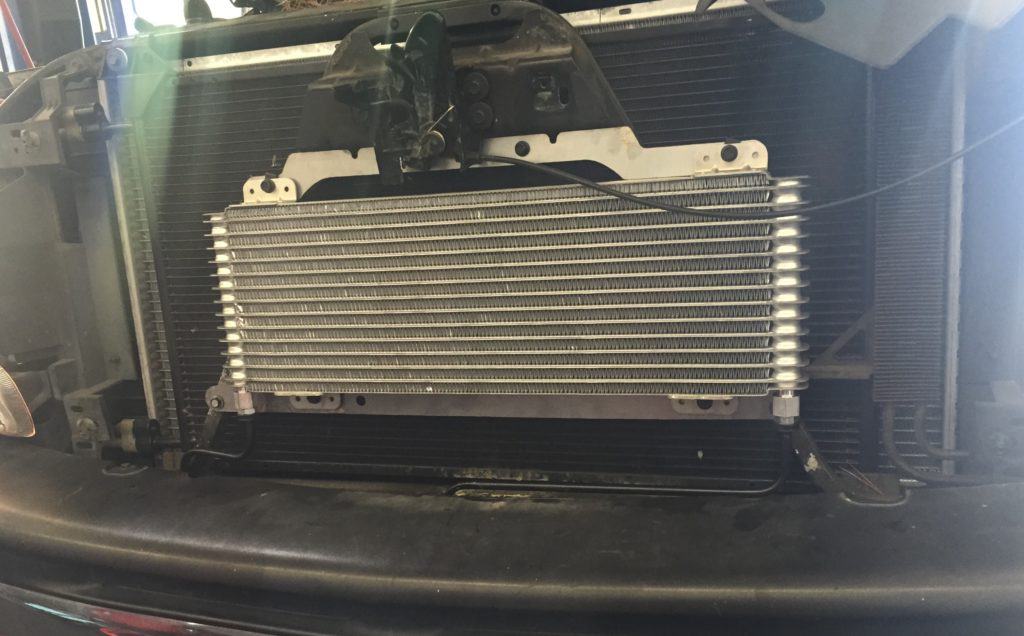 When installing the Tru Cool Max 40k, it is important to figure out how much space you have to mount it. Based on its size, the most common area to install the 40k is in front of the radiator. This will provide the most air flow while driving, which will keep temps low.
Most trucks and SUVs have supports that hold the hood latch or stock trans cooler in place. This would be the perfect place to mount the cooler. Since it is much larger than any stock external cooler, you will have to get creative with how you mount the Tru Cool 40k. More often than not, you can get the cooler to fit in this space with some extra mounting hardware.
When considering this cooler as a stand alone (bypassing the stock cooler), it is adequate enough to handle the needs of most applications. While is it typically recommended to utilize this cooler with the stock radiator cooler, it can certainly be used by itself.
What We Like About the Tru Cool 40k
GVW Rating of 40,000
Includes cold weather bypass – Perfect for towing in colder climates
Fitting type – The inverted flex flare provides a more secure connection to to transmission cooler lines assuming the right fittings are used
Can bypass the stock cooler – This cooler is large enough to use as a stand alone transmission cooler
Includes universal installation kit for simple installs. Kit comes with transmission line, fittings, clamps, mounting hardware
Conclusion
Overall, the Tru Cool Max it certainly one of the preferred transmission coolers for trucks and SUV's that need superior fluid cooling. Between its size and 40,000 GVW rating, this cooler is certainly capable of handling almost every task.
Another great benefit of the Tru Cool Max 40k is that it comes with a complete installation kit which includes extra transmission hose, clamps, and mounting hardware. While the kit comes with various fittings, it might be necessary to purchase additional fittings.
For the truck or SUV driver who demands the best, this cooler definitely fits the bill!
Find The Lowest Prices On Tru Cool Max 40k Transmission Coolers
Summary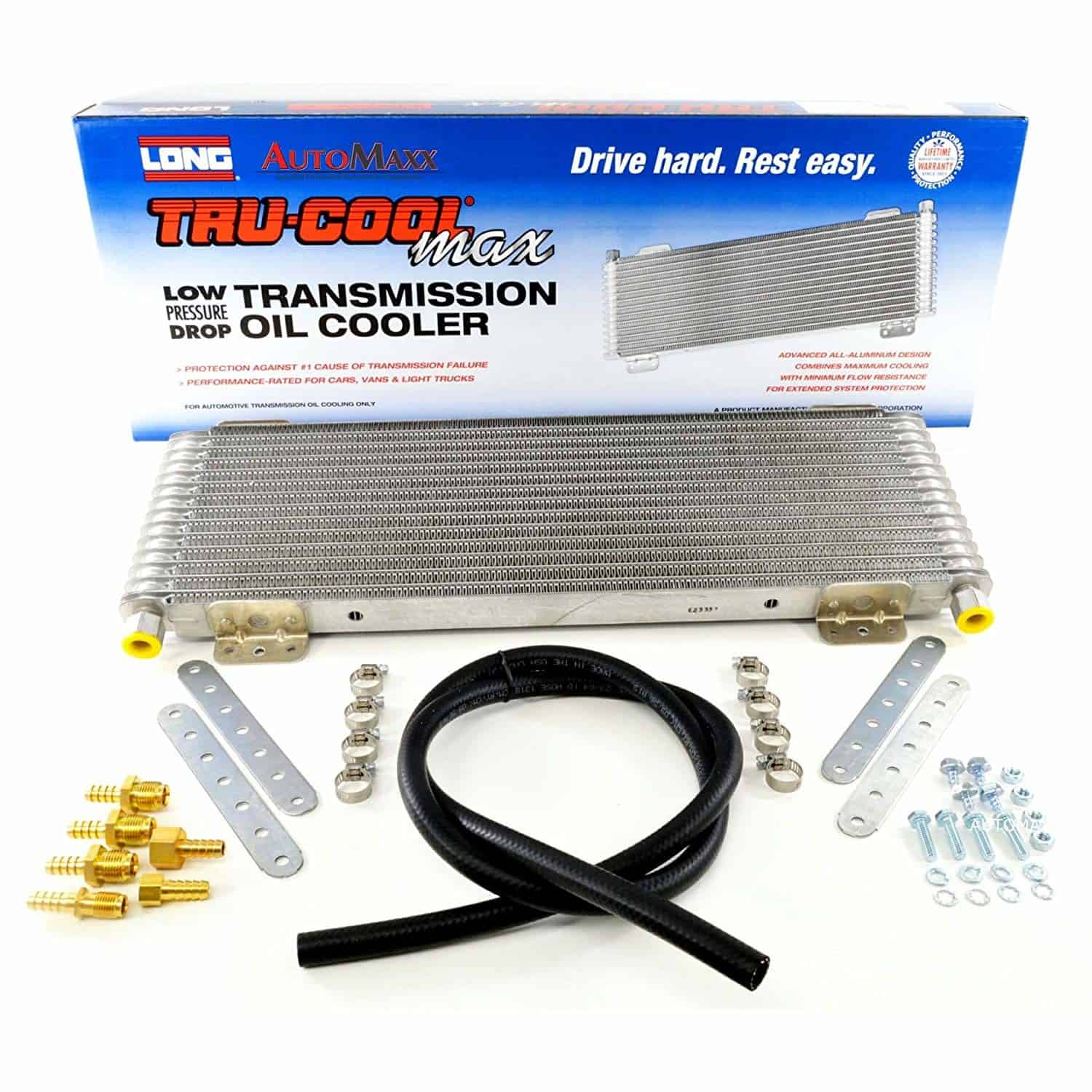 Article Name
Tru Cool 40k Transmission Cooler Review
Description
The Tru Cool Max 40k transmission cooler is certainly one of the top rated heavy duty transmission coolers for trucks and SUVs. Between its size and 40000 GVW rating, this cooler can handle even the most extreme transmission cooling needs.
Author
Transmission Cooler Guide
Publisher Name
Transmission Cooler Guide
Publisher Logo